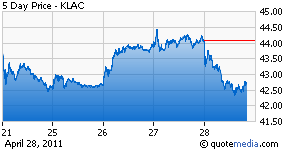 KLA-Tencor (NASDAQ:KLAC) is expected to report Q3 earnings after the market close on Thursday, April 28, with a conference call scheduled for 5:00 pm ET.
Guidance
The consensus estimate is $1.24 for EPS and $810.42M for revenue, according to First Call. Guidance for Q3 on the last earnings call was for: Orders +5%-25%, or $761-$906M, much better than most flattish expectations at that time. NAND and logic orders are expected to increase significantly. Revenue and EPS guidance for Q3 was $780-$830M and $1.15-$1.30.
Analyst Views
RBC Capital expects KLA to meet and likely exceed its estimates of $810 M and pro-forma EPS of $1.33, excluding options -- or $1.24 including options. RBC believes shipments to the foundries and Intel (NASDAQ:INTC) helped drive the quarter and could provide the potential upside to forecasts. RBC believes KLA-Tencor is well positioned to benefit from this current upturn as the capital intensity for process control increases with new process challenges like high-k metal gate and metal hard masks emerging. RBC believes KLA continues to maintain a strong leadership position in the overall process control market. Depending on where KLA finishes Q3, RBC expects another sequential uptick in the June quarter, driven by some of the same customers as the March quarter, with perhaps an increase in some NAND shipments. RBC's Q4 estimates: Q4 pf EPS $1.38, or $1.29 including options, on $831.3M in revenue. Consensus for Q4/FY12 is $1.28/$4.35 on $824.71M/$3.00B in revenue.