While there has been a lot of talk these days about the energy prices, specifically about oil and gas prices, two of my largest holdings are in this sector [Ecopetrol (NYSE:EC) and Lukoil (OTCPK:LUKOY)]. In October, I increased my position in Ecopetrol, so the question is why?
In order to explain why, first we need to answer a few questions:
Why are oil prices going down?
How low they can go?
When can we expect to see a rebound?
Why are oil prices going down?
The media has covered this point rather frequently lately so I'll keep this brief. There are basically two major factors that are currently impacting the price of crude oil worldwide. The first is the spread of Ebola in Western Africa and other parts of the world, and the second is that the US has overtaken Saudi Arabia as the biggest oil producer in the world. Oil extraction from shale formations across the US in places like Texas, Pennsylvania, and North Dakota has caused a surge in supply, which combined with restrictions on exporting crude is curbing the price of West Texas Intermediate, America's oil benchmark.
How low they can go?
I don't think prices can go much lower for few reasons. First of all, if prices go too low, a couple of things will happen:
Hydraulic fracking drillers will be under considerable pressure and financial stress. The reason for this is simple, these companies spent more money than they brought in during the boom, and they made up the gap by borrowing. This was fine as long as the oil sells at a high price. When suddenly crude oil becomes inexpensive, their margins decline and they won't be able to get as much money for their product as they originally though. This industry is massive in the US and Canada, and putting them under pressure is not in the best interest of the US government. If crude oil prices continue to go down ($75 or less), companies that rely on fracking will have a very hard time repaying their debt.
If prices of oil go down much further, this has the potential to very negatively impact not only the US economy, but also the economies of major worldwide power houses like Russia. For many countries, the low price of oil directly translates into economic woes - including, most dramatically, the possibility of a contracting economy. According to a recent article in Bloomberg Businessweek, if pricing remains under $104 a barrel, Russia will face a drop in its gross domestic product by up to 1.5 percent. Prices are currently below $90. If an Economy as big as Russia's suffers, then other countries around the world will also feel the pain.
There is also a very strong linkage between oil production growth, economic growth, and wage growth across a range of US states. Annual investment in oil and gas across the country is at a record $200 billion, reaching 20 percent of the country's total private fixed-structure spending for the first time. If this industry gets hit too hard for too long, that will impact other market segments, and the US economy in general. Low prices are good, but prices too low for too long will not be good news for anybody.
If we look at historical prices of oil vs. gas, we see that they move in tandem. Oil prices vs. gas prices behave very similarly to stock prices vs. earnings. They can deviate from the mean once in a while, but at the end of the day, they will eventually always need to correct course. By looking at the graph below comparing % price change between oil and gas, you can easily see a strong correlation. If oil prices increase too quickly when compared with gas prices, there will always be a correction. That's what happened in 2008, and that's what is happening now. Based on the graph below, oil prices may go lower, but we are certainly near the bottom of this trend. I don't think the current low prices will be sustainable for much longer.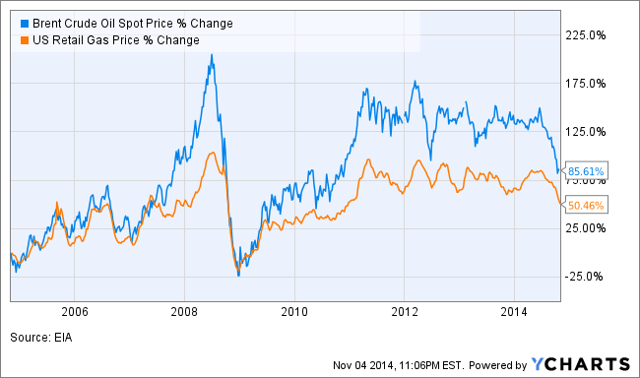 Brent Crude Oil Spot Price data by YCharts
When can we expect to see a rebound?
Now that the US is the biggest producer in the world, I don't expect huge increases in oil or gas prices anytime soon. Gas prices will rise as soon as the economy improves. When that happens, energy stocks will outperform any other market segment, but we may still be a couple of years away from that moment. In the meantime, you can collect strong dividends from most of these companies.
So to answer the question, why did I increase my exposure in the energy sector? I would say:
Prices won't go much lower than current levels because it is not good for the economy or for the fracking companies that the US government is trying to protect. It is a big sector that if it hits a recession has the potential to drag the entire economy down. Certainly nobody is interested in that.
These companies pay healthy dividends, in the order of 3% and above. So even if stock prices don't go up for a while, I'll be happy to wait a couple of years while collecting the dividends.
PE ratios are very low when compared with other segments of the market making this an excellent opportunity to take advantage of before the economy improves and prices start to rise.
Disclosure: The author is long EC, LUKOY.
The author wrote this article themselves, and it expresses their own opinions. The author is not receiving compensation for it. The author has no business relationship with any company whose stock is mentioned in this article.
Editor's Note: This article discusses one or more securities that do not trade on a major U.S. exchange. Please be aware of the risks associated with these stocks.