Nexen Inc. (NXY) reported a loss of 19 cents per share from continuing operations on $1.6 billion in revenue. Analysts had expected 54 cents per share on $1.69 billion revenue, on average.
The Company also reported an unplanned outage at its flagship Buzzard North Sea oil field, which cut production to 71,000 boe/d in the first quarter versus the expected 85,000 to 90,000 boe/d rate.
Finally, the Long Lake SAGD (Steam Assisted Gravity Drainage) oil sands operation continued to underperform, with March average daily bitumen production at only 26,200 bbl/d.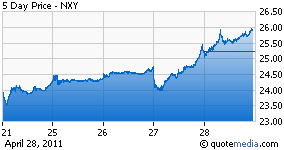 It all looked pretty ugly.
And on the conference call, typical Nexen-speak of "temporary" and "will" and "planned" seemed to reinforce the consensus opinion that Nexen would continually front-load promises and back-end performance.
But the stock is up 3 cents on the TSX at $23.58 at 2:30pm, rallying after being down 69 cents and in spite of lower prices for other major Canadian names such as Suncor (down 48 cents to $42.45) and Canadian Natural Resources (down 46 cents to 43.40).
Why?
Firstly, backing out some extraordinary earnings items, the core earnings per share number was actually 66.5 cents to the good, exceeding consensus estimates that probably didn't allow for some predictable items.
Earnings were penalized by the recent UK tax rate hike on oil and gas production, a change which immediately impacted the non-cash deferred tax account to the tune of $270 million. Adding additional cash taxes, and EPS was impacted by 64 cents.
Nexen bought back debt during the quarter to improve its credit rating profile, costing $90 million in one-time debt redemption expense. This, plus a FOREX item, cost the headline EPS number another 21.5 cents.
The Buzzard outage, apparently soon to be rectified, was clearly disappointing and led to an after-royalty production shortfall (207,000 boe/d). The Company insists it can still meet its 2011 guidence of 230-270K (don't count on it).
The UK income tax hike from 50% to 62% is probably here to stay. This cost the company about $2.50 per share in asset value, by my estimate.
But the stock had already taken a big hit over the month and a half from $27 down to less than $22.
Nexen's Q1 Cash Flow Per Share (from continuing operations and excluding the recently sold Canexus fund interest) before WC changes was lighter than our $1.45 estimate, at $1.35, due to the Buzzard outage.
Backing out the extra cash taxes payable to the UK, CFPS would have been $1.475.
Hopefully the platform will now have steady production going forward, enjoying Brent oil prices of a current $125/bbl.
The stock has been strong on the tape, after persistent selling by clearly disgruntled institutional investors selling the stock down to nose-bleed low levels during late March and most of April, even though oil prices have been steadily rising.
In my view, Nexen presents a potential takeover candidate for a forward-looking Chinese entity wishing knowledge and exposure to a massive shale gas resource (Horn River), gaining a piece of a proven oil sands project (Syncrude) and a potentially large bitumen resource (Long Lake/Kinosis), and also obtaining some choice international oil leveraged to Brent prices (North Sea, Nigeria).
The Company has reduced net debt from over $5 billion to approximately $3 billion. The total enterprise value of Nexen is about $15 billion at current prices.
There is no significant shareholder and I calculate the Net Asset Value for Nexen to be about $30 CDN, reduced from $32-3 due to the UK tax hike.
Nexen is likely to be bought out by year end. My target remains at $30 and given current negative sentiment towards the stock, I feel this is one investment where there will be no bidding war and no regulatory hurdles.
Disclosure: I am long NXY.

Additional disclosure: The above information was disseminated to clients and subscribers of the BCMI Report anywhere from 12 to 48 hours prior to appearing on Seeking Alpha.