Recently, there have been many negative comments and articles about the Canadian oil sands displaying an imperfect understanding of the oil plays up north. Oil prices in the $70/bbl range will not stop oil sands production or growth.
High-quality producers are still investing in growth
Despite declining oil prices, Canadian Natural Resources (NYSE:CNQ), Canada's largest producer of heavy oil, is planning to increase production and capex in 2015. Similarly, Husky (OTCPK:HUSKF, TSX: HSE) and Cenovus (NYSE:CVE) have also committed to increasing their production in 2015. Combining the narrowing WTI/WCS differential to be discussed later on in this article with the strengthening US dollar vs. the Canadian dollar (most revenues are in USD), it is easy to see why high-quality Canadian O&G companies will continue to generate free cash flow.
WTI vs. WCS
West Texas Intermediate (WTI) is a light, sweet crude used as a benchmark for oil pricing in the United States.
Western Canadian Select (WCS) is a heavy, sour crude used as a benchmark for oil produced from the Canadian oil sands.
Due to its lower grade and also the cost required to transport it down to refineries in the US, WCS trades at a discount to WTI. This differential explains why the Canadian oil sands producers are more resilient to lower oil prices. While WTI is at its lowest monthly average price since October 2010, WCS has had a lower monthly average price in 13 of those 49 months. Hence, Canadian oil sands producers are well adapted and well equipped to weather today's low oil prices.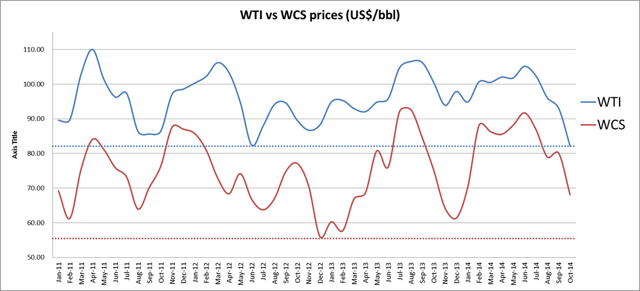 Narrowing WTI/WCS Differential
The WTI/WCS differential has been steadily narrowing, due to the following:
Many US refineries have switched to processing heavy oil, due to the lower cost. Although WTI has dropped significantly, since refineries are not able to easily switch back and forth between processing light oil and heavy oil, they will continue to receive heavy oil at their facilities.
Canadian producers have also ramped up their transport by rail efforts to solve the bottleneck caused by increased production and the continued delay of the Keystone XL pipeline.
While everyone focuses on Keystone XL (looking better with Republicans in charge, but I'm not holding my breath), Enbridge (NYSE:ENB) will be quietly completing its Flanagan South pipeline in late November/early December, with a capacity of 600,000 bpd. This is in addition to the modifications made to the Seaway pipeline, which was reversed in May 2012 to bring crude from Cushing to the refineries along the Gulf Coast. The Seaway pipeline also had its capacity expanded from 400,000 bpd to 800,000 bpd earlier this year. By providing increased access from Flanagan to refineries along the Gulf Coast, heavy crude from the Canadian oil sands will be able to achieve higher netback prices and increase margins.
Final Thoughts
Combining the growth with the resiliency to low oil prices to the narrowing differential which increases WCS prices, facts would suggest that the future is not that bleak for the Canadian oil sands.
There are certainly oil plays up north which I believe warrant at least a look:
Suncor (NYSE:SU)
EV/EBITDA (TTM): 5.125
Canada's largest integrated oil & gas company with strong upstream and downstream operations, including a netback of C$41/bbl and refining margin of C$27/bbl.
Cenovus
EV/EBITDA : 6.644
Possesses the highest-quality assets in the Athabasca region, with one of the lowest-cost producers in the Canadian oil sands with a steam-to-oil ratio of 2.1 compared to the industry average of 3.1.
MEG Energy (OTCPK:MEGEF, TSX: MEG)
EV/EBITDA : 20.09
Highest-growth company among the Canadian producers with >$5B market cap. Has good assets in the Christina Lake area, along with low operating costs and good execution (on track to grow production from just over 25,000 bpd in 2011 to 80,000 bpd in 2015).
DeeThree Exploration (DTHRF)
These are purely companies which I believe have potential in the Canadian oil sands space, and can capitalize on the advantages of the oil sands I detailed above. It is up to you to do a deeper dive into each of these companies to determine which ones fit your investment mix.
Disclosure: The author is long CVE, MEGEF, DTHRF.
The author wrote this article themselves, and it expresses their own opinions. The author is not receiving compensation for it (other than from Seeking Alpha). The author has no business relationship with any company whose stock is mentioned in this article.
Editor's Note: This article discusses one or more securities that do not trade on a major U.S. exchange. Please be aware of the risks associated with these stocks.