While last week's economic data, specifically the jobs and hourly earnings data points, were a bit disappointing, they were also good news for investors. It would have been nice to have numbers which blew away the estimates, but looking long-term it is more important to have figures which show the economy is continuing to improve but not at a rate which will force the Federal Reserve to action.
In years past, this has been referred to as a "Goldilocks" economy, where the economy was not too hot for the Fed to be forced to address inflation concerns and not too cold for corporate earnings to do well and drive equity prices. It is a fine line between a 'Goldilocks' economy and a disappointing economy, but it seems to us that we are currently in a period where growth will continue at a steady pace without sparking inflation fears at the Federal Reserve.
Chart of the Day:
The German DAX is nearing the resistance area we have previously highlighted. We recently discussed taking some money off of the table in this trade while letting the remaining ride out this attempt to break through the 9,500 point level. We had some readers ask us if we would sell if a breakthrough of resistance is not possible. If the chart breaks down, then yes, we would become sellers in order to lock in any gains which may still be present.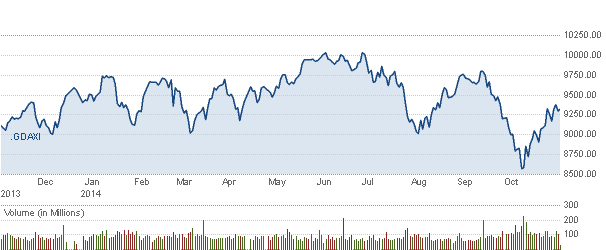 Source: CNBC
We have economic news today, and there will not be any big economic data news released until Wednesday's mortgage and inventory news.
The Asian markets are mixed today:
All Ordinaries - down 0.45%
Shanghai Composite - up 2.27%
Nikkei 225 - down 0.59%
NZSE 50 - up 0.95%
Seoul Composite - up 0.95%
In Europe, the markets are higher this morning:
CAC 40 - up 0.27%
DAX - up 0.25%
FTSE 100 - up 0.47%
OSE - up 0.41%
Bank Opens Silicon Valley Lab
The Financial Times reports that Bank of New York Mellon (NYSE:BK), or BNY Mellon, is joining Wells Fargo (NYSE:WFC) and Capital One Financial (NYSE:COF) in opening a lab in Silicon Valley as the financial industry tries to stay one step ahead of the competition. BNY Mellon is seeking to hire 20 individuals before ramping up hiring in 2015 to create a lab to collaborate with others while also pursuing opportunities to build upon the company's current technology offerings.
This trend among financial institutions to build out their technology teams is nothing new. The largest banks have long invested heavily in technology as a means to lower costs and make banking easier for consumers. BNY Mellon is seeking to get ahead of the technology curve as various new offerings have been developed in the last few years geared towards the investment industry and payment processing.
Elliot Continues Battle With Vodafone
The battle between Elliott Management and Vodafone (NASDAQ:VOD) continues, with Elliott now contending that Vodafone has not accurately disclosed the potential liability of their ongoing battle of the price Vodafone paid for Kabel Deutschland. Elliott owns just over half of the shares which have yet to be tendered to Vodafone as some Kabel shareholders seek higher prices under German takeover law.
Vodafone management says that Elliott's claim for further compensation is an attempt to increase an already very generous offer and that the company will not pay a price higher than what it has already agreed to. Our thinking is that Elliott is trying to drag out the process in order to possibly gain a few extra euros per share while also continuing to collect on a dividend that is 5% higher than the German interest rate. We suspect that Elliott will have to settle for the current price offered by Vodafone; not the 250 euros it is seeking.
AT&T Ventures Further Into Mexico
With its long-time alliance to Carlos Slim having ended earlier this year when AT&T (NYSE:T) was forced to sever ties in order to appease regulators regarding its deal with DirecTV (NYSE:DTV), it is now apparent that the company has bigger ambitions south of the border. After Friday's close, the company announced that they were purchasing the third largest telecom in Mexico, Grupo Iusacell SA, for $2.5 billion. The move is seen as a signal that AT&T will be bidding for at least some of the assets that America Movil (NYSE:AMX) will be selling in order to comply with new laws in Mexico.
Biotech Files For Bankruptcy
Dendreon (NASDAQ:DNDN), the Seattle biotech which developed Provenge, filed for Chapter 11 bankruptcy this morning. The company reached a deal with around 84% of its creditors which will allow the company to continue to deliver Provenge to patients as it tried to either turn its business around via a reorganization or sell the company through a process to get the most value for bondholders. Recent efforts to sell the company have failed when no bidders emerged, but part of the reorganization plan calls for the company to seek out interested parties for a sale.
Disclosure: The author has no positions in any stocks mentioned, and no plans to initiate any positions within the next 72 hours.
The author wrote this article themselves, and it expresses their own opinions. The author is not receiving compensation for it (other than from Seeking Alpha). The author has no business relationship with any company whose stock is mentioned in this article.
Editor's Note: This article covers one or more stocks trading at less than $1 per share and/or with less than a $100 million market cap. Please be aware of the risks associated with these stocks.