The growth of ETFs has been nothing short of phenomenal, with the category growing to over $2 trillion in assets under management (AUM) today from just over $100 million in 2002. This growth has shifted the investment landscape, giving investors a wide range of new investable funds and creating large, rapidly growing and immensely profitable fund sponsors overnight. Investment managers with exposure to ETFs, such as BlackRock (NYSE:BLK) and WisdomTree (NASDAQ:WETF), benefit from considerable competitive advantages and are poised for sustained, above average growth rates. These fast growth rates, coupled with inexpensive valuations due to concerns over expense ratio declines, make these firms attractive additions to growth oriented portfolios.
The Investment Management Industry
Over the last 30 years, the Investment Management industry has quickly grown to be one of the primary methods for retail investors to obtain access to the financial markets, increase their wealth and meet their financial goals (U.S. investment market share growth shown below). Consisting of mutual funds, exchange traded funds, closed-end funds and unit investment trusts, the investment management industry connects individual investors with appropriate investments, collecting fees primarily based on assets under management. These funds aggregate investments from a large portion of the investing public, helping investors easily and inexpensively achieve diversification and outsource their investment decisions to the more capable hands of a portfolio manager.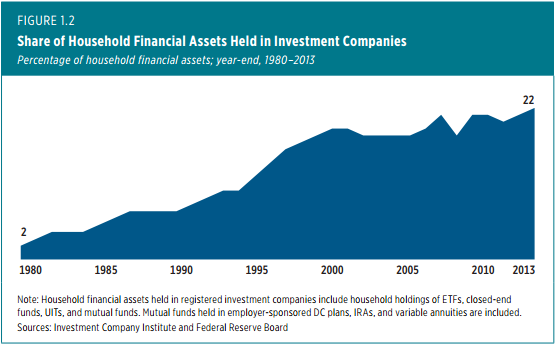 (Source: ICI)
With a large percentage of equity and fixed income securities held outside of investment companies (market share of investment companies by asset class shown below), there is still a fair amount of room for these companies to grow their share of investor's wallets. Because investment companies aren't supply constrained and they provide an outsourced solution to investors, they are able to create their own demand by providing convenience, market access, and (on occasion) above market performance.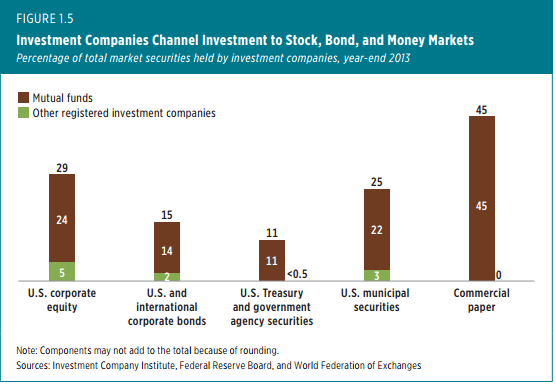 (Source: ICI)
The Rise of ETFs
Over the last decade Exchange Traded Funds (ETFs) have grown to constitute a larger portion of investment company assets (as shown below)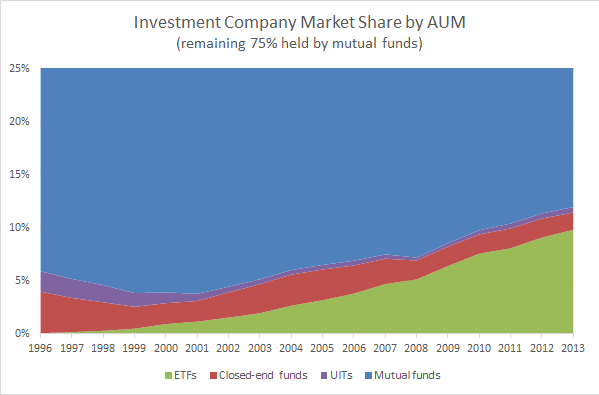 (Source: ICI)
The considerable growth of ETFs has given investors new vehicles to access stocks, bonds and other investment products. Unlike mutual funds which only price once a day at market close, ETFs trade throughout the day on an exchange, like stocks. ETFs often track an index, allowing the ETF sponsor to charge a lower expense ratio than the average mutual fund. Because of the way they are set up, ETFs also convey tax advantages to their owners, as almost all capital gains are deferred until ETF shares are sold (unlike a mutual fund which passes on a capital gain tax burden whenever it rebalances its holdings).
These advantages have led to skyrocketing usage of ETFs over the last decade, with a CAGR of 29.0% between 2002 and 2013 for U.S. based ETF assets (with U.S. ETF assets making up 72% of the $2.3 trillion ETF industry as of EOY 2013).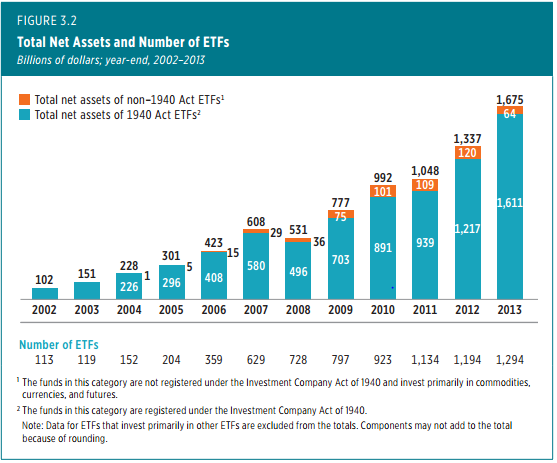 (Source: ICI)
A large number of people share the misconception that the ETF industry's growth is driven by simply stealing market share from mutual funds, but the greater story is that ETFs are growing the size of the market. Over the last 11 years, the cumulative flows to investment companies (shown below) has been positive every year except for 2008, with continued outflows from individually held equities (and recently bonds) helping to fund these purchases.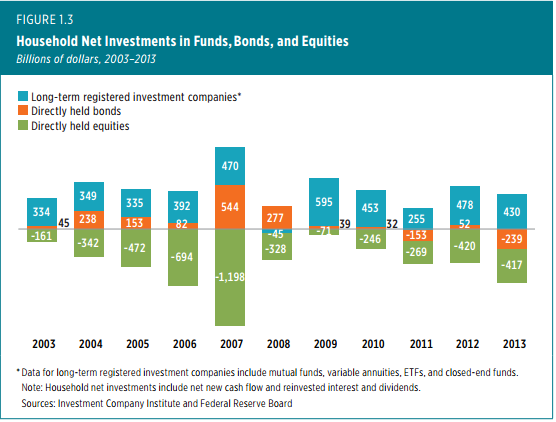 (Source: ICI)
ETFs are picking up where mutual funds left off, increasing access to financial products for the average investor and bringing an increased proportion of assets into investment companies. ETFs have a long growth runway, and could one day have comparable assets under management to mutual funds, with this growth helping the overall investment industry continue its impressive growth trajectory.
Expense Ratio Headwind
Tempering the impressive growth story of both mutual fund operators and ETF providers has been the considerable headwind of declining expense ratios (as shown below). There are a number of factors which have led to declining rates, with competitive pressures, the increasing prevalence of index funds, client preference for lower cost funds, and a mix shift toward lower fee products all contributing to this effect.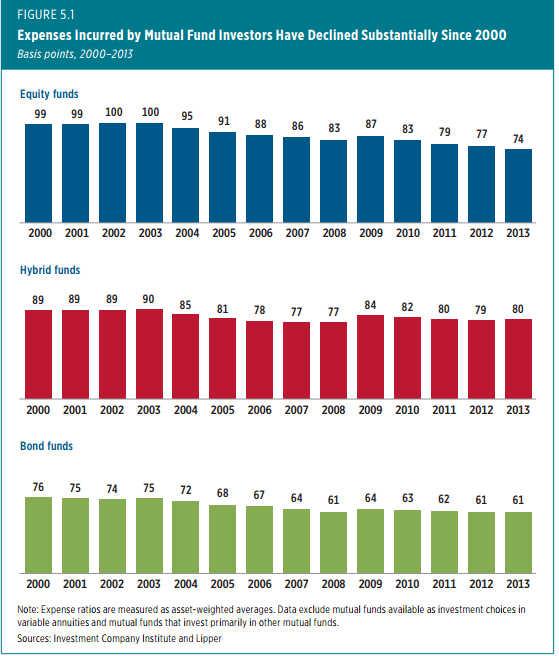 (Source: ICI)
The shift toward index funds may have had the most substantive influence on mutual fund revenue, with the increasing proportion of index funds directly impacting overall expenses (index funds grew from 9.5% of mutual fund assets in 2000 to 18.4% in 2013). Increasing competition has also contributed to the decline in fees as shown by the progressive decline in the average expense ratio (shown below), with this reflecting the closure of high cost funds, the opening of lower cost funds (such as index funds) and the reduction of expense ratios among existing funds.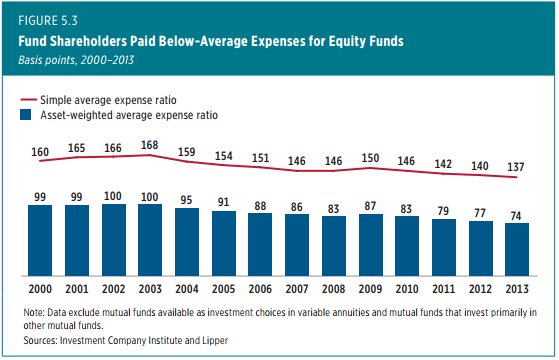 (Source: ICI)
Breaking down the mutual fund into active vs. passive, and bond vs. stock segments helps to show the more muted decline in expense ratios within each group, with a -1.3% and -1.4% CAGR for average fees over this period for active equity and active fixed income, respectively. This trend can be expected to continue at this rate, leading to a 1.0% to 1.5% revenue headwind over the medium term.
Since less data is available for ETFs due to their relative infancy, we can look at iShares' revenue per AUM as a way of approximating industry trends. Revenue per AUM is the most appropriate figure to gauge an ETF's earning power, as a significant portion of its revenue is derived from securities lending.
Securities lending involves lending shares (or less commonly bonds) to investors looking to sell them short, with this earning BlackRock and other industry participants added revenue and offsetting a portion of fund expenses (roughly 75% of BLK's securities lending revenue is kept by the fund, with BlackRock keeping the remainder as revenue).
Since Q1 2011, BlackRock's revenue per AUM has declined by 7.0%, from 0.36% to 0.34%, reflecting a -2.2% CAGR. Much of this fee decline has been from equity fees over the last 4 quarters, and appears to primarily be the result of short term factors, such as declines in securities lending revenue from temporarily elevated spreads and the underperformance of higher-fee international funds.
Going forward, ETFs can be expected to experience a more modest decline than active mutual funds, attributable in part due to the indirect competition involved in security lending, with fee declines approximating -0.5% to -1.0% per year. Although declining fees will remain a headwind, worries over these fee declines have created an opportunity within market leaders, giving current investors attractive entry points.
Cyclical Fund Flows
Another important factor to note before investing in an Investment Company is that the growth of AUM tend to have a high correlation with recent asset performance (see the 2 graphs below for market returns vs. asset inflows for both stocks and bonds). This factor has the tendency of exacerbating market cycles and increasing the beta of mutual fund providers with greater equity exposure.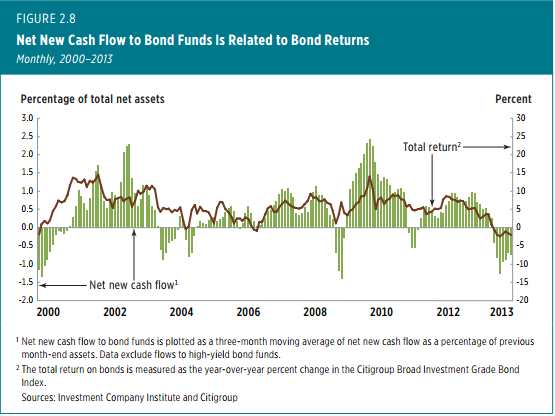 (Source: ICI)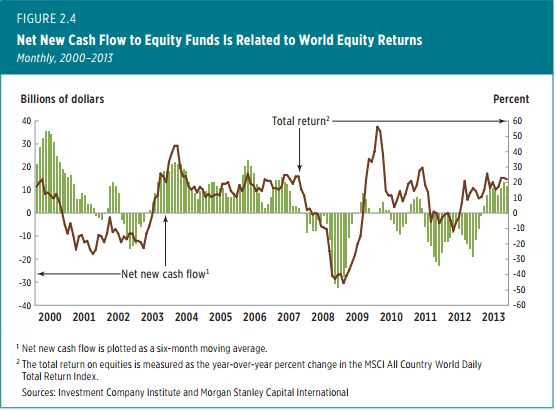 (Source: ICI)
ETFs, due to their stratospheric growth rates have largely bucked this trend, posting positive organic growth rates each year with only the broad based domestic equity posting net redemptions in 2009 and commodities posting net redemptions in 2013.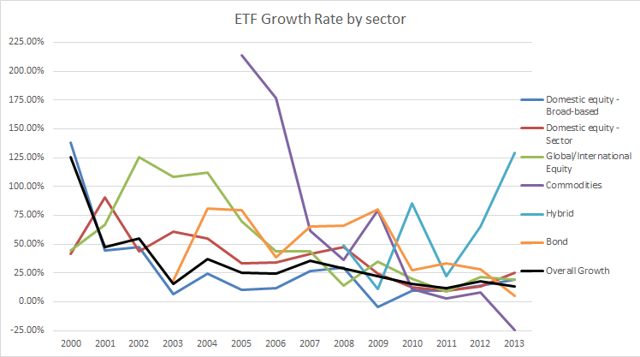 (Source: ICI)
Going forward, as the ETF industry matures and growth rates come down to more normal levels, ETF flows should look more like those of the mutual fund industry due to their similar nature, with fund flows following short term asset performance.
Industry Growth Rates
The organic growth rate (growth from investor inflows, ignoring changes in market value) of ETF AUM can be expected to decline somewhat from its current rate, with future organic growth averaging 7.5% -8.0% over the next 10 years. This is not an unreasonable expectation as this level of growth is below the 16.0% CAGR experienced in the U.S. over the last 5 years and only requires net inflows slightly below levels seen during the last 2 years.
This level of AUM growth, combined with modest 0.5% to 1.0% fee declines, would put ETF organic revenue growth between 6.5% and 7.0%. Assuming modest market appreciation, overall ETF AUM and revenue growth can be expected to remain in the low double digits over the next decade, with continued growth beyond.
Competitive Advantages
Despite the headwind of declining expense ratios, the investment management industry is highly profitable, with low cap-ex requirements, operating margins for top firms approaching 50%, and high returns on invested capital. Both mutual fund and ETF providers benefit from significant competitive advantages which help to protect the industry's impressive profitability.
Investors in mutual funds or ETFs face switching costs before moving their capital to another fund, as they need a certain level of trust and understanding in a new fund before investing their money. Because the expenses paid to a fund are small relative to the amount of money at risk, there is often a lot to lose and little to gain from putting money in a lower cost, yet untested fund. A capital gains tax burden must also be realized if a fund is sold at a profit, meaning a longtime investors in a fund may lose more to taxes than they would save in costs by moving money to a lower cost fund, adding an additional hurdle to client redemptions and further adding to AUM stickiness.
Larger investment companies also benefit from economies of scale, allowing them to spread fixed costs such as a research team and sales force across a greater asset and revenue base, with multiple funds enjoying the benefits of these expenditures. Having a greater number of funds also helps an investment company diversify its risks, as overdependence on a single fund or strategy could lead to a considerable decline in AUM if the strategy or fund becomes out of favor. Economies of scale are also apparent in individual funds as there are somewhat fixed support costs required for each fund, with most funds reaching breakeven between $50 - $100 million in AUM (using the assumption of an expense ratio between 0.5% and 0.75%, unlike this article's 1.5% assumption). These levels of scale economies make it so that the larger investment companies operate more efficiently and convert more of their revenues to profits than their smaller competitors.
Investment companies also enjoy barriers to entry making it more difficult for new competitors to enter the market, helping to protect their competitive position. Because a fund must reach a certain level of assets in order to breakeven, anyone hoping to start a new fund must be able to tolerate losses, often for an extended period of time, before they reach efficient scale and become profitable. It also takes time for a fund or investment company to build up the trust of investors, who often demand a successful track record over a number of years in order to put their own money at risk. Additionally, after a successful track record is built, an investment company may then benefit from brand equity, enabling it to charge a premium for its services or draw in a greater amount of assets due to its lower apparent risk or greater perceived return potential.
These advantages make it so larger, established firms with strong track records should continue to experience continued asset inflows, leading to faster revenue growth than that of the stock market despite moderate headwinds from declining expenses. This strong revenue growth, coupled with impressive profitability and low capex requirements means these firms have a large amount of free cash flow to use for dividends, buybacks and acquisitions, helping to further boost these firms' total return potential. These traits help make investment companies a fertile ground for finding attractive investment opportunities.
BlackRock
As the clear market leader within ETFs with 39% market share, BlackRock stands to benefit greatly from the continued growth in ETF assets under management. With over $4.5 trillion in AUM, BlackRock benefits from significant scale, reflected in the company's impressive profitability and 37.9% operating margin.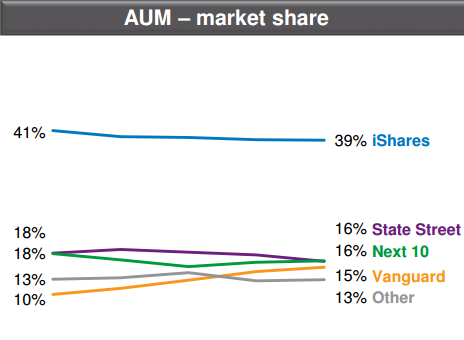 With roughly a third of BlackRock's revenue coming from ETFs, and a comparable amount coming from passive institutional assets, BlackRock is strongly leveraged to the growth of ETFs and the growth of passive investing. This positioning, coupled with strong results within the company's actively managed line-up, has given BLK one of the best growth profiles amongst asset managers.
BlackRock also benefits from a greater level of diversification than most asset managers. With 56.1% of 2013 Long-term base revenue derived from equity, 23.4% from fixed income, 12.3% from multi-asset class investments and 8.1% from alternative investments, an investment in BlackRock gives its investors exposure to a broad range of asset classes. This broad diversification makes BLK similar to an ETF, giving its investors exposure to a broad range of asset classes.
With a modest valuation of only 18 times earnings, BlackRock investors don't need to pay a lot to experience the significant growth inherent in ETF AUM.
WisdomTree
As the only publicly traded, pure-play ETF provider, WisdomTree is one of the best ways to benefit from the growth of ETFs.
Since its first fund launch in 2006, WisdomTree has grown from a startup with no assets under management (AUM) to one of the largest ETF sponsors, with over $35 billion in AUM. WETF has experienced this stratospheric growth rate because of its strong competitive positioning, with the company benefiting from 2 strong growth drivers: the rapid growth of ETFs and international market exposure.
Although WisdomTree is one of the largest ETF sponsors, its performance is still driven by a smaller number of funds and sectors than its larger peers, with international and emerging markets making up a large portion of AUM. Notably, the WisdomTree Japan Hedged Equity ETF (NYSEARCA:DXJ), has caused rollercoaster-like growth rates of late, contributing to 61.2% AUM growth in 2013, and an AUM decline of -7.2% in 2014. With this fund still making up around 30% of assets, varied performance and fund flows to this ETF is likely to contribute significant volatility to WETF's overall results.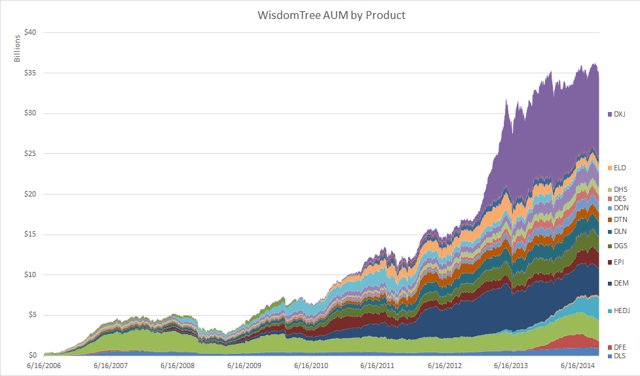 Strings of new product launches have helped improve the company's diversification, however, and its lineup would make a very attractive acquisition target for another investment company looking to enter the ETF market.
Despite the company's slower recent growth, WisdomTree has a bright future and a long growth runway ahead of it. Because of its recent run-up, WETF trades at a high multiple to normalized earnings (note that due to losses as a startup WETF has just begun to pay taxes on earnings), book value, and revenue. Despite this higher valuation WETF shares are worth monitoring given its strong competitive positioning, rapid growth and cash generation ability.
Disclosure: The author has no positions in any stocks mentioned, and no plans to initiate any positions within the next 72 hours.
The author wrote this article themselves, and it expresses their own opinions. The author is not receiving compensation for it (other than from Seeking Alpha). The author has no business relationship with any company whose stock is mentioned in this article.