"The single phenomenon that holds the key to sickness and health – The holy grail of medicine" *
Today the study of inflammation is ascendant in medical research. Thousands of articles now reference this "first" response of the immune system, and the multitude of pathologies and human woes it can cause. Interrupting the negative cascade of the body's response to first insult has become a busy frontier of research, with countless multitudes of lives and dollars at stake.
I recall Pathology Professor Dardin in one of my early classes at Georgetown many years ago lecturing to medical and dental students on the topic of inflammation, the biological response to harmful stimuli. "Calor, dolor, rubor, and tumor," he quoted in Latin—heat, pain, redness, and swelling being the four classic signs of inflammation originally recorded by the Roman encyclopedist Celsus in the 1st century A.D. Little did Dr. Dardin
know that today the study of low-grade, chronic, unresolved and untreated inflammation spurred by an immune system overload is now considered a key causal factor in almost all chronic degenerative and lifestyle diseases.
ENTER: Star Scientific Inc. (CIGX).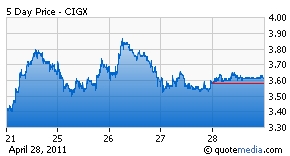 A proprietary Star Scientific compound is now being tested on humans at the Roskamp Institute, Johns Hopkins University School of Medicine, and in new research just underway referred to as the "Flint" study, where Star and the Roskamp Institute have obtained institutional review board approval for a multi-site human clinical trial. This testing involves the treatment of neurological conditions as well as conditions associated with elevated blood levels of C-reactive protein [CRP]. Star's compound, anatabine, is found in tobacco and in peppers, eggplant, and green tomatoes. Could it be that from tobacco, of all things, a new method of dealing with and treating low-grade inflammation might be realized, possibly eliminating a whole world of woe?
On 10-7-2010 the eminent research institution Roskamp Institute announced that it will soon begin human clinical trials of anatabine for the treatment of Alzheimer's disease. Star Scientific has said that, "extensive pre-clinical research has been conducted." The compound was developed, patented and provided to Roskamp by a 100% owned subsidiary of Star Scientific. See link here.
Because of the astonishing success of the Star Scientific compound in encouraging new neuronal cell growth and reducing B-amyloid at the cellular level, Johns Hopkins University—a major research institution—is phasing in new uses of the compound in several other disease venues: cancers, thyroid, arthritis, and other diseases. Of note, research at the Johns Hopkins suggests that a low grade inflammation in pregnant women can pass through the placenta and blood-brain-barrier and cause aberrant neuronal growth within the fetal brain that could lead to autism and other disorders of presumed neurodevelopment origin, like schizophrenia and cerebral palsy.*
More recent research from January-February 2011 at the Department of Neurochemistry, NY State Institute for Basic Research in Developmental Disabilities, reported similarly: "Our findings suggest that inflammation and apoptosis may play a significant role in the pathogenesis of autism..."
It has long been known that rubella/measles is the principal non-genetic cause of autism, so the conclusions above do make "connect the dots" sense. Star has recently trademarked a product called Anatabloc and the data picture that I've viewed on the Internet indicates that it's "Anti-Inflammatory Support Lowers C-Reactive Protein" (Again CRP is the critical marker) See this link to trademark data.
Medical research is now unwavering in its assessment that low-grade inflammations, once they become chronic, do significant harm to the body. Today, clinicians treat many diseases like asthma, arthritis, periodontal disease, lupus, cancer, ulcers, heart disease and many others with anti-inflammatory drugs to neutralize, diminish or block the process of inflammation.
A recently published graph from the Roskamp website shows the astonishing effects of the naturally occurring compound anatabine (RCP006) on the molecule that typically causes inflammation during bacterial infection. The chart demonstrates the dramatic effect of anatabine versus Lipitor, well known to have advanced anti-inflammatory properties (about double the therapeutic effect of aspirin). See link to the entire Roskamp page that includes the graph.
The graph demonstrates vividly how anatabine is more than three times more effective than Lipitor in reducing inflammation.
On 2/9/2011 Star Scientific announced that the subject of its provisional patent application, a pure form of a single isomer of anatabine, could be administered to treat numerous disorders, including those with inflammatory components, aberrant immune response and/or inappropriate cell proliferation. The application indicates that the disorders which may be treated with this discovery include inflammation occurring in brain swelling or neurodegenerative disease such as Alzheimer's disease, multiple sclerosis, and Parkinson's disease. Star said: "This isomer can be administered in a composition containing a therapeutically effective dose of anatabine to treat chronic low-level inflammation."
Star understands the impact of this information on the scientific and medical community and has revealed in the press announcement that it is working with McColl Partners LLC on "structuring a controlled auction for bidding by pharmaceutical companies for licensing and/or co-venturing relationships."
McColl Partners is an independent investment banking firm co-founded by Hugh McColl, former Chairman of Bank of America (NYSE:BAC). See link here.
So, the sum of these studies of inflammation adds several more powerful hi-power arrows to the quiver of Star Scientific's armamentarium and its company-making strategy, now suddenly morphing Star into a new category or sector: that of a dynamic Biotech with legions of possibilities. One can only wonder who else is looking at these developments, which offer such tantalizing opportunities on mega-issues of our time: aging, Social Security, Medicare and Medicaid, senior citizen housing, hospitals as we've known them throughout the 20th and early 21st centuries, and the costs of drugs on almost the entire spectrum of disease as we define disease. Big Pharma, I'm certain, understands the totality of this data and is marshaling its forces to participate in the market playout of these inflammation discoveries in some form; it is always in search of significant new revenue sources. Obviously licensing, co-venturing, and buyout possibilities abound here.
Let's recall that the ancients found the bark of the willow tree to have anti-inflammatory properties. We now know that medicinal substance as aspirin. It may well be that from tobacco, a source of anatabine, a new treatment for all these afflictions could be realized.
Now, if that's not enough to get the hair up on you back, add this anecdotal story: it goes that a while back, Richard L. Sharp, founder and a board member of Crocs Inc. (NASDAQ:CROX) (NYSE, and former Chairman of Circuit City and Carmax) was part of a study at Roskamp Institute. He had taken a leave of absence from his post due to what was thought to be Alzheimer's.
Rumors were out there that Sharp was the beneficiary of some kind of miraculous healing from this devastating illness after his visit to Roskamp. I repeat that this account about Mr. Sharp and his experience at Roskamp is 100% unsubstantiated, but the story got around. It is certainly interesting in light of what we know about the goings on at the Roskamp Institute as regards its human Alzheimer studies.
Now we see that Mr. Sharp is a new board member of Star Scientific (March 17, 2011). Let it be said again: Star Scientific makes the product the Roskamp Institute uses for its Alzheimer studies.
And oh, I almost forgot: Mr. Sharp is a member of the Johns Hopkins Medicine Board of Advisors, so he must have been aware of the Johns Hopkins involvement with the testing of Star's anatabine/RCP006 compound.
Orders of magnitude more than interesting, right?
I like to say about Star that the "connect the dots" tendency of its narrative could make CIGX a stock for the ages. Here is a quick look at some of this matrix of dots.
Star's mega lawsuit against tobacco giant RJ Reynolds is supposedly the "largest patent infringement lawsuit ever," and is being orchestrated by the powerful law firm Sidley and Austin LLP—a major patent law impresario that has lost just a couple of patent suits over its long history. This story alone drove CIGX to just below $6 last year.
Star is now marketing CigRx, an over-the-counter (no doctor prescription required) Tic-Tac style non-nicotine nutraceutical made from natural ingredients that temporarily reduces the urge to smoke. Just picture the market. And you can purchase it very simply online.
Gross cigarette sales are $325 billion a year. Tobacco use will kill 6.5 million people in 2010 from cancer, heart disease, emphysema and other diseases. Moreover, 40% of those who smoke try to quit each year. With smoking issues so enormous worldwide, wouldn't some enterprising Big Tobacco company become involved with either a type of licensing agreement or even a buyout? Rumors are "out there" about this.
There's even more home run potential: Star has applied to the FDA for approval to advertise its proprietary BDL (Below Detectable Levels) technology that can lower the nitrosamine (the harmful part of tobacco complex) content to the zero level. Importantly, CIGX is the one and only company that can do this. Imagine if it gets FDA approval on that one? "Big Tobacco" will have to license the BDL technology ASAP, I believe. It should be noted that on March 11, 2011, Star's patents were validated by the United States Patent & Trademark Office with no possibility of appeal. The entire tobacco industry is now beholden to Star Scientific. How beholden? Perhaps to the tune of billions of dollars—but any way you look at it, after the 10-year lawsuit it is going to cost them a bunch.
Another big positive hit last month: Star Scientific received official word from the U.S. Food & Drug Administration [FDA] the net effect being that it will allow Star's modified risk tobacco products to be advertised, marketed and distributed. The ruling stated that Star's modified risk products are not "subject to regulation under FDC Act Chapter IX"; effectively approving Star's request to market and advertise its Ariva-BDL and Stonewall-BDL "BDL" (Below Detectable Levels) products.
Boiled down to basics: Star can market its tobacco products that have the cancer-causing, potentially lethal tobacco agent removed.
Institutional ownership continues to grow. I believe that currently about 81 financial institutions hold about 30% of Star shares. Last November, insiders and 5% holders bought an "additional" $14 million worth of shares plus warrants, in addition, I believe, to a 6-month lock-up. Just last month, on 3/19/2011, Star CEO Jonnie Williams bought up 500,000 shares of the company's stock for $1.97 according to securities filings. Hedge fund Tradewinds Investment Management, a more than 16% shareholder of Star, also picked up another 1,000,000 shares at $1.84 per on the same day, to now total 20.3 million shares.
* Noted author Dr. William Joel Meggs, an inflammation specialist at the Brody School of Medicine at East Carolina University, makes the point that inflammation "may well turn out to be the elusive holy grail of medicine, the single phenomenon that holds the key to sickness and health." Inflammation, Dr. Meggs writes, is a common thread that links heart disease, some forms of cancer, diabetes, migraine headaches, irritable bowel, and even periodontal disease.
To watch the CigRx infomercial click here.
Disclosure: I am long CIGX.
Additional disclosure: I have no connection with the company other than owning shares.