Europe's largest oil company Royal Dutch Shell plc (NYSE:RDS.A) reported better-than-expected first quarter 2011 results, thanks to higher oil prices, better refining margins and the group's robust operating performance.
Earnings per ADR (on a current cost of supplies basis), excluding one-time items and gains or losses from inventories, came in at $2.04, significantly ahead of the year-ago result of $1.57 and also exceeded the Zacks Consensus Estimate of $1.86. Revenues were up 27.7% to $109.9 billion.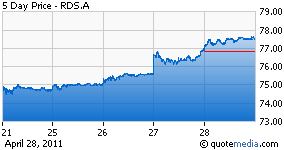 Segmental Performance
Upstream: Upstream segment earnings during the quarter (excluding items) were $4.6 billion, up 7.7% from $4.3 billion (adjusted) earned in the year-ago period.
This primarily reflects the impact of higher oil and natural gas prices, higher dividends received from an LNG joint venture, as well as better liquefied natural gas (NYSEMKT:LNG) realizations, partly offset by lower crude oil and natural gas output, increased production taxes, reduced trading contributions and higher operating expenses.
Upstream volumes averaged 3.5 million oil-equivalent barrels per day (MMBOE/d), down 2.5% from the year-ago period. This was due to a 1.9% fall in natural gas volumes and a 3.2% decrease in crude oil volumes. Crude oil production contributed approximately 48% of total volumes, while natural gas volumes accounted for the rest.
Production during the quarter compared with the year-ago quarter included increased volumes from new field start-ups and the continued ramp-up of existing fields, which boosted output by roughly 230 MBOE/d.
LNG equity sales volumes of 4.42 million tons were 4% higher than the year-ago quarter, mainly due to the continuous ramp-up of Sakhalin-2 LNG production in Russia, higher volumes from Nigeria LNG, as well as the successful start-up of the Qatargas 4 project.
Downstream: In the Downstream segment, Shell recorded profit (excluding items) of $1.7 billion as against earnings of $778 million (adjusted) in the year-ago period. The improvement reflects the impact of higher Oil Products marketing earnings, enhanced refining contributions and better Chemicals results.
Better global downstream market conditions benefited the results of the Anglo-Dutch super major. Refining margins were higher compared with the year-ago period and Shell's results were also helped by an increase in refinery plant intake volumes. Refinery availability was up 3% from the same period of 2010 (from 89% to 92%).
Cash Flow
During the quarter, the group generated cash flow from operations of $8.6 billion, returned $1.6 billion to shareholders through dividends and spent $4.9 billion on capital projects.
Balance Sheet
As of March 31, 2011, the group had $16.6 billion in cash and $42.6 billion in debt (including short-term debt). Net debt-to-capitalization ratio stood at approximately 14.0%.
Outlook & Recommendation
Royal Dutch Shell – Europe's largest oil company by market value and ahead of Total SA (NYSE:TOT) and BP plc (NYSE:BP) – owns one of the largest integrated oil and gas businesses in the world. The group has operations all over the world and is involved in various activities related to oil and natural gas, chemicals, power generation, renewable energy resources and other energy-related businesses.
Royal Dutch Shell ADRs currently retain a Zacks #3 Rank, which translates into a short-term Hold rating. Longer-term, we are maintaining our Neutral recommendation on the stock.
With the economic rebound showing signs of strengthening and oil prices rallying, we expect integrated oil companies such as Royal Dutch Shell to continue to accelerate revenue and earnings growth over the next few quarters. Apart from the economic recovery, the group's recent results have also benefited from its operational and production efficiency and contributions from growth programs.
The Hague-based group has been able to boost returns and remain competitive by embarking on aggressive cost reduction initiatives, exiting unprofitable markets and streamlining the organization.
However, at current valuations, we have a difficult time justifying sufficient potential return to support an Outperform rating. We expect Royal Dutch Shell's returns to remain below average, as the group makes significant investments in large growth projects. Consequently, we see the stock performing in line with the broader market.