In this article, we will provide you with financial fundamental analysis of the eight largest apparel manufacturing-related companies on U.S. stock exchanges. For each company, we have provided price targets, buy/sell/hold ratings, buy/sell ranges and theses. Additionally, using a multitude of financial analytical ratios and comparisons, we have given each company a score on growth, profitability, financial health, value, and management indices to compare each company and see where companies excel and where they have weaknesses.
The breakdown of the story is our apparel manufacturing heat map and company profiles.
To see all 12 of the ratings, visit theoxengroup.com.
Click to enlarge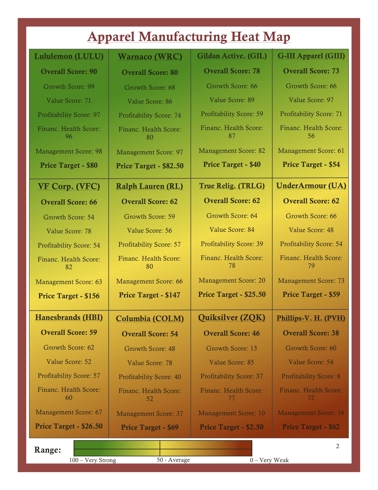 Lululemon (NASDAQ:LULU) - Rating: Sell, Price Target: $80
Radar: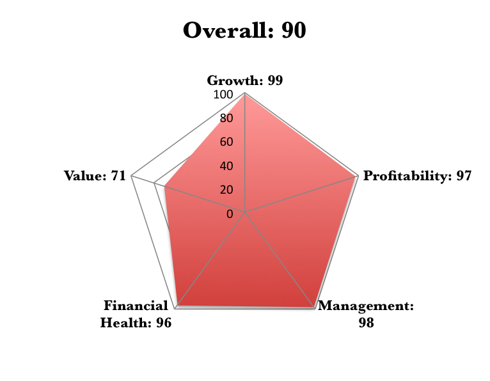 Thesis:
There is a lot to like about Lululemon from its outstanding YoY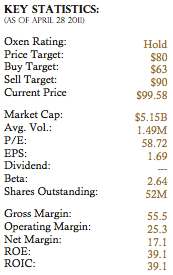 sales growth of nearly 30% to five-year sales growth of over 400%. The company has high margins that exceed competition, and they continue to develop into new fitness areas and different groups of customers.
The market, though, also loves Lululemon (LULU), and it has taken the price of this stock up 45% YTD and 150% YoY. While the increase was justified given expansion and growing demand for products, the run may be nearing an end for the near-term.
The issue for Lululemon is its economic moat and future growth prospects. They have created a great economic moat for their consumer in the fitness/yoga area. The problem is where to go from there. The company is going to have a tough time penetrating a lot of other markets that already have significant competition in the fitness arena that can offer significant growth.
With a P/E ratio nearing on 60 and future P/E at 40, the market is paying quite a bit for the future growth in this company. At current valuations, we see the market pricing in around 350% growth in operating income in the next five years, which is definitely not obtainable.
At this time, the Lululemon investment may be toppy, but with a pullback between 75-85, this is a company that makes a nice growth holding. Even lower and it can become a nice value investment.

The Warnaco Group (WRC) - Rating: Buy, Price Target: $82.50
Radar: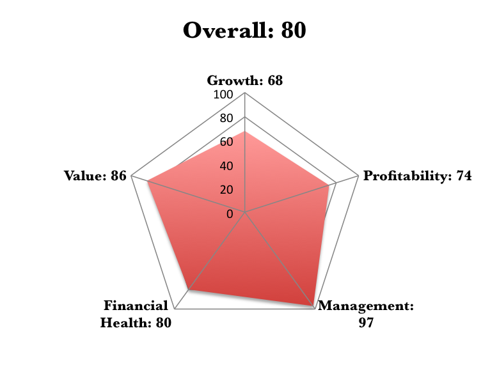 Thesis: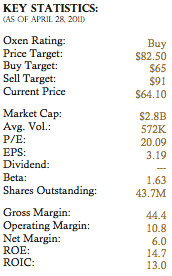 The Warnaco Group sells its products under the brand names of Calvin Klein, Chaps, Speedo, Warner's and Olga. The company ranks well in its industry with a top-three ranking in every category, and among its competitors seems to be undervalued. The company has grown only 26% in the past five years in sales, but in the past year, they grew 14%. We expect in the next five the company can grow sales 35-40%.
WRC has done a fantastic job of shedding some of its struggling lines (Anne Cole, Michael Kors, Nautica, Lejaby and GJM) in the past several years and allowed it to focus on its more profitable and emerging lines. The company has fully recovered from its emergence from bankruptcy in 2003, and has great financial health with a current ratio at 2.08 and declining debt levels, increasing FCF margins, and a lower cash conversion cycle.
Further, the company looks to be one of the companies least impacted by the cotton crisis going on with a lot of its competitors. Its top lines of Olga's, Warner's and Speedo are all non-cotton based for a majority of their products. In fact, the company has improved its operating margin from 6.8 to 10.8 over the past three years.
The company has low risk, and with a P/E of 20, Warnaco is not heavily overvalued (especially in its industry). Earnings should continue to increase, and growth looks compelling.
Gildan Activewear (NYSE:GIL) - Rating: Hold, Price Target: $40
Radar: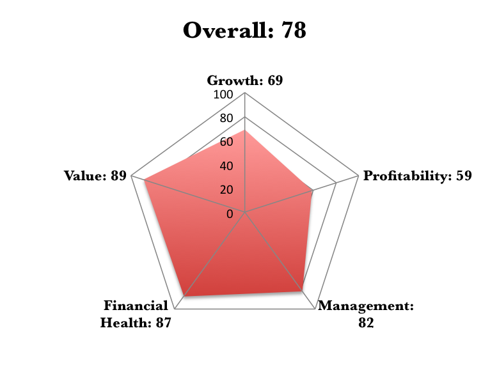 Thesis: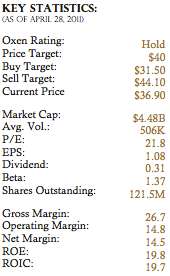 Gildan Activewear is one of the top apparel manufacturing companies. They have strong scores in every category, and they have vastly improved their profitability levels in the past year after their 2009 setback. The company is going to continue to see strong growth levels as they have a top wholesale active wear line as well as manufacturing private-label underwear and socks for Wal-Mart (NYSE:WMT) and Target (NYSE:TGT).
One threat for Gildan Activewear is higher input prices that can dampen margins and the company's bottom line in the near-term. We believe we will see a setback for margins in the near-term, but this is a company that has been able to continually bounce back from drops in margins.
The upside opportunity seems limited at current levels as the stock has already improved nearly 30% already this year. We believe that a pullback to below $32 would present a great buying opportunity. At the same time, this holding is a nice addition with low risk, good financial health, and top-notch management. Further, while holding, you will get a nice dividend.
The company's management gets a top-grade as they have done a tremendous job at improving sales over the past five years by a faster rate than SG&A (more than 500%).
The P/E ratio is average, but this company is a strong holding that will not let you down.
G-III Apparel (NASDAQ:GIII) - Rating: Buy, Price Target: $54
Radar: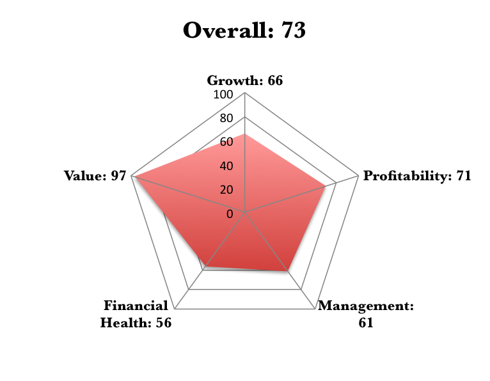 Thesis: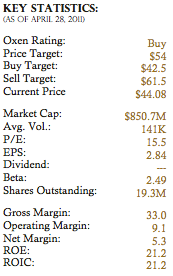 Luxury retail has been one of the most vibrant recovery plays to date. One often overlook (due to thin trading) apparel company is G-III apparel, which licenses a number of designers and luxury brands including Cole Haan, Dockers, Guess, Levi's, Sean John and Tommy Hilfiger. Additionally, the company has licenses with the NFL, NBA, NHL and MLB.
The company has great growth prospects along with value. The company is our top value stock as the company has a low P/E at 15.5 and we believe a future P/E near 10.
The luxury shopper continues to spend and is bringing money into these brands over other brands. Further, luxury brands have the ability to better pass costs onto customers than do wholesalers or lower-end apparel companies. This will help the company uphold their margins.
The company's margins are improving at drastic rates after the 2008/2009 slowdown. In the last three years, the company's operating margin improved by nearly 2,000% from -0.5 to 9.1.
G-III also has a very high return on equity and invested capital. They have no debt, so all its earnings are reflected in the valuation.
The company needs to bring in more free cash flow and improve their margins further, but GIII looks very valuable right now.
VF Corp. (NYSE:VFC) - Rating: Buy, Price Target: $156
Radar: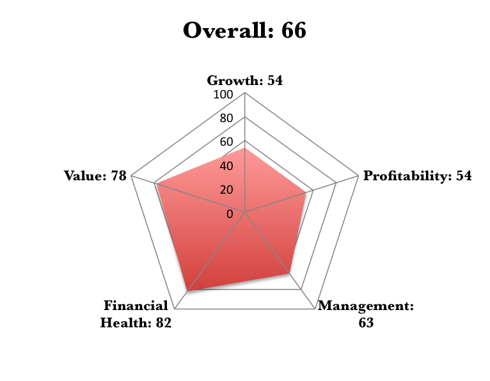 Thesis: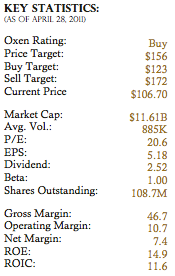 VF Corp. is a branded apparel manufacturer with a mix of both high-end and mid-level brands in its group. Some of their holdings include 7 for All Mankind, The North Face, Wrangler, Vans, Nautica and Lee. The company is one of a few retailers with pretty significant undervaluation to our price target. The company looks like they are poised for strong growth moving forward with a mixture of lots of brands.
The company's margins have fallen over the past couple years, which is the reason for the lower profitability score. Yet, at the same time, this is a company that has been bringing a lot of new brands on over the last several years. With the input costs and interest payments on debt taking hits to the bottom-line, margins have fallen. With a robust lineup in place, we expect these margins to turn around as they used to be in the mid-teens. They may see a small hit this year from cotton prices, however.
Their holdings like The North Face, Vans and Kipling are lines that have tremendous upside moving forward and make this a play with momentum.
Another positive point for VF Corp. is that they have great financial health. The company has been reducing its debt load from taking on new companies well. They have a current ratio at 2.55, which is very healthy, and VFC performs well on the acid test.
Polo Ralph Lauren (NYSE:RL) - Rating: Hold, Price Target: $147
Radar: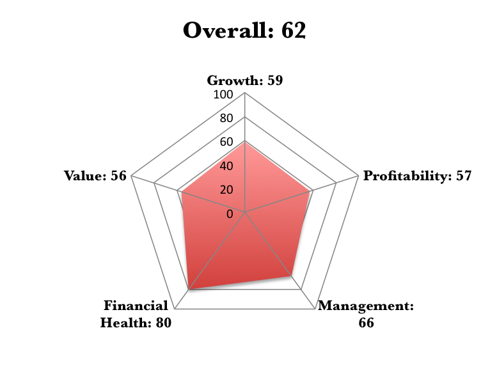 Thesis: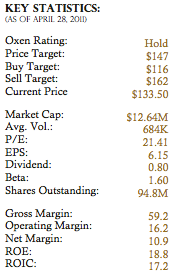 Polo Ralph Lauren has been able to build a thin economic moat in an industry where economic moats are very tough to do with customer switching and brand loyalty more about style than consistency. Yet, with several steady lines built around designer Ralph Lauren, the company continues to return nice profits and is an overall solid large-cap stock.
The company has some upside from its current price, but it's not a Buy rating because of the company's near 20% move YTD that has put the stock out of our Buy range and close to our price target. Yet, RL is a company with low-risk and consistency.
The company will be able to fight cotton prices with a loyal customer and luxury lineup. They have solid growth in margins and ROE and ROIC over the last several years.
A great part of holding RL is that you get the benefit of a small dividend as well along with lack of risk.
One of the most intriguing scores for RL is the company's financial health. The company has a perfect current ratio at 3 and quick ratio at 2. The company has drastically improved its acid test over the past five years as well as reduced debt.
RL is a safe and consistent play in this industry.
True Religion (NASDAQ:TRLG) - Rating: Hold, Price Target: $25.50
Radar: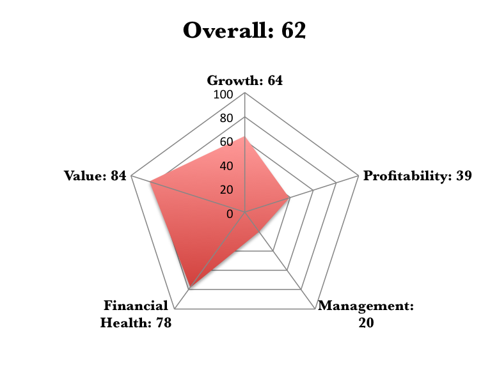 Thesis: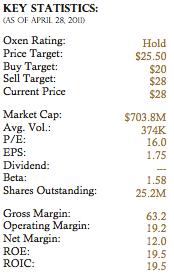 True Religion (TRLG) is one of the youngest companies in the industry with some definite potential, but upside in price may be limited in the near-term. With the popularity of their overly expensive jeans priced at $200 - $300 per pair, the company is an emerging luxury company.
Yet, the first glaring problem is upside. In a crowded apparel sector, the company has specialized in jeans. Yet, the company's ability to become more than just a high-priced jean manufacturer remains to be seen.
The company can still be very successful and grow in their niche market but will that mean higher prices in the stock? They have plans to expand internationally that will take a hit on 2011's bottom-line. The increase in revenue and expansion should take a hit to margins, and the company will need to show if they can expand without large debt amounts.
The company has a very low management rating because the company has fallen in nearly every efficiency margin on 5-year and YoY comparison. The worst is that their management is selling a lot of shares and the cash conversion cycle is increasing.
The company does have a lot of value because of their prospects. They are still a small-cap that can definitely be a player in the market, but they need to improve in several areas.
Under Armour (NYSE:UA) - Rating: Sell, Price Target: $59.50
Radar: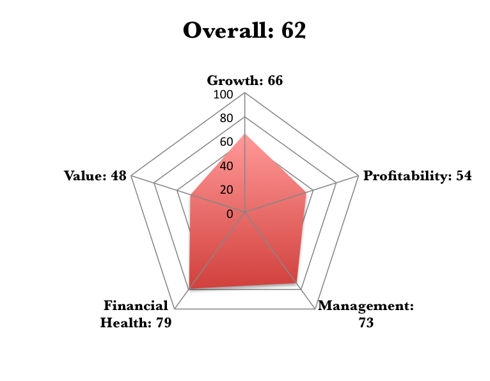 Thesis: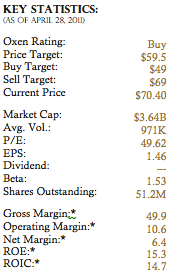 Under Armour changed the landscape of fitness wear with their workout clothes and has become a global brand for fitness clothing. The company has seen revenue grow nearly 150% in the past five years. The stock has jumped 100% in just the last year. Yet, the upside potential and significant YoY growth potential may be waning for Under Armour.
The problem for this company is similar to Lululemon. They make great fitness clothing for males, but their ability to move into other sectors of the fitness world is going to be challenged. Shoes are highly competitive and a lot of brands have moats here. The company will continue to expand internationally, but the 50 P/E and 35 FP/E does suggest that a lot of this future growth is already priced into the stock.
The company is decent in every category, but they have seen margins slip significantly with increasing revenue. The company should improve on these, but even with an 85-90% growth in revenue in the next five years, this company is overvalued.
If you are holding, take some profits at any jumps. If you are not, look elsewhere. Until UA proves they can sustain another growth division, they will not be able to increase price significantly.
*Does not include Q1FY11.
To see the same information about Columbia Sportswear (NASDAQ:COLM), Phillips-Van Heusen (NYSE:PVH), Hanesbrands (NYSE:HBI) and Quiksilver (NYSE:ZQK), see our full report at theoxengroup.com.
Disclaimer: The Oxen Group are not licensed financial analysts or advisors. Our EquityAnalytics' reports are based on formulas created by The Oxen Group. These reports are investment ideas and are not recommendations of what one should buy, sell, or hold. The Oxen Group receives no compensation from the companies they investigate. Price targets are based on a discounted cash flow analysis from information that is thought to be reliable. Price targets are subject to change as well as ratings. Please consult an investment advisor about any possible investments you would make from EquityAnalytics.
Disclosure: I have no positions in any stocks mentioned, and no plans to initiate any positions within the next 72 hours.