Earlier this month, the federal government faced what would have been its first shutdown since the mid-1990s. But, without a moment to spare, a "good enough" federal budget plan proposing around $40 billion in cuts was finalized to avert a shutdown.
In March, President Obama had stated that jobs, healthcare, clean energy, education, and infrastructure remain his top priorities and are therefore less likely to experience major cuts. However, with enormous pressure on both the President and Congress to avoid a national debt crisis, every arena could potentially be on the chopping block before long.
Therefore, it is important to use caution when investing in publicly-traded companies that currently have a heavy exposure to government spending. The more exposure a company has, the greater likelihood it will experience cuts or delays of some kind (which ultimately, should impact its stock price).
In the chart below, we have listed several companies that derive over half of their revenues from government spending and also look unattractive according to The Applied Finance Group's valuation model. Keep a wary eye on this list for potential portfolio torpedoes.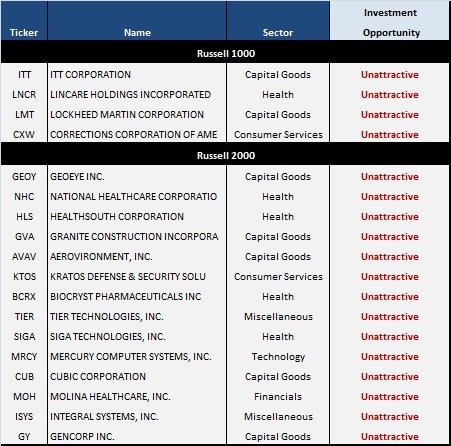 Note: This chart lists several companies from the Russell 1000 or Russell 2000 that derive 50% or more of their revenue from the US government and also look unattractive, according to AFG investment criteria.