It's been an interesting few hours of trading in the precious metals markets, as "unstoppable" silver seems to be anything but that on this Friday, meandering around level for the day while the gold price surges more than $30 an ounce. Whether or not silver pierces that $50 level remains to be seen, but it doesn't look like it will happen today.
One of the sloppiest articles on gold in recent memory can be found here in the U.K. edition of Reuters, with author John McCrank (apparently his real name) tipping readers off to the quality of his writing by citing Jon Nadler on multiple occasions. Jon's been wrong about gold for about $1,000 an ounce now, so, it's hard to take him seriously anymore -- and it's a wonder why anyone would call him, much less cite his opinions.
The gist of the story is that hedge funds may soon think it's time to book their profits and begin withdrawing money from the many gold ETFs, thus pulling the rug out from under the price. But, as shown below from the World Gold Council's latest Gold Investment Digest, flows into gold ETFs have not been a factor for about a year now, as the gold price has risen by almost $400 an ounce while total ETF holdings have been about flat.
[Click to enlarge]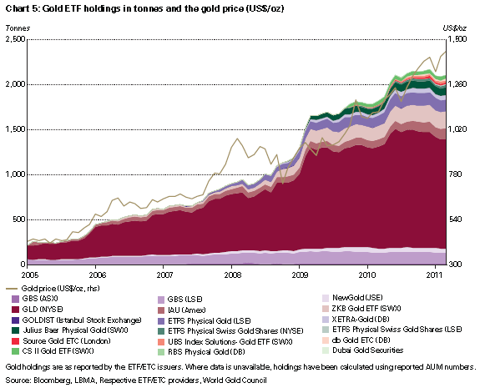 The Reuters report also flubbed the reference to the University of Texas endowment fund gold purchase when it said that the group had purchased $1 billion in gold bullion earlier this month. See any of the many reports on this significant gold market development, and you'll learn that it doubled its 2010 stake of $500 million a short time ago -- but the key part of the story is that it took physical delivery, casting more doubt on the importance of ETFs relative to the gold price.
This looks a lot like one of those 2005-era gold stories where the author doesn't seem to know or care about the gold market -- but was tasked with writing an article, so he did so.