The stock market has "powered through" the S&P downgrade for the U.S. credit outlook, weaker than hoped for employment numbers, Fed speak, and nosebleed commodity prices - with gas now topping $4 dollar a gallon in most metro areas. It did it on the back of higher corporate earnings, particularly in the tech sector. (And this too shall pass.)
Can the stock market continue its run? The VIX, considered the stock market's "fear gauge," continues to slide and is now at a 34 month low. It appears to show no apparent signs of concern as the S&P 500 reaches fresh new recovery highs.
The VIX has continued its incredible journey into the lower reaches of its recent trading range. Currently at 14.62, an investor would have to go back to July of 2007 to get the reading below 15.
The chart below is a comparison of the S&P 500 and the inverted VIX since the trough of the previous stock market cycle (October 2009).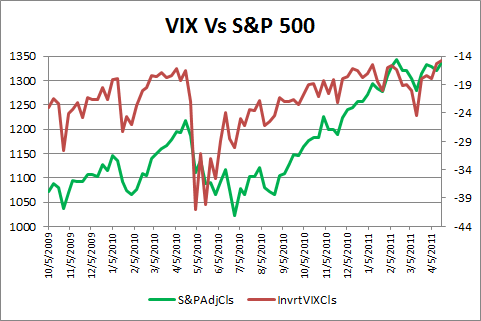 It appears that every time during this period when the VIX breaks through 18 on the downside it is followed by a downward movement in the S&P 500. It occurred in January of 2010, then again in April and during a period in 2011 and again now.
Stock market correction? Does this mean that the stock market is ready to correct? Not so fast.
During a period from 2004 to prior to the 2007 stock market peak, the VIX regularly traded below 18. The question for investors is: does the same economic, political and financial environment exist today to support the stock market during that cycle?
Maybe the recent unconcerned performance of the VIX adds more conviction to the old Wall Street adage of "Sell in May and go away."
Disclosure: I have no positions in any stocks mentioned, and no plans to initiate any positions within the next 72 hours.