Investors have confidence in Amazon.com (NASDAQ:AMZN) CEO Jeff Bezos. Given the lack of confidence people tend to have in corporate executives, maybe it makes sense to spend whatever it takes to preserve the life of one CEO who inspires faith and trust. What happened to Amazon's stock in the aftermath of its $0.16 EPS miss provides proof that the street believes in Bezos.

Despite the miss and another quarter of considerable capital expenditures, investors still ran AMZN to a post-earnings 52-week high. And they did it with conviction. Prior to earnings, AMZN closed at $182.30. The next day it ended up at $196.63 on more the twice the previous session's volume. The shares established a new 52-week high -- $197.80 -- and closed the week at $195.81.

(Chart courtesy of FreeStockCharts.com)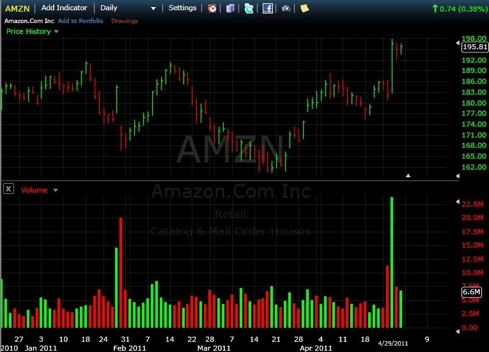 What gives? Research in Motion (RIMM) guided down and got crushed. Netflix (NASDAQ:NFLX) reported a seemingly strong quarter, only tempering enthusiasm over its outlook and got hammered. On the flip side, Apple (NASDAQ:AAPL) beat big, yet it still faces resistance, unable to retrace to its 52-week high. The CEO situation appears to explain a good chunk of the variance in how investors reacted to RIMM, NFLX, and AAPL versus AMZN.

When speaking of big-time corporate CEOs I hate to toss around the word "incompetent." If the man who helped turn the Blackberry into one of the world's drugs of choice before the iPhone came on the scene is incompetent, what does that make the rest of us? But, relative to his peer group, Jim Balsillie surely instills little, if any, confidence these days. While Reed Hastings has done a remarkable job at Netflix, I think many investors expect to see him on the side of dark road selling snake oil out of the open window of a beat-up Porsche. And while there's nary a bad word you could say about Steve Jobs, his uncertain future hangs a permanent question mark over Apple's head. Bezos brings with him nothing even close to the skepticism or worry that some investors attach to Balsillie, Hastings, and Jobs.

And to top it off, Bezos is nothing short of a genius. Two recent initiatives by Amazon add a layer to its already amazing platform. Weeks ago, Amazon announced the availability of a $114 Kindle. In a previous Seeking Alpha article I note the genius (there's that word again) of this move, one that Bezos disguised as some overture to people with less disposable income than better-positioned Kindle buyers. I noted:
Amazon's not a tax-exempt (no pun pretended!) charitable organization after all. I can put two-and-two together with the best of them. Amazon's real intent here is to take Kindle bargain hunters to the cleaners without even kissing them. It's a brilliant disguise. Sure you'll save between $25 and $75 going with the "cheaper" Kindle, but at the same time you'll get lured into spending more.


Just last week, Amazon launched the availability of 69-cent songs in its MP3 download store. Even though only 200 or so of the approximately 15 million songs in the Amazon library carry this low price tag, they don't relegate the bargain to Milli Vanilli singles. Instead, Amazon prices more than an adequate number of tunes at 69 cents, including jams by Jennifer Lopez, Katy Perry, Muse, and others.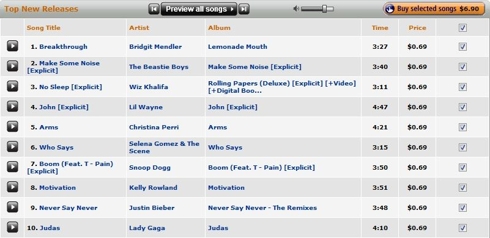 It's funny to see Amazon use the word "halo effect" to describe this 69-cent endeavor. It's certainly stronger than typical brick-and-mortar loss leaders or impulse buy setups at checkstands. It's not like Amazon is waving a pack of gum, an iTunes gift card, and an old DVD in your face at checkout like Walmart (NYSE:WMT), Target (NYSE:TGT), and other competitors tend to do. Instead this move gives people, particularly iTunes devotees, a reason to ditch Apple's and other platforms in favor of Amazon's cloud. And, as Amazon pointed out, it will also improve the site's <insert genius again> recommendation engine.

In this case, the halo effect likely refers to the notion that 69-cent songs draw in a consumer who might buy more regularly-priced music, hop on the cloud, and do some other shopping while at the site. If Amazon can get them to become Prime members, they could dent Netflix's armor and hooking somebody on Subscribe & Save, for instance, takes direct aim at not only other retailers, but wholesale outlets like Costco (NASDAQ:COST). It's pure that word again.

This not-so-vicious cycle that Amazon manages to create -- where one part of its platform leverages the next and that segment leverages another -- makes it not only one of the best plays in retail, but in the Internet and consumer products space as well. If they unveil a tablet, combined with the Kindle, you could call them a tech/gadget play without getting chuckled out of the room.

This cycle Amazon creates and perpetuates means quite a bit. Like Apple changed the way we share information, communicate with one another, and consume entertainment with the iPod, iPhone, and iPad, Amazon impacts each of those areas, but the company truly revolutioned the way we shop. Once Amazon is done building out its business and CapEx comes down, I expect revenues to continue to rise leading to profits we have yet to see in the retail space. This formula could very well lead to AMZN finally breaking the $200 mark.

With this mind, I reassert my position that AMZN could work as a long play if you have a time horizon greater than a year. Frankly I think it's a great retirement portfolio stock. In another article, I discuss how you could go long AMZN by selling puts with strike prices you would feel comfortable owning AMZN shares at. Using this method, you generate income and put yourself in the position to purchase shares at a discount. Of course, you would only consider this a "discount" if you believe the stock will appreciate over the long-term. And you only get to buy at this discount if the stock stumbles a bit.

For example, as of Friday's close, you could have sold the AMZN May $190 put for roughly $2.81. For every contract you sell you keep the $281 premium, less commissions, no matter what happens. If you are "forced" to buy 100 shares of AMZN by the party that bought the put you sold, you pay an effective price of $187.19 per share. When selecting a strike price to sell a put at, you really need to make sure that (NYSE:A) you consider the price you'll pay if put shares a good deal and (NYSE:B) you have confidence that the stock will ultimately go back up. Additionally, you have to have the skin to ride out the dips. This is why a long-term time horizon proves crucial. This is more of an investment than a trade.

If you have a very bullish outlook on AMZN, you might also consider buying in-the-money LEAPS options. The impact of time decay with LEAPS options does not kick in nearly as quickly as it does with short-term options, giving you more time to wait for the underlying shares to appreciate. Additionally, you put up much less money to own an AMZN LEAPS option than you do to buy the stock. Often, this works out to be a better deal. Consider the following comparison from the Chicago Board Options Exchange (NASDAQ:CBOE) Website.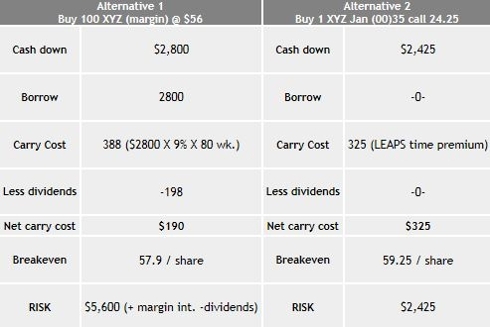 If you couple the strategies, the put writing you do will offset part of the cost of buying LEAPS call options. At this stage, in-the-money AMZN LEAPS provide attractive breakeven points, however, I would not intend to hold until expiration and exercise; rather I would plan on selling the position to close for a profit at between 180 and 80 days until expiration (or sooner) when time decay starts to become a somewhat worrisome factor.

As of Friday's close, the AMZN January 2013 $160 and $165 calls appear attractive. The $160s last traded at $53.90, while the $165s last crossed the tape at $50.10. The respective breakevens stand at $213.90 and $215.10. Both of these targets for mid-2012 look more than realistic. As Amazon winds down its spending and has, presumably, a strong 2011 holiday season, the stock could head way beyond those targets in the first quarter or two of 2012.

If you sold the May $190 put for $2.81 and bought the January 2013 $160 call for $53.90, your total debit would be $5,109, much less than the $19,500 or so it would take buy 100 shares of the underlying stock. If the put writing works out, you can continue to doing it throughout the 2011 and early 2012 to generate income and further offset the LEAPS purchase.


Disclosure: I am short NFLX.

Additional disclosure: Author is short NFLX via a long position in NFLX put options. Author may initiate a long position in AMZN within the next 72 hours. Author may initiate a long or short position in AAPL or RIMM at any time.