As the market accelerates, arguably, into its culmination high from the March 2009 low, investors seek opportunities to maximize their profits without undue risk. One method is to purchase institutional stocks, typically exemplified by liquidity (high average daily volume, minimum of $15-20/share), and emerging from a second stage base (technical mumbo-jumbo). More about that last item.
One such opportunity is IntraLinks Holdings (NYSE:IL), which "delivers mission-critical technology solutions to demanding clients across many industries." In essence, IntraLinks "helps clients quickly and efficiently control, follow, search, and exchange time-sensitive data." Forrester calls IntraLinks a "pioneer in cloud-based cross-organizational collaboration." From the perspective of competition, IntraLinks already is the clear market leader in terms of the independent provision of so-called "virtual data rooms."
Investors Business Daily, around three weeks ago, offered a fine and helpful overview of IntraLinks, available here. The author views IntraLinks especially favorably, a perspective I share. One notable item that differentiates IntraLinks is that "while [the company] has characteristics of a rising tech upstart - a fast-moving stock price, a hot technology - the company has been around 15 years. And some of those years were lean. IntraLinks posted operating losses as recently as 2008 and 2009 ... "
No longer, though; now the company reports accelerating sales and earnings. Note the most recent three quarters ...
| | | |
| --- | --- | --- |
| Quarter | Sales | EPS |
| Sept 2010 | +35% | +33% |
| Dec 2010 | +41% | +125% |
| Mar 2011 | +33% | +999% |
Investors not only notice this positive change, they take action ...
| | |
| --- | --- |
| Quarter | # of Funds |
| Sept 2010 | 71 |
| Dec 2010 | 139 |
| Mar 2011 | 144 |
Management also has skin in the game, with 73% ownership -- even after selling 6.25 million shares in a recent (7 April 2011) secondary offering.
Returning to Investors Business Daily, IntraLinks is a member of a strong group (Computer Software - Enterprise), and ranks first and best within that group.
I spoke with friend and fellow professional investor, Ray Fairfax, who remarks, "I think the stock might rally strongly during this final push (higher). Then perhaps (the shares) hold or build their relative strength during the market's coming correction."
I agree. Investing always presents risk, but the flip side of that risk is reward; the embrace of risk creates possible profits for investors. Probable profits, if done correctly.
Oh, and about that "second stage base" ...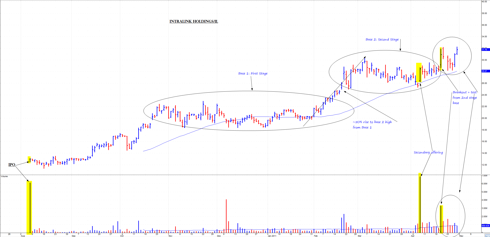 (Click to enlarge)
Funny the parallels of (elementary) physics to investing. In physics, I characterize rate of change for speed as:
Speed: measure of distance over time,
Momentum: measure of speed over time, and
Velocity: measure of momentum over time. (An audible whoosh.)
The parallel to investing is that as a stock rises, its pace, or rate of change, accelerates; momentum investors know and take advantage of this fact. In both directions. As for IntraLinks, so for many other stocks similarly positioned; that whoosh you hear or feel occurs as a momentum stock goes ballistic but not yet parabolic, typically after it lifts off from a second stage base.
IntraLinks Holdings
Buy: $30-33
(Initial) Stop: $28 (increases subsequent to a new high)
(Initial) Objective: $36 (then higher, possibly much higher)
Yes, I identify and recommend IntraLinks as the quintessential growth/momentum story: a growing pie for the company's sector, the leader in that sector, thus increasing earnings ... and a rising share price. One, arguably, about to quicken the pace of its share price rise.
Disclosure: I am long IL.