Each week I publish stocks to watch for the upcoming week as potential momentum trades. The stocks below all have a 50k minimum average daily share volume and traded at a 52-week high on strong volume, with a minimum of two times relative volume on Friday, April 29. In addition, stocks were required to close Friday higher than the open price.
Last week's list of 37 stocks returned an average of 2.8% versus 1.98% for SPY. Purchasing the entire list of stocks may not be feasible for individual investors. However, with this list we can identify stocks with high price momentum that may be viable short to intermediate term trading candidates.
This week we have 69 stocks and ETFs qualifying for the top momentum securities. This tells us that positive price momentum continues in the equity market. There is also a variety of industries on the list. However, we can sort the list based on the closing price change to identify some stocks with the highest price momentum headed into the weekend.
The top three stocks based on their closing price change on Friday are Ancestry.com (NASDAQ:ACOM), Netgear (NASDAQ:NTGR), and On Assignment (NASDAQ:ASGN). A fourth stock, Global Traffic Network (GNET-OLD), closed on Friday within $0.02 of its daily and 52-week high.
Data and Chart Source: Finviz
The entire list of 69 stocks as well as the current performance can be viewed on the right hand side of Scott's Investments.
ACOM tops the momentum list for Friday, closing up 42.55%. ACOM operates as an online resource for family history for subscribers worldwide. The price surge was due in part to the company forecasting $98 million in second quarter revenue, higher than the $92.2 million average analyst projections. First quarter earnings of $0.18/share also exceeded average expectations of $0.15/share. Full-year revenue guidance was raised to $395 to $400 million and the company authorized a share repurchase.
ACOM is debt-free and has shown impressive earnings and sales growth. If management can continue to beat sales and revenue expectations at the $2 billion company are combined with the potential for share repurchases, the current rich valuation could be justified.
[Click all to enlarge]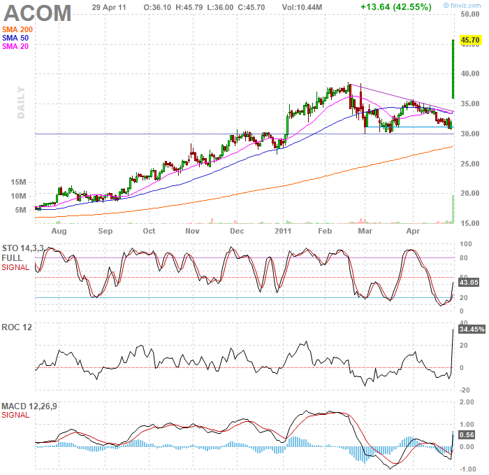 GNET has had an impressive run since October. The $255 million company provides traffic and news information reports to radio and television stations. It offers traffic information reports to radio stations in Australia, Canada, and the United Kingdom; television traffic reports in Australia and Canada; radio entertainment news reports in the United Kingdom; and news information reports to radio stations in Canada. The company offers its services in exchange for commercial airtime inventory that it in turn sells to advertisers.
The company has no debt, has five-year sales growth of 43.42% and is trading at a forward P/E of 21.66. The company reached a 52-week high on no news, its most recent quarterly report being in February. The company increased revenue 24% from the previous years quarter and more than doubled adjusted operating income.
When discussing adjusted operating income in its second quarter earnings release, the company stated, "Only 8% of our Adjusted Operating Income was due to favorable currency fluctuations while the remaining increase pertained to increased performance in our local markets." However, the company has ultimately benefited from a weaker dollar and fluctuations in the dollar could impact share price going forward. The company stated in its second quarter press release:
The impact of a weaker U.S. dollar, all other things being equal, is to increase the reported revenues and expenses when local currency financial statements are translated into financial statements reported in U.S. dollars compared to a neutral exchange rate. Conversely, a stronger U.S. dollar decreases the reported revenues and expenses. Should foreign exchange rates and revenues from the Company's consolidated operations end fiscal third quarter 2011 consistent with the exchange rates to date and current sales pacings, the Company anticipates revenues, Adjusted Operating Income and net income will exceed the fiscal third quarter ended March 31, 2010.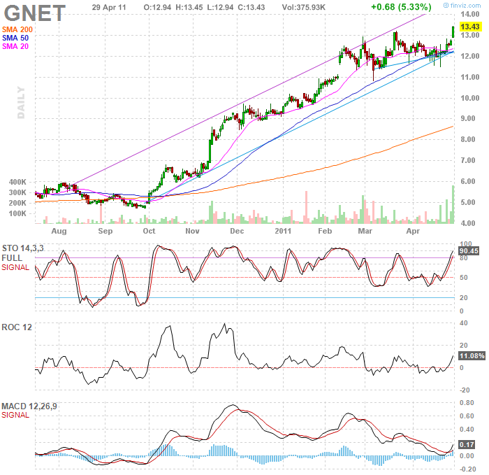 The top 10 stocks based on the closing change on Friday are below:
| | | | | | | |
| --- | --- | --- | --- | --- | --- | --- |
| Ticker | Company | Trend Score | 52-Week High | Relative Volume | Price | Change |
| ACOM | Ancestry.com Inc. | Here | 18.12% | 17.7 | 45.7 | 42.55% |
| NTGR | Netgear Inc. | Here | 9.87% | 10.51 | 41.75 | 22.79% |
| ASGN | On Assignment Inc. | Here | 1.10% | 3.86 | 10.99 | 19.33% |
| TNAV | TeleNav, Inc. | Here | 7.88% | 3.99 | 13.55 | 18.13% |
| N | NetSuite Inc. | Here | 10.50% | 6.38 | 34.61 | 14.98% |
| KEG | Key Energy Services Inc. | Here | 10.37% | 4.87 | 18.2 | 14.18% |
| SNSS | Sunesis Pharmaceuticals Inc. | Here | 10.16% | 2.25 | 2.71 | 12.92% |
| ZOLL | ZOLL Medical Corp. | Here | 11.42% | 7.2 | 56.68 | 12.57% |
| GT | Goodyear Tire & Rubber Co. | Here | 8.42% | 3.71 | 18.15 | 12.04% |
| EPAY | Bottomline Technologies Inc. | Here | 9.11% | 3.04 | 27.78 | 11.75% |
Disclosure: I have no positions in any stocks mentioned, and no plans to initiate any positions within the next 72 hours.