Below are a few charts of gold mining stocks that we have either discussed previously or that have recently caught our eye. The shares of the two most marginal South African producers have fared quite well recently, inter alia as a result of the strong showing of the Rand gold price. SA's gold producers are currently enjoying lower winter tariffs for electricity as well, which greatly benefits their margins.
In the case of Harmony (NYSE:HMY), the market has accorded the stock a higher valuation on account of the previously discussed (scroll down) discovery of the high grade Wafi-Golpu gold-copper porphyry system in Papua New Guinea (a.k.a "the gold strike of the century"). The most recent company presentation about the discovery can be found here.
The most marginal of the major gold producers in South Africa, Durban Deep, has recently announced it plans to sell its sole remaining underground operation Blyvooruitzigt in order to concentrate entirely on the higher margin re-mining of the gold sand and slime dumps in the Witwatersrand basin. This would lower the company's risk profile, but at the same time remove some of its optionality (since Blyvooruitzigt is barely profitable at the current gold price, its earnings leverage to the Rand gold price is quite remarkable).
In any case, the market evidently took the announcement as a positive event.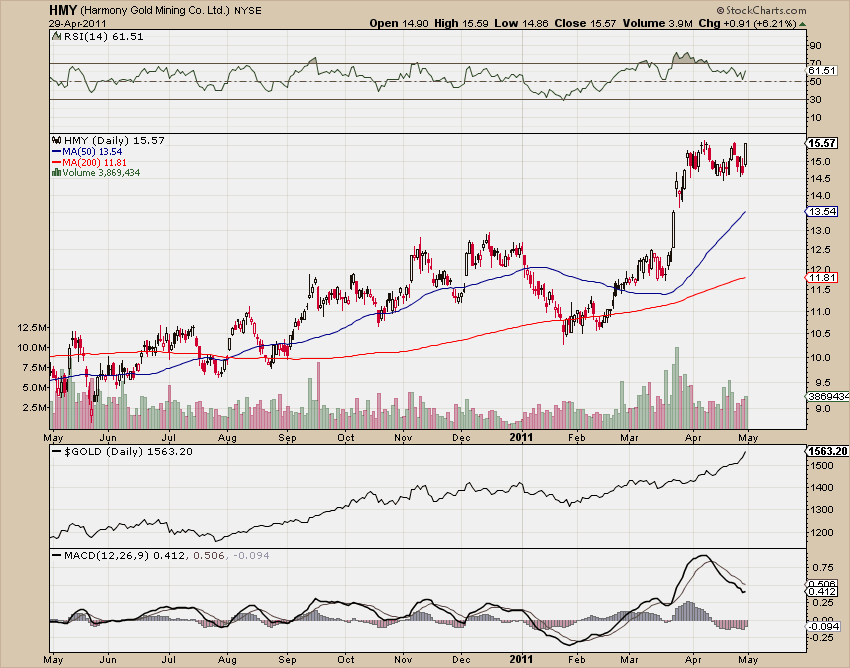 (Click to enlarge)
South African miner Harmony gold – profiting from both its PNG discovery and a higher Rand gold price.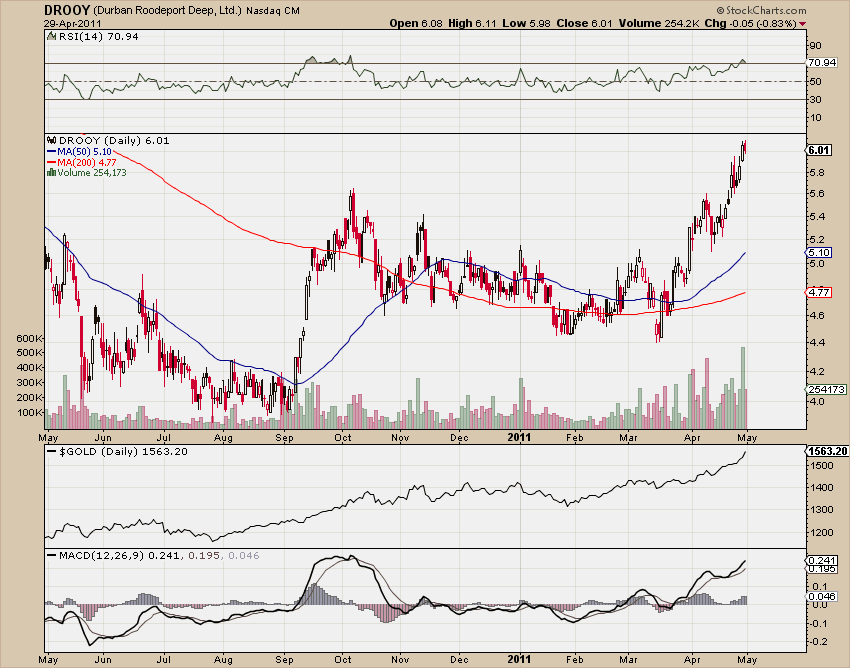 (Click to enlarge)
Durban Roodeport Deep – advancing on the back of a higher Rand gold price and its announcement that it intends to become a pure surface gold producer by selling its last remaining deep level hard rock mine.
The gold exploration sector offers a wide variety of choices. Given the need of established producers to replace mined out reserves, successful explorers in mining-friendly jurisdictions are generally trading at a premium. Our former favorite in this sub-sector, Fronteer Gold (FRG) has been taken over by Newmont Mining, but the firm's management has remained with the smaller exploration vehicle that has been spun out from Fronteer after the takeover (Newmont evidently was only interested in Fronteer's key Nevada assets and the bulk of the company's cash pile). The rump entity is called Pilot Gold and trades at the TSX under the symbol PLG. We have previously also mentioned Keegan Resources (KGN) that has made a large and still growing bulk-mineable discovery in Ghana. Following a large bought deal financing in January, the company boasts a strong balance sheet allowing it to pursue development of the project. After a temporary setback due to the financing, the stock is back at its recent highs, a sign that the market continues to have a very positive view of its main project (named Esaase). A pre-feasibility study is expected to be released soon.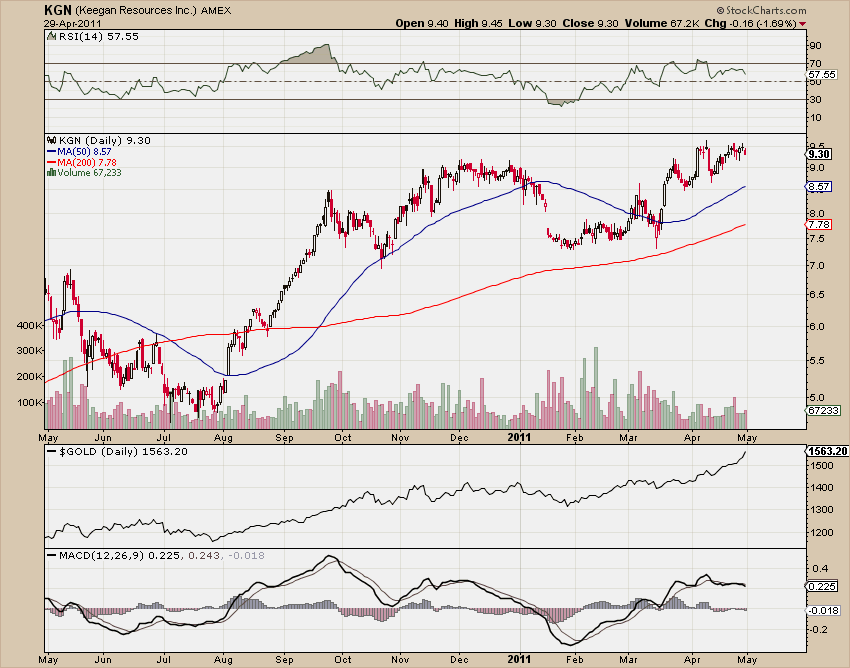 (Click to enlarge)
Keegan Resources trades near its recent highs after a brief setback earlier this year on account of a bought deal financing.
Among other exploration stocks that we consider high quality is Tower Hill (NYSEMKT:THM), which has discovered a 10m. oz.+ ore body near Fairbanks in Alaska (named Livengood). South Africa's Anglogold holds a 10% stake in THM and has so far regularly made use of its topping up right to keep this stake constant over time.
Tower Hill has already released a preliminary economic assessment study that considers a range of options for an eventual mining operation, with different capex requirements and output. From this PEA it certainly appears to be an economically viable project at the current gold price. THM has in the meantime continued to drill the property, with the aim (successful so far) of establishing the presence of higher grade ore both near surface and at depth, which could improve the economics of the project further. This is certainly a discovery that both in terms of its size and location should be interesting to a senior producer. Obviously, Anglogold is most likely to eventually express such interest, given its existing 10% stake in THM. The stock has largely been going sideways in recent months, a fate it shares with most exploration stocks.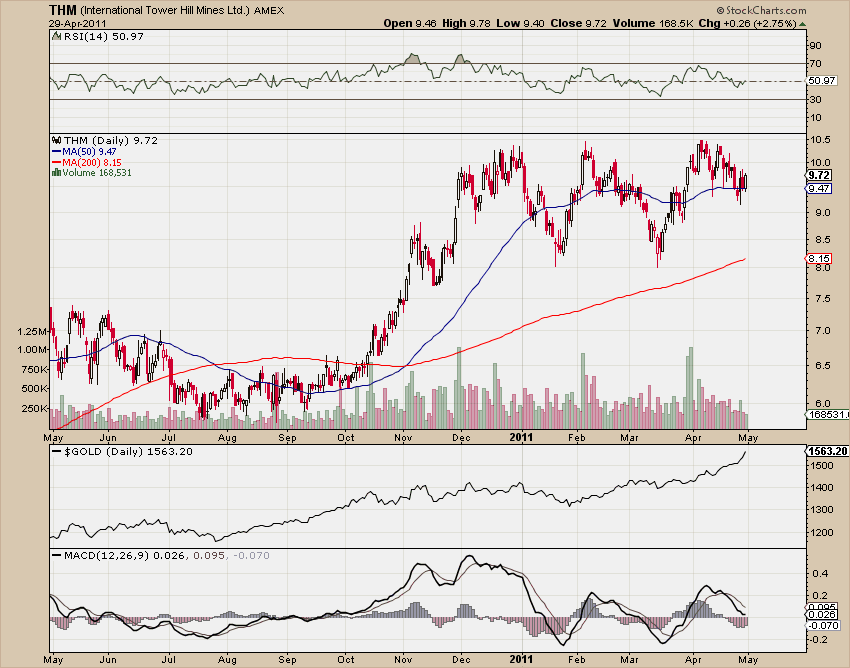 (Click to enlarge)
THM – following the advance last fall in the wake of the release of the PEA on the Livengood property, the stock has been consolidating in recent months.
Two smaller exploration stocks that have caught our eye are Midway Gold (NYSEMKT:MDW) and Goldgroup Mining (OTCPK:GGAZF). What piqued our interest is that insiders are holding fairly large stakes in both companies, both have had some exciting exploration news in recent months and their charts look strong – usually an ideal combination of factors.
One must of course caution that all these stocks have already advanced quite a bit and within the gold sector the exploration sub-sector is certainly the most risky. The higher risk is however compensated by higher potential reward.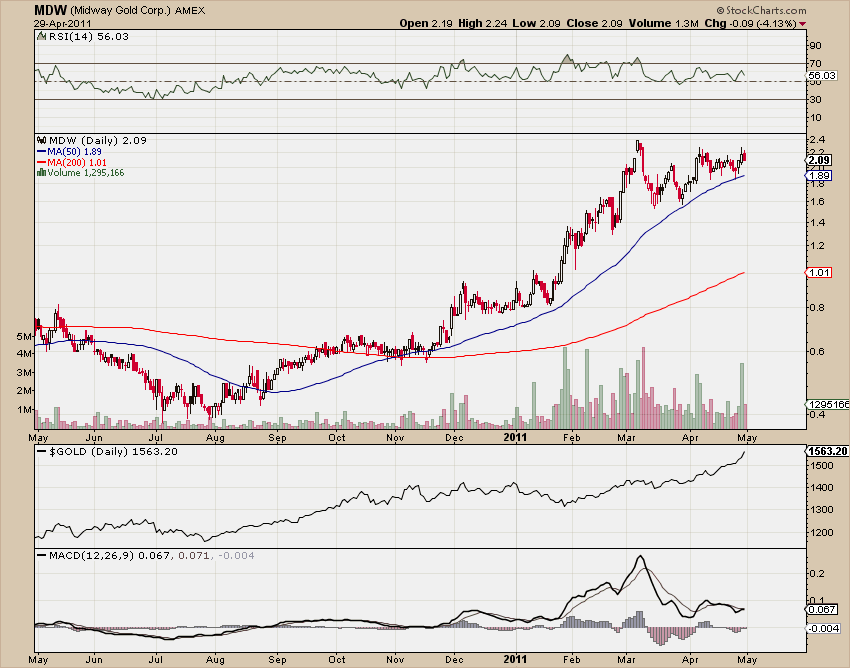 (Click to enlarge)
Midway Gold – insiders hold about 15% of the company, it has been quite successful with exploration – mainly in Nevada - and the chart looks strong.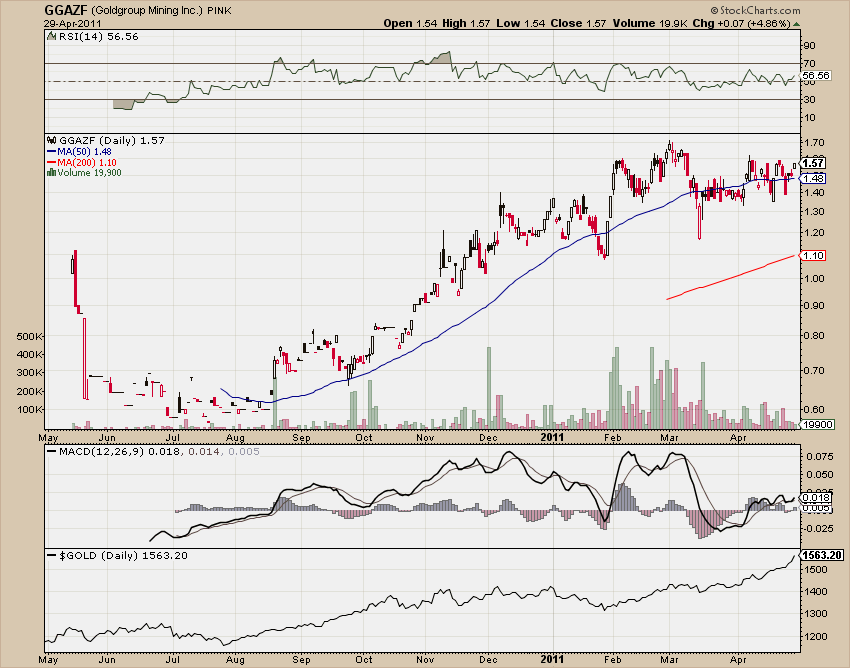 (Click to enlarge)
Another strong, although far less liquid gold exploration stock – Goldgroup Mining, which is exploring for gold in Mexico.
Kinross Gold (NYSE:KGC) is currently probably the most undervalued senior producer stock in North America and thus far remains steadfastly in the doldrums. Many people have been quite critical of the company's acquisition strategy, complaining that management has unreasonably diluted its shareholders for a relatively small increase in production. This is certainly true for the moment, but one must not forget that one of the assets acquired in the Redback takeover – the Tasiast mine in Mauritania – will eventually become a flagship property for the company and produce at a far higher output rate than at present. Recently KGC has also acquired the 25% of the high grade Kupol property in Russia hitherto held by the Chukotka Oblast government, bringing KGC's ownership stake to 100%. Be that as it may, the stock hasn't been going anywhere but down over the past year. John Paulson's hedge fund holds a large stake in Kinross, but so far has little to show for it. As we noted before, it is hard to say when the market will reassess the stock's prospects, but the company will report its latest earnings results on Tuesday, which represents the next potential catalyst, provided the market likes what it hears (the last earnings report was met with disappointment due to lukewarm guidance).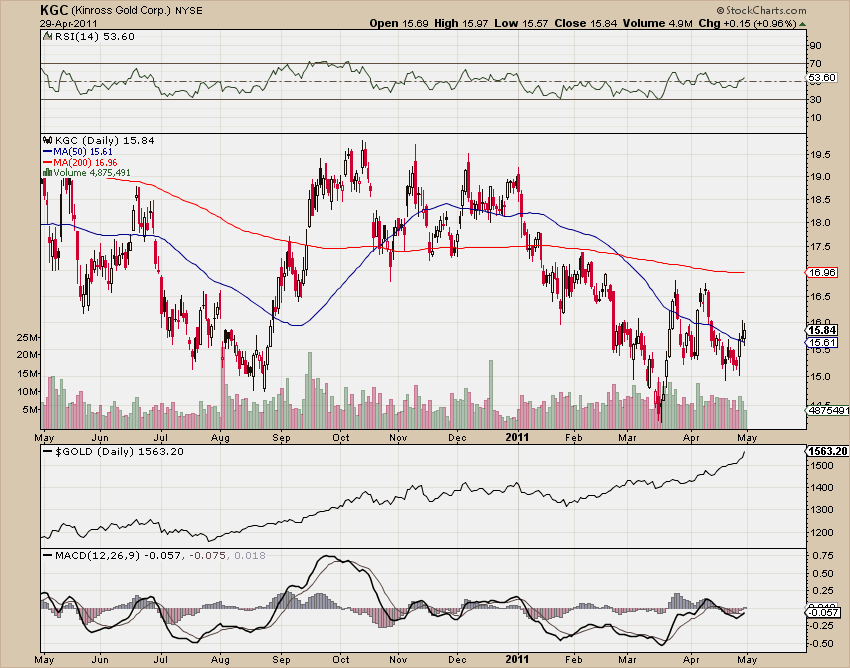 (Click to enlarge)
Kinross Gold – still shunned, the stock has been one of the worst performing senior producer stocks. At some point the market should give it credit for the upside potential of its project pipeline – hopefully before the gold bull market takes a rest.
Platinum Group Metals
A few technical observations on the platinum group metals follow below. After underperforming palladium for two years, Platinum seems to be bottoming out relative to its sister metal. There have been recent reports of major bullion banks taking delivery of physical platinum – whether for their own books or on behalf of clients is not quite clear, but the fact remains that such delivery demands have markedly increased.
Platinum has closed last week at the highest level since the early 2008 spike high that occurred in the wake of an electricity supply crisis in South Africa.
Interestingly, late last year platinum was expected to show a slight primary supply-demand surplus in 2011, vs. an expected supply shortfall in palladium. Nevertheless, platinum has recently begun to perform better. It seems possible that investment demand for platinum has been underestimated in these forecasts (it was expected to fall slightly this year).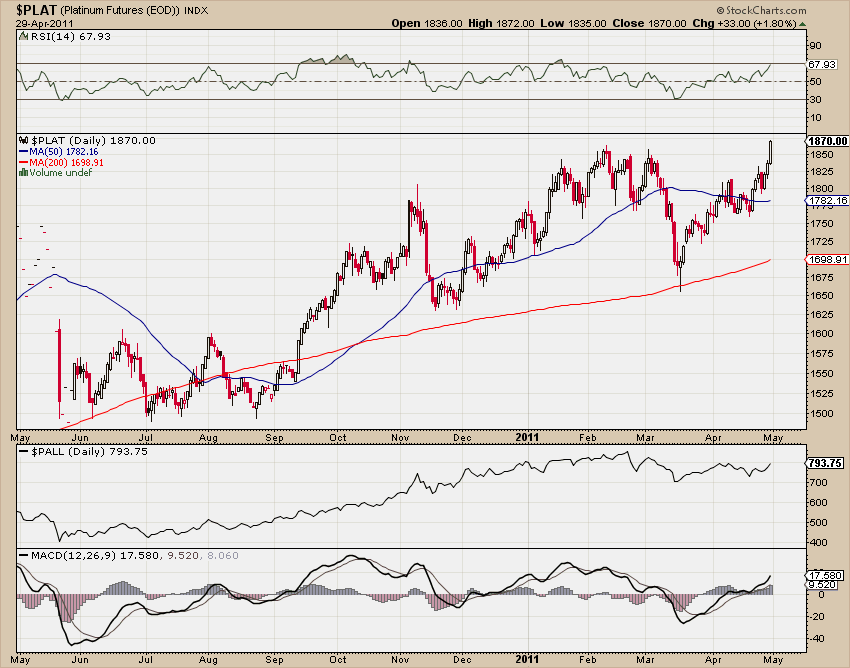 (Click to enlarge)
Platinum futures end the week at $1,870/oz., the highest level since the 2008 spike high.
A monthly chart of platinum shows where its price currently is relative to the 2008 spike high.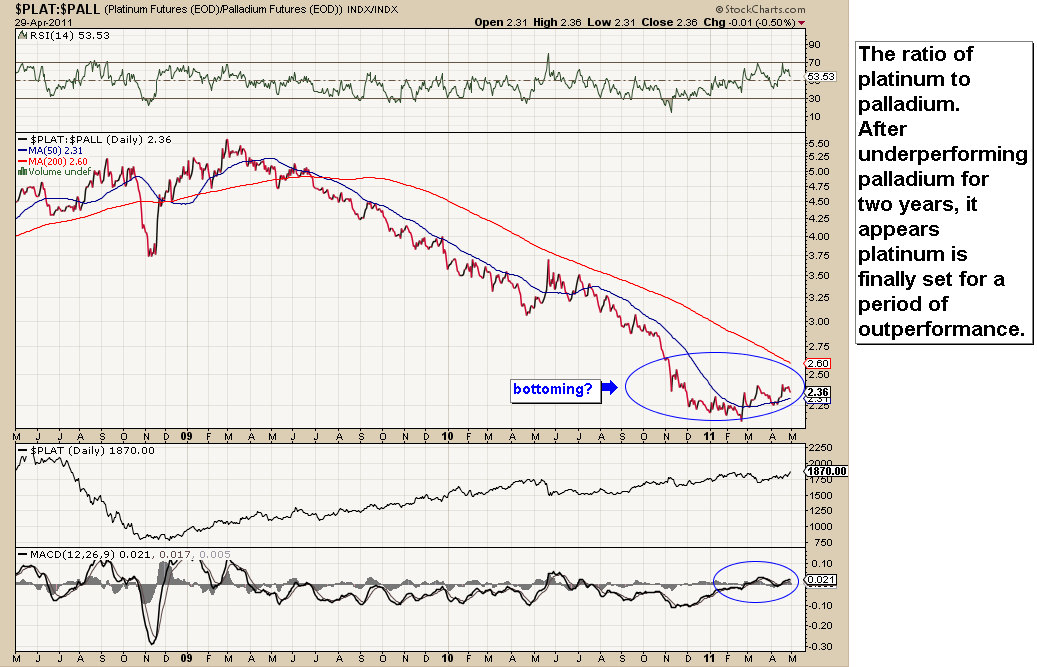 (Click to enlarge)
The ratio of platinum to palladium appears to be bottoming after a two year long downtrend.
The stocks of the two major North American primary platinum group metals producers have been correcting in recent months and are recently bouncing again. Note that these producers (North American Palladium and Stillwater Mining) primarily produce palladium, with platinum, gold and nickel as byproducts. It is too early to say whether they will resume their rally – we recommend watching how they act relative to palladium, as indicated in the chart of PAL below:
(Click to enlarge)
PAL (North American Palladium) – the stock as well as its ratio to palladium are just below a level of near term resistance after correcting last year's advance.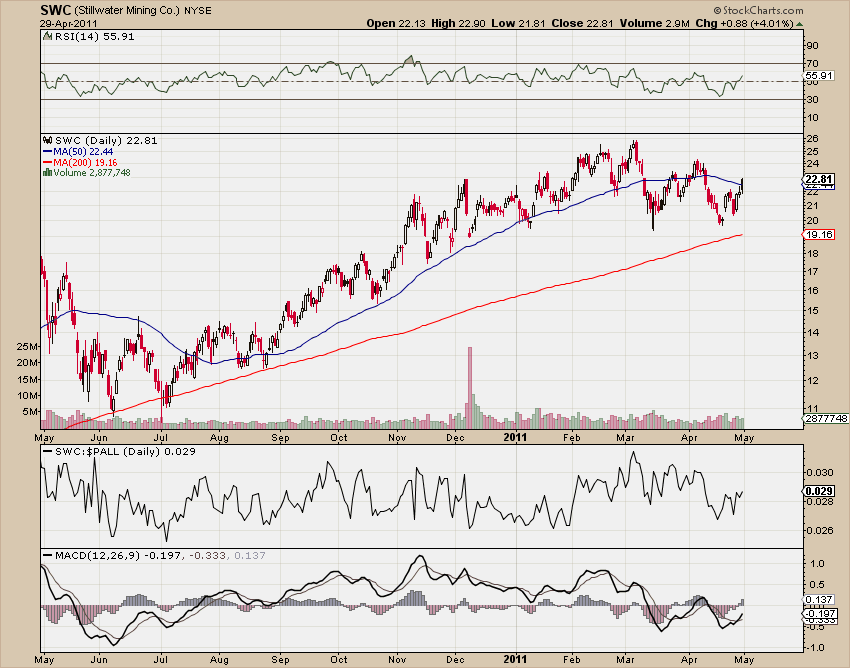 (Click to enlarge)
The chart of SWC (Stillwater Mining) looks very similar and its ratio to palladium rests likewise just below trendline resistance.
Addendum:
1. Credit Rating Hilarity
Weiss Ratings, hitherto known for rating the creditworthiness of financial institutions, has begun to issue sovereign credit ratings on 47 countries. Ratings range from A to E with further differentiation achieved by adding a + or a – sign to a letter. Hilariously, the United States gets an overall rating of C, or fair from Weiss, which puts it on 33rd place on the list – below the rating Weiss accords to Mexico. While Greece's rating of E (very weak) seems well deserved, we tend to agree with Sean Egan from another independent rating firm, Egan-Jones (contrary to the business model of the other major credit rating agencies, Egan-Jones does not get paid by debt issuers, which makes it free of the conflicts of interest that have bedeviled the rest of the industry) that Weiss' rating of the U.S. is primarily an attention-grabber. As Egan notes:
Despite high government debt, the U.S. still has attributes that make it more creditworthy, according to Sean Egan, president of Egan-Jones Ratings, a rating agency that's paid by investors rather than issuers.

"The U.S. is the largest economy in the world, home to most industry-leading firms and maintains the reserve currency of the world," Egan said. "That provides significant support beyond credit metrics like debt to GDP."

The Weiss rating is "attention grabbing," Egan added. "But unless they're seeing very different things from other people it's hard to support a C rating."

In its Thursday report, Weiss gave a C- rating to Argentina, which defaulted on some of its external debt in 2002.

"The U.S. and Argentina don't usually travel in the same sphere," Egan noted.

Egan-Jones has a AAA rating on U.S. government debt. But the firm put that on negative watch in early March. That means there's a "better-than-even chance" of a downgrade within the next six months, according to Egan.
2. Healing the Economy
It seems the more Ben Bernanke tries to explain the Fed's actions to the hoi-polloi, the sharper the wind that is blowing into his face. In a clear sign that the monetary elite has lost some of its power to shape social debate since the advent of the internet, we want to point readers to two recent reports on Bernanke's press conference ("Economy needs more time to heal") and a speech he held in Arlington last Friday ('Bernanke calls for more lending to troubled areas'). Aside from the Fed chief's careful dispensing of the usual pablum, what caught our eye was how people reacted in the comments sections to these reports (we picked the incarnations of these reports at yahoo.com, where readers tend to leave plenty of outspoken comments). It appears from this that among the commoners, Bernanke's credibility has reached a new low (at approximately zero). The public relations offensive seems to be backfiring – which we suspect will greatly diminish the Fed's ability to inflate further for the time being (this will likely change again after asset prices correct and the economy clearly heads down again). Even Paul Krugman is complaining about the intimidated Fed, a clear sign that the intimidators must be doing something right.
3. Chart Update - CDS And Other Charts
Lastly, below is our more or less regular update of CDS prices on European sovereigns and other charts that strike us as relevant. After a strong rise over the previous week, some profit taking has brought CDS spreads back in a tad – however, yields on Greek debt continued to march higher, ending the week at yet another high point, with the 2 year note yielding an incredible 26.77%. Clearly the markets continue to believe that a Greek debt restructuring is more or less imminent – which may be another reason for the recent strength in gold, aside from the declining dollar. As a brief note on this, talk of such a restructuring just won't die down – as Bloomberg noted over the weekend:
Greek, Portuguese and Irish bonds slumped, driving yields on the securities to the highest levels since before the introduction of the euro amid mounting speculation Greece won't be able to avoid debt restructuring.
We would also like to point readers to a recent WSJ article on the "Message Of The Bond Market" – similar to the recent divergence between the S&P 500 and weekly jobless claims (when the latter rise, the stock market normally tends to decline, i.e. they are a coincident indicator of the stock market), bond yields have recently declined even as stocks rose further. Often such a divergence is an early warning sign for the stock market.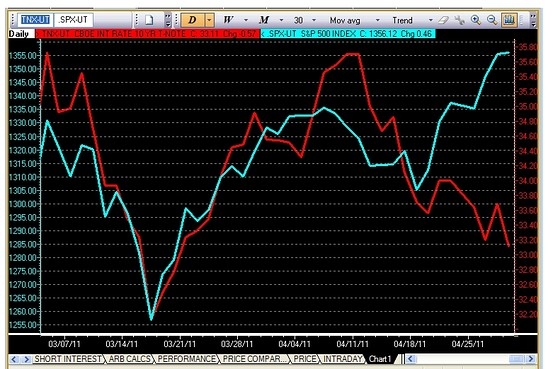 (Click to enlarge)
A close-up of the recently growing divergence between bond yields and stocks, via the WSJ: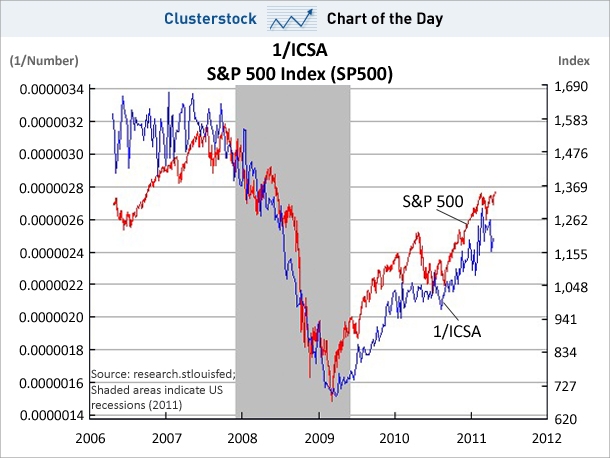 (Click to enlarge)
The S&P 500 Index vs. initial jobless claims (inverted), via Business Insider. There is a strong negative correlation between stocks and weekly claims – recently a notable divergence has appeared.
Euro Area Sovereign CDS (prices in basis points, color coded)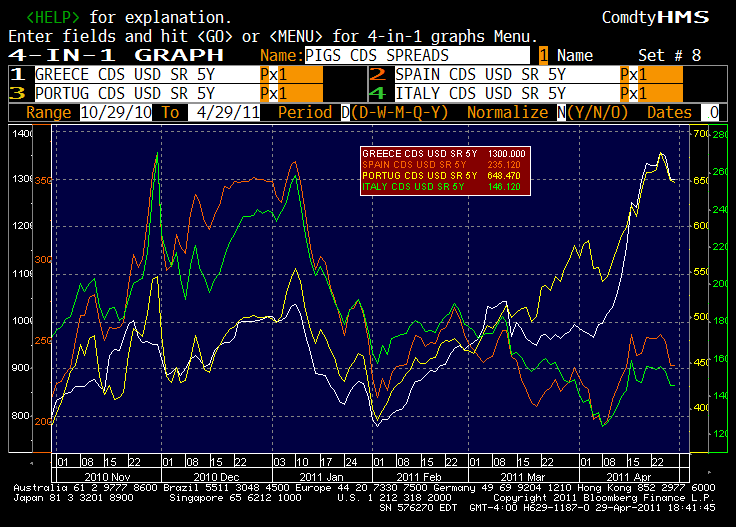 (Click to enlarge)
5 year CDS spreads on Portugal, Greece, Italy and Spain – a slight pullback is in train.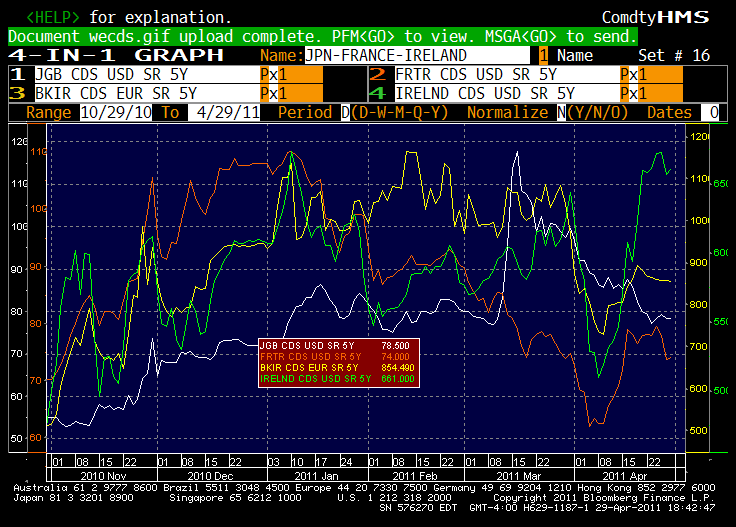 (Click to enlarge)
5 year CDS spreads on Ireland, the senior debt of Bank of Ireland, France and Japan.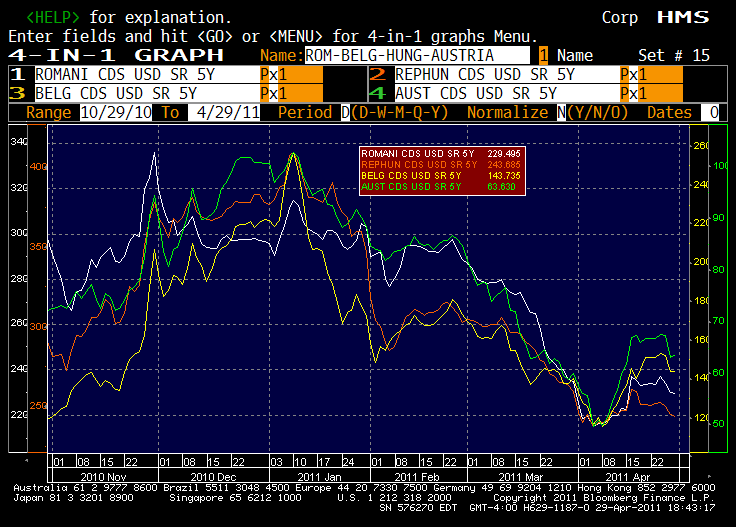 (Click to enlarge)
5 year CDS spreads on Austria, Belgium, Hungary and Romania – all pulling back for now.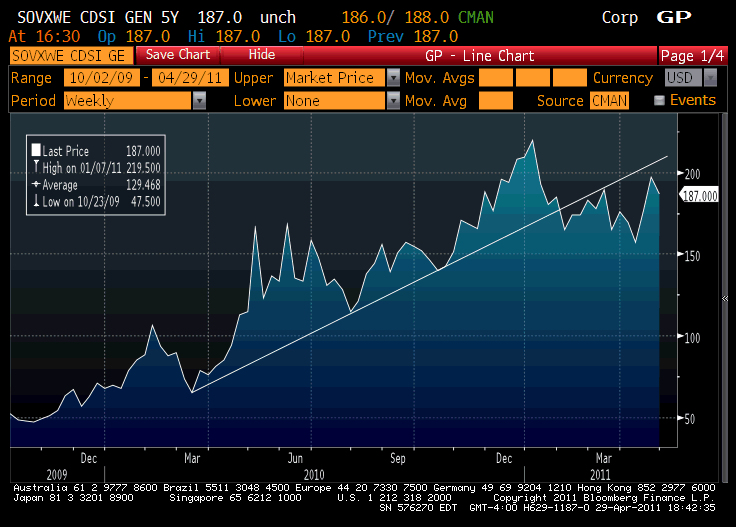 (Click to enlarge)
The Markit SovX index of CDS on the debt 19 Western European sovereigns – pulling back a little after reaching an interim high just under 200 basis points.
Other Charts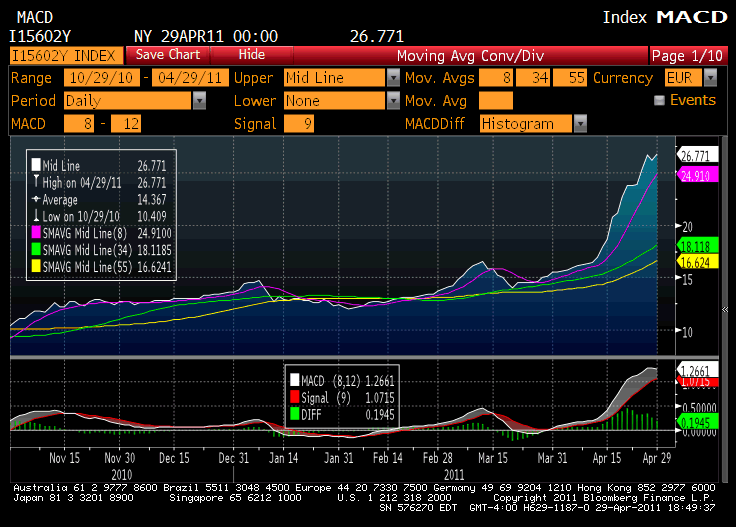 (Click to enlarge)
The yield of Greece's 2 year note reaches a vertiginous new high for the move at 26.77%.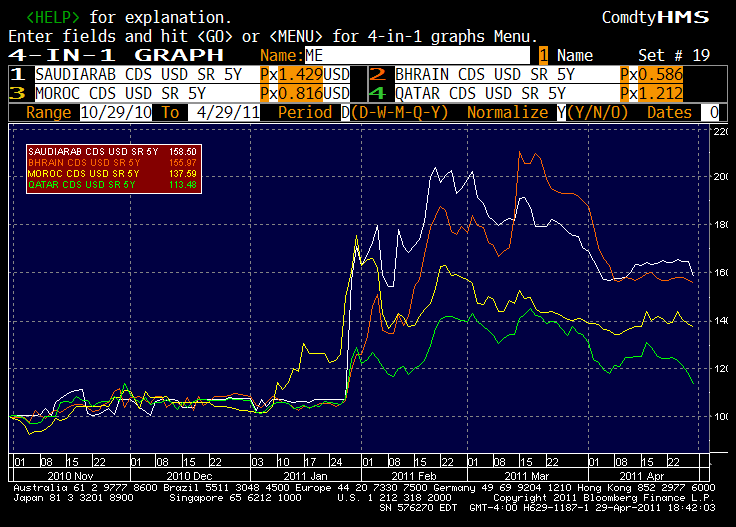 (Click to enlarge)
5 year CDS spreads on Saudi Arabia, Bahrain, Qatar and Morocco – all are heading lower again, in spite of violence in Syria escalating ever more.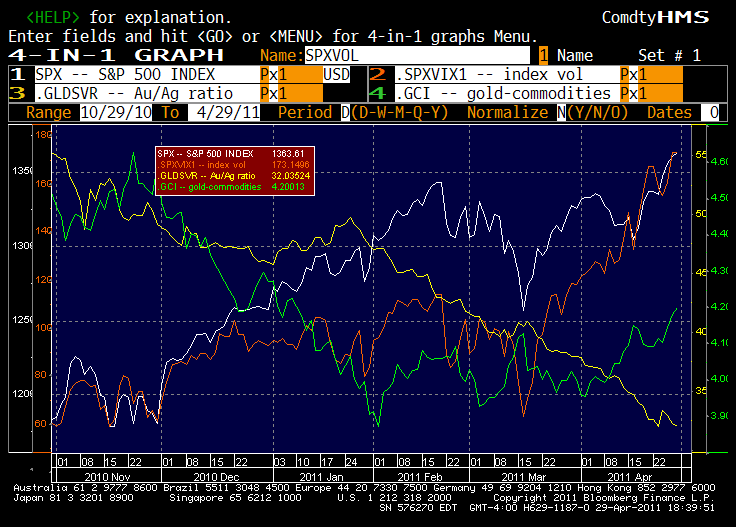 (Click to enlarge)
The SPX, T.R.'s proprietary VIX-based volatility indicator and the gold-silver and gold-commodities ratios. Along with the recent decline in bond yields, the gold-commodities ratio continues to send a subtle warning sign that not everything is as it should be at the big easy money party.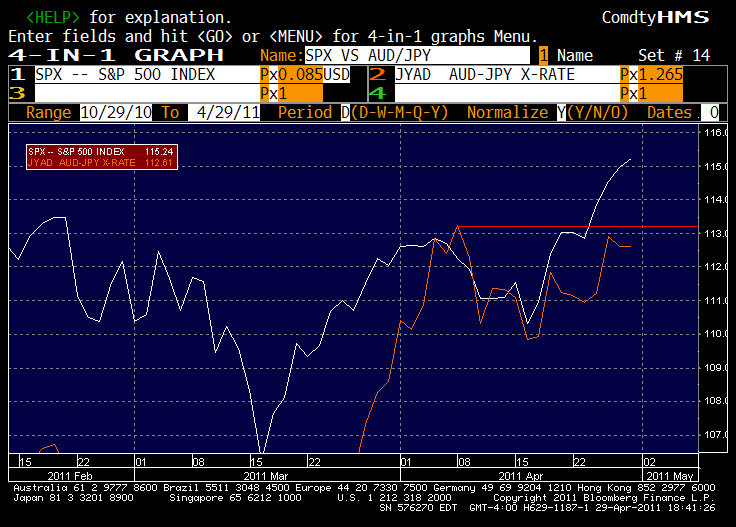 (Click to enlarge)
A close-up of the SPX vs. the AUD-JPY cross rate (which we use as an indicator for risk appetite). Still diverging as well – caveat emptor, as they say.
And finally we leave you with a picture that illustrates why the president has recently begun a high profile hunt for "evil energy speculators," "price gougers" and other convenient scapegoats, and why Ben Bernanke's inflation denials are generally falling on deaf ears: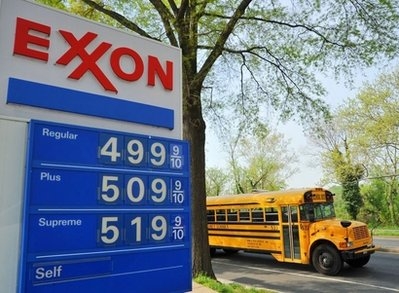 Oops! A $5 handle! This may be shocking to Americans, but Europeans can only dream of such low prices.