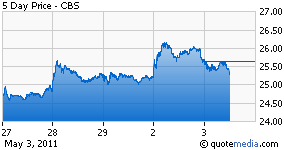 CBS is expected to report Q1 earnings on Tuesday, May 3 after the market close with a conference call scheduled for 4:30pm EST.
Guidance
Analysts are looking for EPS of 19c on revenue of $3.46B. The consensus range is 16c-23c for EPS, and $3.33B-$3.62B for revenue, according to First Call. Possible positive catalysts for Q1 may come from the $1.5B share buyback that started at the beginning of the year and the spin-off of its outdoor unit. In late February, the company said that it may obtain $3B in new, high margin revenue from a variety of sources, including digital media, retransmission consent payments, and international TV syndication. On the Q4 earnings conference call, CBS management said they see positive momentum continuing in FY11. Management said, "Our performance gets better and better and better. We saw that in the 2010 results, we are seeing it continue in 2011 to date, and we are certain we'll keep seeing it for years to come." Negative catalysts may be seen coming from reduced political advertising spending.
Analyst Views
On May 2, Caris said, CBS should be owned into Q1 results. Caris expects CBS' margins to expand significantly and the firm maintains an Above Average rating on the stock.