Toll roads are among the oldest businesses in the world. The idea of collecting a fee for the right of passage is several thousand years old. Nearly three thousand years ago, travelers had to pay a toll for using the Susa–Babylon highway under the regime of Ashurbanipal, who reigned in the seventh century BC. The business of toll collection has survived through the ages.
Toll roads, turnpikes and toll bridges are usually established to recoup the cost of construction, and finance maintenance and improvement. As such, they are mostly state enterprises (like the three Nippon Expressway Companies in Japan). However, there have been periods where the construction and operation of toll roads and bridges has been delegated to private enterprise. This is still the case in some countries today. Other countries delegate the toll collection business on behalf of the state to private companies. For example, trucks traveling on the German Autobahn are paying a toll to the state that is collected by a consortium of Daimler (OTCPK:DDAIF) and Deutsche Telekom (OTCQX:DTEGY).
An early road to riches
In the 18th century, turnpike trusts were created in England, and their success led to a 'turnpike mania' in the years 1750 to 1772. At the height of the industrial revolution, more than 1000 such trusts were in existence.
Private toll roads were also introduced in America at the end of the 18th century, after private toll bridges were found to be extremely profitable businesses. The Philadelphia and Lancaster Turnpike Road is believed to be the first American company that issued a stock certificate with a vignette (showing a carriage and a toll gate) to protect against forgery. William Bingham (1752-1804), who founded the company in 1791, was the first American millionaire.
The initial public offering of the company of 1000 shares with $300 of nominal value was so heavily oversubscribed that the purchasers had to be drawn by lot. The toll road was a commercial success (until the railroads started diverting traffic in the 1840s) and started a boom in the construction of toll roads and bridges. Only more than a hundred years after it was opened for business (1899), the state of Pennsylvania started to acquire the outstanding shares and stopped collecting a toll for the road. An excellent review of American toll roads in the 19th century can be found at the economic history encyclopedia.
Toll bridges were also among the most successful early American businesses. By the end of 18th century, a total of 73 bridge companies had been incorporated. The favorable economics of owning a toll bridge (low capital expenditure once the bridge has been built, and a transport monopoly) were not lost on Warren Buffett. In the 1970s, Mr. Buffett had to defend his purported characterization of the Buffalo News as an "unregulated toll bridge" in court (see Roger Lowenstein, "Buffet, the making of an American capitalist" (2008 edition, chapter 11 "press lord", pages 212-213), and U.S. courts of Appeals case 601 F.2d 48).
Mr. Buffett has used the term "unregulated toll bridge" mostly as an analogy for various forms of monopolies or 'moats', but also took this characterization very literally. At the time of the testimony, Berkshire Hathaway's subsidiary Blue Chip Stamps owned 24% of a real toll bridge, the 'Detroit International Bridge Co.', the only toll bridge owned by stockholders in the U.S. at that time. Warren Buffett bought 24% of the toll bridge after Joseph Bower, the creator of the bridge, died in 1977 and his heirs decided to retire from the business. Detroit trucking businessman Manuel J. "Matty" Maroun, whose trucks frequently used the bridge, ended up buying out the company, and still owns it today.
If an unregulated toll bridge is the best business to own, most of the toll roads in use today have regulated tariffs. Despite that, it might still be "street smart" to own a street, bridge or tunnel. Let's investigate.
Today's publicly listed toll roads
In this article, I will cover 23 companies representing a total market capitalization of $76.5bn that derive the overwhelming part of their revenues from toll road operations. There are certainly more public companies than these 23 operating toll roads across the world. Many toll roads have also been acquired by private equity companies for infrastructure funds, or are part of larger infrastructure companies. For example, Vinci (OTCPK:VCISY) is a French company with a market cap of over $34bn that is leading in the concessions and infrastructure sector. It took over Autoroutes du Sud de la France (ASF) in 2006, only a few years after the French state privatized the concession by a listing on the stock exchange. Vinci now controls ASF, Cofiroute, Escota and Arcour – a highway network of 4385km. The other toll roads privatized by the French government in the new millennium suffered a similar fate. The company Autoroutes Paris-Rhin-Rhône (OTC:SEAUY) was nearly completely acquired by a consortium of Eiffage (OTC:EFGSF) and Macquarie, called Eiffarie, in 2006, only two years after its stock exchange listing. Eiffarie acquired 81% of the company, and a small float is still left today. The third large highway system privatized in 2004, SANEF (Société des Autoroutes du Nord-Est de la France) was acquired by Spanish group Abertis (OTCPK:ABRTY) two years later, in 2006. Abertis also owns airports, parking spaces and telecommunication companies.
Vinci ($34bn), Eiffage ($6bn) and Abertis ($16bn) are heavyweights in many funds and ETFs focusing on the infrastructure sector like (NYSE:UTF), (NYSEARCA:PXR), (NYSEARCA:IGF) or (MUTF:XMGUX) to name just a few of the 135 funds that contain the word "infrastructure" listed by Yahoo. However, they are not pure toll road operators. Dow Jones and Brookfield (NYSE:BAM) have at least created an index called the "Dow Jones Brookfield Toll Roads Infrastructure Index". Its fact sheet can be found here (.pdf). Its three major components are previously mentioned Abertis (25.4%), Atlantia (20.4%) and Transurban (17.5%). Unfortunately, these three companies-- accounting for more than 60% of the index-- are not really the best value, as we will see. The index contains only 10 companies and leaves out some very interesting ones.
Company overview
The list of companies I analyzed is shown in the table below. For each company, I listed (in local currency) the revenues, net income, equity and dividend of the last three years. I also provide the current P/E, P/B, dividend yield and equity ratio, all based on the 2010 values for equity, earnings and dividend.
Click to enlarge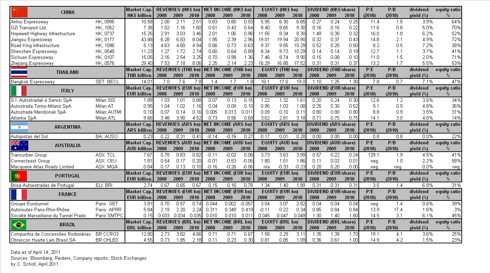 The list contains eight Chinese companies listed in Hong Kong (accounting for a total market cap. of $17.7bn), one Thai company, four Italian companies ($18.2bn total capitalization), an Argentine company, three Australian companies ($10.9bn), one Portuguese, two Brazilian ($11bn) and three French ($14bn). Sorted by market capitalization, the list of companies looks as follows:
Click to enlarge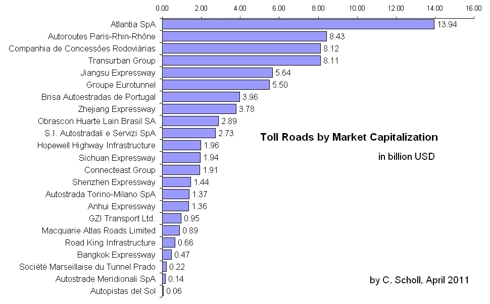 The size spectrum of these companies is thus very broad, ranging from large caps like Atlantia, APRR, CCR or Transurban to small caps like SMTPC, Autostrade Meridionali or Autopistas del Sol.
Country roads, take me home
Let us now look at the companies on a country-by-country basis. Toll roads are local operations that have a fixed location, and their performance is linked to the local economy. Key drivers are, for example, the mobility of the population (number of cars), trade volumes between the node points of the highways, and the population of cities joined by them. Competition by other means of transport (airplane, railway) is also an important factor. For example, if you want to travel between the two major cities of Japan, Tokyo and Osaka, you have three choices: you can take the 565km, six hour-long National Route 1 and pay about 15,000 Yen in tolls (plus the fuel costs), take a one-hour plane for about 13,000 Yen or the two-hour shinkansen bullet train for about the same price. Here, economics and convenience clearly favour the railroad unless you have a large amount of things to transport.
All roads lead to Rome?
Italy, along with France, is the major European country having listed private toll road companies.
The listed Italian toll roads are the largest group by a narrow margin, mostly due to heavyweight Atlantia (OTCPK:ATASY), which is the toll road with the highest market capitalization (nearly $14bn). Atlantia controls more than 3,000km of toll road concessions in Italy, and has international presence in Chile, Brasil, Poland and India, with a total network in these countries of about 920km. The company is looking at floating its Chilean operations (Autopista do Pacifico). Its revenues have increased, but net income has not followed suit. The dividend has remained stable, and the stock currently trades at a yield of about 4.6%. Like other large infrastructure groups (Abertis, Ferrovial), the company is burdened by a lot of debt and has only a 14% equity ratio.
The other three Italian toll road companies have more healthy equity ratios (around 35%), and are much smaller in size. Unlike Atlantia, they are local operators. Autostrada Torino-Milano, Autostrade Meridionali and Autostradali e Servizi all trade around their book value and offer dividend yields ranging from 3.5% to 4.8%.
As can be seen from the chart below, the stock performance (excluding dividends) has been similar for all four stocks over the past five years, and mostly negative.
Click to enlarge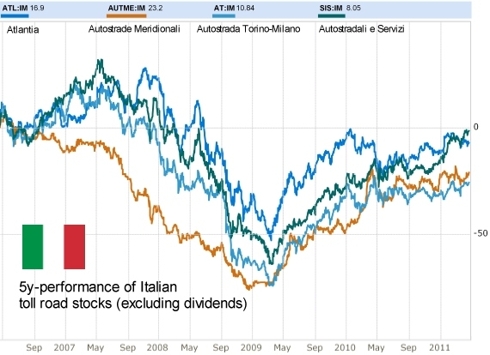 From Silk Road to Toll Road
China has the largest number of listed toll roads, and the eight I have listed have a total market capitalization of nearly $18bn. The growth economics for Chinese toll roads are favorable, as China has one of the strongest growth rates in automobile sales, and an increasingly mobile population. Unlike their European and Australian peers, the Chinese toll roads have shown mostly positive stock price performance over the last five years. The following chart shows the stock price performance (excluding dividends, which are often substantial) of the seven toll road companies with the largest market value. Including dividends, all stocks have provided a solid double-digit positive return over the last five years. Hopewell Highway (OTC:HHILF), the only stock showing a negative performance in the chart, actually paid a huge dividend of around 25% in 2008, which explains the underperformance.
Click to enlarge

The best performer was Sichuan Expressway (OTCPK:SEXHF), whose stock price rose nearly 300% over the period, far eclipsing all other stocks. The next best performers were Jiangsu Expressway (OTCPK:JEXYF), Shenzhen Expressway (OTC:SHZNF), GZI Transport (OTC:GZITF) and Zhejiang Expressway (OTCPK:ZHEXF).
As can be seen from the table containing the financial information, the Chinese toll roads have rather solid balance sheets. Their equity ratios range from 40% to 70%. The least leveraged company is Jiangsu Expressway (72% equity ratio), while Road King Infrastructure has the lowest equity ratio (38%). Most stocks have good dividend yields (on average 5%) and trade on modest P/E ratios (slightly above 10, and well below 20).
It would go far beyond the scope of this article to analyze these companies in detail, but I hope this brief introduction can serve as a starting point for your own research in this field. All companies have their very own geographies and competitive landscape, and sometimes various ancillary businesses (for example, Zhejiang Expressway also owns a majority stake in a brokerage, Zhejiang Securities).
Personally, I bought shares of Jiangsu and Zhejiang Expressway (among other Chinese stocks) when the stock market crashed at the end of 2008. Including dividends, both stocks have provided for very satisfying returns and I plan to hold them for the foreseeable future.
Australia: off the track?
The Australian experience can show what can go wrong with these types of investments. During the go-go years of financial leverage, Australian infrastructure groups gobbled up large amounts of private toll road concessions financed essentially with debt (like the attempted takeover of APRR by Macquarie and Eiffage). After financing dried up, investors in Australian toll road and infrastructure stocks have seen very bad returns. Transurban group (OTCPK:TRAUF) is down over 21% over the last 5 years, and Connecteast group's stock lost 61.5% of its value over the same period. The newly listed Macquarie Atlas Roads (OTCPK:MAQAF) emerged from the restructuring of Macquarie Infrastructure Group. The skid marks from financial sins of the past can still be clearly seen in the balance sheets and earnings statements of these companies. All three posted losses over the last three years, and Macquarie Atlas Roads even has negative net worth. All in all, these are companies that I would rather avoid investing in over the near term.
Digging for value in France's tunnels
France offers two interesting infrastructure stocks which are not your standard toll roads. One is the well-known "chunnel", the subsea tunnel that connects England to the European continent. The Eurotunnel company (OTC:GRPTF) owns a century-long concession to operate the connection, and obviously has a wide moat and travel advantages (it is much faster and easier to use the tunnel to get to the center of London than by plane, and nobody will ever build a second tunnel). However, as the construction of the tunnel was financed by the company itself, it was long burdened by a super-heavy debt load. The last years saw the restructuring of the debt, and Goldman Sachs (NYSE:GS) has taken a large stake in the company. Its current balance sheet is in much better shape than in the past, but the profitability of the company still leaves a lot to be desired. The other is a small company, SMTPC, which operates a highly frequented tunnel in the city of Marseille, the "Tunnel Prado-Carénage". The company holds the very lucrative concession for this tunnel until 2025, and the stock pays a dividend of over 6%.
Other countries
Brazil has two listed toll road operators, CCR SA and OHL Brasil SA. Both companies have seen large growth in revenues and earnings, but are also valued accordingly. Portugal has a large listed toll road, Brisa. The company has had stable revenues over the last years, and currently has a dividend yield near 7%. The currently low P/E ratio is influenced by a one-time gain (sale of its stake in before-mentioned CCR) in 2010. The Argentinian Autopistas del Sol is a small cap company that is controlled by Abertis (50% of voting rights), and co-owned with Impregilo, Dycasa and ACS. Only 30% of the shares are free float. Bangkok Expressway of Thailand is an attractively valued company that I have been holding for many years, holding concessions for Thai expressways. It consistently achieved over 20% net margins, has been increasing dividends, and currently yields over 7%. It trades at a modest P/E ratio of about 8 times last year's earnings.
Which road to take?
Now that we have a rough idea of the sector, I finally want to provide an overview of a few metrics to help compare the various companies. The first figure shows the placement of the companies according to their equity ratio (x-axis) and P/E ratio (y-axis), based on their market capitalizations on April 14th. To smooth out potential one-time effects in the net income, I took the three-year average of net income for the 'E' component of the P/E ratio.
Click to enlarge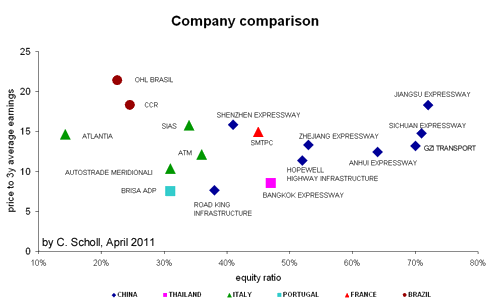 The figure shows many aspects of what we already discussed. The Chinese companies tend to have high equity ratios, thus more solid balance sheets, but their valuations are across the board. The Brasilian highways are the most expensive, and the Italian companies are on the lower side of the equity ratio spectrum. I did not include the Australian toll roads as they did not have positive earnings over the last three years. The equity ratio and P/E valuation are of course only two factors to consider when investing, but this figure can already give you a rough idea of the relative valuations.
The second figure shows the companies classified by their current dividend yield (based on the stock price on April 14th).
Click to enlarge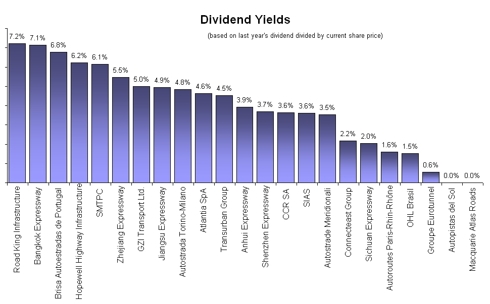 Of course, every individual company has its own specifics, but generally the higher dividend yields can be found in Asia. 60% of the ten companies with the highest dividend yield come from this region.
Conclusions
Toll road investments offer a very interesting investment opportunity. However, investors have to be careful about the companies they choose to invest in, and pay special attention to highly leveraged enterprises. As the Australian experience shows, high leverage can lead to very ugly outcomes. Today, the Asian toll road operators offer the most attractive valuations, while some operators in Europe are also worth considering. Asian toll roads have the benefit of better economic prospects, more room for future growth in traffic, and a better balance sheet structure. They also currently offer higher dividend yields.
Disclosure: I own shares of Zhejiang Expressway, Jiangsu Expressway and Bangkok Expressways.