Please allow me to preface this article by saying that I usually do not go after oil and gas plays, as they are quite difficult to dissect; much like a biotech play with an upcoming binary event. The stock price can be held up far longer than most of your typical pumps, because "investors" are waiting for the "life-changing" binary event to occur, whether it be trial results in the case of a biotech or the spudding of a well in the case of oil and gas. It is all or nothing, and proving a case one way or another is difficult at best.
Hence, the binary event can often become like betting on red or black in Vegas, which is something that I abhor. As an investor or a trader, it is your job to skew the odds in your favor as much as possible and to stay away from the 50/50 plays. All of this being said, I believe that there is enough information out there to make a pretty strong case against Virtus Oil and Gas Corporation's (OTCQB:VOIL) chances of finding any oil in Iron County, Utah. With boiler-room-like tactics and hard mailers with material omissions being used to entice people to buy VOIL stock, it is my opinion that the binary event will either never occur or occur and be a complete and utter failure. In either case, I believe the stock will go to near zero in time ... and this is why:
As always, start from the beginning. Many times, if you look at who was instrumental in putting together the original shell, then you can get an idea of the guiding influences at work behind the scenes. So, let's start with VOIL's S-1 filing.
Notice the names Rene Berlinger and Victor Gallus and notice that they received a large number of initial shares.
This is the same Rene Berlinger who signed the documents for Rooftop Investment Ltd, a Marshall Islands entity that did a nice financing package with Gray Fox Petroleum (OTCQB:GFOX) before that stock received a whole lot of pumping via notorious some-would-say-scammers like Tobin Smith before tanking. You might remember Tobin as a member of Fox News before he was fired for pumping penny stocks. Rene was tied to US Farms, another penny stock that was the subject of SEC scrutiny involving illegal kickbacks, and was also a consultant to Harmonic Energy (OTCPK:ASUV). ASUV also received a lot of pumping before tanking into oblivion. You can read that story here.
ASUV was also pumped by "The Myers Letter", which is the side-show in another story about which you will soon read.
If you want detailed info regarding the Swiss master of puppets that is Rene Berlinger, then I suggest you familiarize yourself with this piece from PrePromotion Secrets, as we will revisit Mr. Berlinger in a few minutes.
Before we get into Victor Gallus, aka Viktor Gallus, it is important to consider the old adage that "you are the company you keep" or perhaps "birds of a feather flock together." In any instance, allow me to deviate from VOIL for a moment so that you can fully appreciate what goes on behind the scenes.
In order to better understand Victor Gallus, you must first know that he was part of an SB-2 filing relating to Hemis Group / Tecton Corp.
Hemis Group (OTCPK:HMSO) was a bad pump and dump run by Norman Meier, while Tecton Corp was part of an illegal kickback FBI undercover sting operation. You can read the SEC release here.
HMSO had a consulting agreement with Battle X, which was signed by Viktor Gallus. Victor Gallus is also the controller of Desperado Ltd, which is also tied to Meier.
This is important because as a penny stock investor you need to know about the infamous, Swiss-born, Norman Meier, aka Norman V Meier, aka Victor Burrell-Meier, son of Edwin Meier.
Now, if you want to go read about Norman Meier, his father, the alleged international rings of boiler rooms, frauds, scams, pump and dumps, FINRA problems, etc., then be my guest. It is a worthy investigation. Just Google things like: "Norman V Meier" and scam.
All done? Eye-opening, isn't it?
Now, let's peel back just a tiny layer of the Tecton debacle and see what is going on with some of those insiders, including Doug Oliver, who was a Geo hired by the company, who allegedly sniffed out the blatant pump and dump scheme weeks before it happened, and who sent the info to the SEC, who decided to do zippy zap about it. You can read that report here.
Another popular penny stock insider named Jordan Shapiro, aka Hudson Capital LLC, was a big shareholder in Tecton/Hemis, as you can see from this filing.
Jordan Shapiro also owned a bunch of MDMJ that many of you probably know as a stock pump during the recent marijuana mania. However, before it was MDMJ it was Mass Petroleum (MASP), to which Norman Meier was an insider/consultant.
MASP was involved in an indictment for being pumped via boiler rooms in Thailand.
Chad Smanjak was also tied to Hemis and to Meier, and Meier even wrote this letter about it.
However, this was not Meier's only dealing with Smanjak. They knew each other from Wave Uranium, another pump and dump, where Norman Meier and Jehu Hand allegedly funneled borrowed money to purchase a shell to run a pump and dump campaign by way of hard mailers. Be sure to check out that email between Smanjak and Jehu Hand. Very telling.
As you can imagine, you could run with these strings all day long. For now, let's try to get back to VOIL. Look at one more name in this filing, a name that comes right after Victor Gallus. Notice Keyvan Shokoofh, who has control over Esperanza Ltd.
According to this Swiss site, Keyvan had ties to Rene Berlinger while working at a company called Indecta AG. Yes, this would be the same Rene Berlinger from the VOIL S-1 filing. Starting to feel like there are a few people out there who are pulling all the strings and making all the money on these penny stock deals?
Please enjoy this one last read regarding Norman Meier and boiler rooms and how they allegedly operate.
With all of that in mind, turn your attention back to VOIL.
In July 2014, this article was published in the St. Louis Post Dispatch titled "Penny stocks: Pitching a sucker in St. Louis", and it told of a boiler room operation in the Philippines that was touting VOIL stock. The call center is located in the Philippines, but the guy behind it is supposedly Paul DeRiso and his company in San Francisco called Core Consulting Group. I will not bore you with these details, as they have already been outlined in several other articles. The point that I wish to drive home is the fact that the interest in VOIL stock is at least partially attributable to something that resembles an international boiler room operation. Now, who might have the contacts and know-how to orchestrate something like that? Hint, I just told you in the above text.
In addition to the "boiler room", VOIL is also enjoying exposure via hard mailers that are being sent out by Charles Moskowitz. You can see the mailer here. Now, who would have the contacts and know-how to orchestrate something like that? No hint this time!
The disclaimers that accompany these stock touts often have a safe harbor statement on them that say something to the effect that "past performance does not guarantee future results." However, as it has been stated in the past, sometimes past performance can be a very good indicator of things to come. With that in mind, let's see if we can skew some future odds in our favor by studying the past.
Since we already dug our way through the S-1 filing, let's fast forward a bit and take a look at VOIL's former CEO, Daniel Ferris. Again, it is always good to know what kind of guidance might be being given as these things evolve from shells to something more. Daniel Ferris was the former CEO of Lone Star Gold (OTCPK:LSTG), which was the object of this multi-million paid mailer pump and dump campaign, which said that LSTG stock could run to $125 per share. As it stands, LSTG trades at about half a penny. If you look at the disclaimer, then you will see that the mailer was paid for by Mermaid Finance Ltd.
As you can see, Mermaid Finance Ltd is very likely this entity located in the Marshall Islands; quite similar to Seahorse Investments, Ltd., which we have seen is also a Marshall Islands entity and signed by Rene Berlinger. In a side note, the financing that was done with ASUV that turned into notes with Seahorse Investments Ltd were originated through Legacy Global Markets as evidenced in this filing. For those who do not know about Legacy, they are one of the firms operating out of the infamous Matalon building in Belize with possible ties to the Awesome Penny Stock guys who allegedly boosted share prices of penny stocks by roughly $3,000,000,000.
Speaking of dollars, despite signing an agreement with Tidewater Oil and Gas Company in November of 2013 to acquire a working interest in their properties, VOIL had only $486 in total cash and $2,718 in total assets as of Novemeber 30, 2013. So, VOIL would need to obtain financing in order to begin their journey. In an all-too-familiar fashion, VOIL raised their money by issuing millions of shares to an entity called Fieldstone Industries, Ltd. located in, you guessed it, the Marshall Islands.
Why are the Marshall Islands the go-to place for these people? As The Financial Crimes Enforcement Network says on their website:
Money laundering is not a criminal offense in the Marshall Islands.
The Marshall Islands does not require financial institutions to identify their customers or maintain customer identification records or transaction records.
Financial institutions are not required to report suspicious transactions.
The Marshall Islands maintains strong bank secrecy laws that can only be lifted by an order of a Marshall Islands court and only to assist in an inquiry that does not conflict with the laws of the Marshall Islands. Offshore entities in the Marshall Islands are not required to disclose the names of officers, directors and shareholders or beneficial owners.
Marshall Islands offshore entities are effectively unsupervised.
You can go all day long tying these people together.
Getting back to Lone Star Gold. Before being exposed by Vancouver's leading penny stock investigative journalist, David Baines, for the fraud that is was, LSTG had business dealings with American Liberty and Petroleum (OTCPK:OREO), with whom it shared insiders Allvaro Vollmers and John Rhoden. Also a part of OREO was one Steven Plumb, who now sits on the VOIL board and who provides this 80 million dollar company with its office space, which is located in this book store that he purchased earlier this year. You can see the store from the street here. Small world, ain't it?
We could also go into great detail about Steven Plumb's Clear Financial Solutions, Inc. and the 'deferred penny stock successes' to which they have been tied. But, since we are already on the VOIL website (hopefully, you clicked that "VOIL board" link!), let's go ahead and deal with Virtus Oil and Gas, the company.
Since Virtus is putting out 1 press release per month, it is safe to assume that most of the interest in the stock is stemming from the "boiler room" in the Philippines and the paid mailer, both of whom like to tout the seemingly limitless upside associated with striking oil. Since neither of those people are going to present the flip side of this binary event, it is up to us to determine VOIL's chances of success of finding oil given what we can learn about their target area.
As we go through this, remember that it is the job of the cold-caller and of the paid mailer to present the most positive skewed possible view of the prospects of this endeavor. It is our job as potential investors to bring that view back into real-world focus.
The paid mailer, as well as VOIL's website, loves to compare VOIL's target with the Covenant Oil Field that was discovered in 2003 by Wolverine Oil and Gas Corporation.
VOIL claims on its website that their prospect is 80 miles south of the Covenant Oil Field. However, this report for Virtus on the Parowan Prospect dated January 23, 2014 says that it lies 110 miles south of Covenant. The bigger question is who is Bradley Peek, and who paid him to do this report? Also, why did Mr. Peek prepare this exact replica report on October 10, 2013, and who paid him for that report?
These are questions that will possibly be answered in a follow-up report.
According to the image below (from VOIL's website), the southernmost end of this prospect is roughly 120 miles NNE of VOIL's target, with the central location of the Covenant being much farther than that. 120+ miles seems like a big gap for meaningful correlation.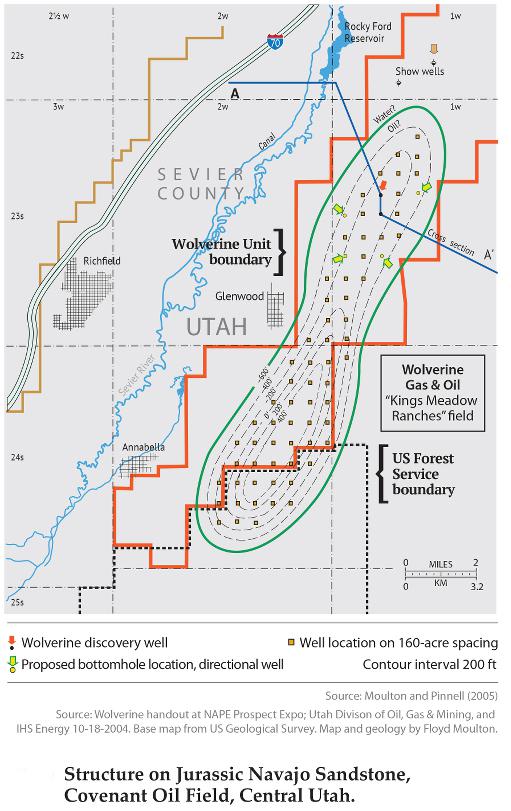 VOIL's website goes on to talk about Nearby Production. They mention the Upper Valley Field, which they claim is approximately 60 miles from the prospect. However, the Upper Valley Field, which was discovered by Tenneco Oil in 1964, sits "about 10 miles southwest of the town of Escalante", according to this report by Shell Oil that was published in the Four Corners Geological Society Handbook.
This would make the distance to VOIL's target well approximately 95 miles. You can use this "as the crow flies" measuring tool to see for yourself. Again, 95 miles seems to create a large gap between projections and reality.
VOIL's website goes on to talk about the Anderson Junction Field and the Virgin field to the south in Washington County. You can use the Department of Natural Resource site to see that every single well in Washington County located in the Virgin and Anderson fields have been plugged and abandoned or simply abandoned. Simply choose "County Name" from the drop down menu and type in "Washington". Voila!
Don't believe it? How about I get you a picture? Here is a map of Sevier County, home of the Covenant Oil Field.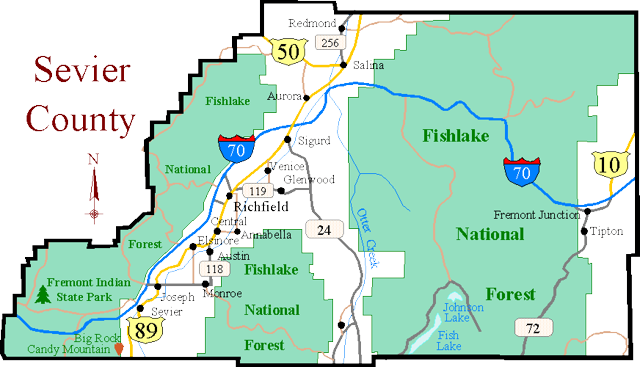 Wolverine has producing wells that are located near the Glenwood area, pretty much smack dab in the middle of the county. Take a mental picture of that, and now move on to this picture from the Utah Department of Natural Resources - Division of Oil, Gas, and Mining. Sevier County is located in the middle of the lower third of the state.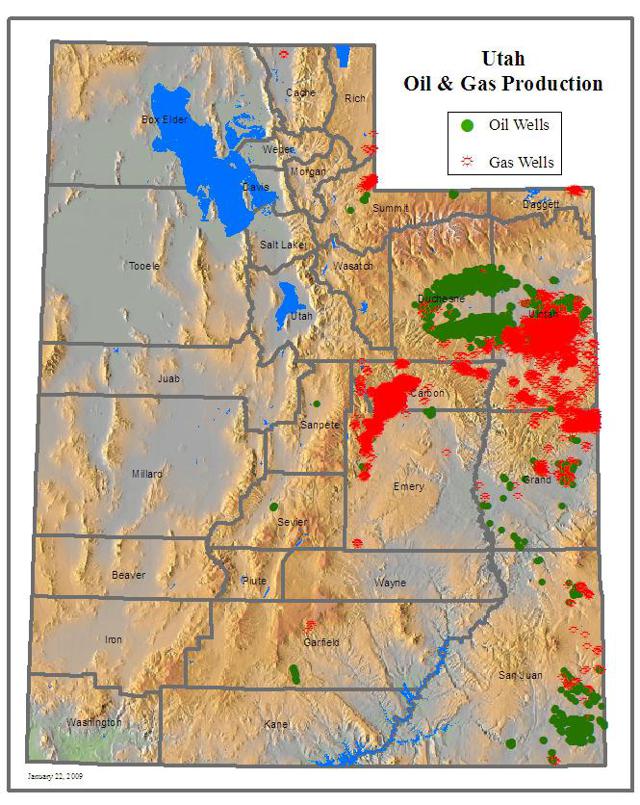 As you can see, there is one, small production area in Sevier County, near Glenwood. That is the Wolverine production site that VOIL references on their website. Remember, it is about 120 miles away from the VOIL drill site.
As you can also see, there is no production in the 2 counties (Piute and Beaver)between Sevier and Iron County, which is the county in which VOIL intends to drill for oil. Perhaps most importantly, there is no production in Iron County at all.
In fact, there has never been any oil production in Iron County according to the Utah Oil and Gas Department of Natural Resources:
Here is a history of wells in Iron County, Utah: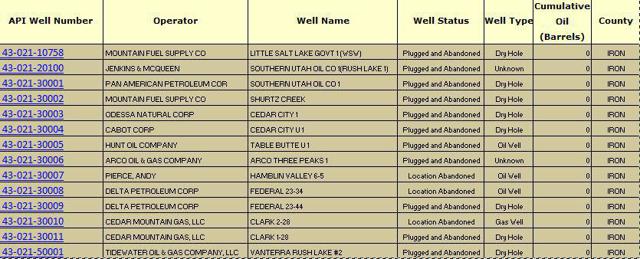 Do you notice a familiar name on there? Tidewater Oil and Gas Company, LLC drilled a dry hole that they called Vanterra Rush Lake #2. This is the same Tidewater Oil and Gas who entered into this agreement with VOIL on November 14, 2013 whereby VOIL acquired an 87.5% working interest in the old Tidewater properties. This comes just one month after that Bradley C. Peek report that touted the potential for 2 billion barrels of oil to be lying underneath these properties. What did Tidewater get in exchange for an 87.5% working interest in this 2 billion barrel potential? Straight from the aforementioned 8-K filing, "Pursuant to the Tidewater Agreement, the purchase price for the leases is $290,000."
This sounds a little bit ridiculous, but you have to understand that this is actually a good deal for Tidewater because just a few months prior to all of this, Tidewater filed for Chapter 11 bankruptcy. Because what do you do when you are sitting on 2 billion barrels of oil? You declare bankruptcy, of course ... and then sell your interests to a penny stock that is being promoted by Filipino boiler rooms and paid mailers while their insiders hide behind the veil of entities located in places where money laundering is A-OK.
Why did Tidewater file for Chapter 11, and why is this especially relevant to calculating VOIL's chances of finding oil in the otherwise oil-dry county of Iron, Utah? Well (no pun intended), it is because Tidewater drilled a well in Iron County, and we can trace its history and research its relevance to VOIL's target.
Here is the drill report for Tidewater Oil and Gas Company's Vanterra Rush lake #2 well, which is located in almost the exact same area as the VOIL drill, as we will soon see. If you look around page 16 of this document, then you will see the General History and Objective:
"GENERAL HISTORY AND OBJECTIVE

Following is a Drilling Prognosis for Vanterra's Rush Lake #2. The well is located in the NENW of Section 9-T34S-R11W in Iron County, Utah. The Rush Lake #2 well is designed to twin the Rush Lake #1 (Southern Utah Oil Company #1), which was drilled in 1949. The objective is to capture bypassed hydrocarbons identified in the Rush Lake #1 well."

Here is the report from the Rush Lake well #1 from 1949, thanks to the Utah Oil and Gas Department of Natural Resources.

Notice that the well was abandoned in 1950. Thanks to some fine genealogy work by the Hughes family seen here, we get a glimpse into the operation. Scroll towards the bottom and search for the story about the Southern Utah Oil Company. It might seem strange to reference a family history, but it is quite relevant due to the fact that this is the same Hughes family that is referenced in this Gustavson Associates report that is used in much of the promotional material for VOIL. In fact, they were hired by VOIL to generate this report. See page 36 in particular, section 5.9.2 Wells, where Gustavson mentions multiple shows of oil, but concedes that "other interpretations are possible."
Going back to the Hughes family history report regarding the Southern Oil Company and their well, let's get that interpretation:
Southern Utah Oil Company The oil exploration was started September 13, 1948. In the Grey Ledger that Barbara M. Adams kept and which is still in the Adams family possession it states, "Oil explorations at Cedar Bottoms were made in 1944. Actual drilling started 13 September 1948." The site for the drilling was on Hugh L. Adams' ranch on Cedar Bottoms located just inside his south fence near the Lone Tree. The Lovelady Drilling Company of Long Beach owned the rig. The local company rented the rig and bought their supplies from them. All employees worked ten-hour shifts. All overtime was to be paid in stock.
Officers were: Douglas Clark. . . .. President and Manager
Charles Shannon. . . . . . . . . Vice President
R. L. Durrant. . . . . . . . . . . . Vice President . . . . . . . . . . . . . . later, Secretary-Treasurer
Jack RaIl. . . . . . . . . . . . . . . Office Manager
April 12, 1949: Mr. Shannon, Vice President, presided over a meeting. The casing has been ordered. Two eight-hour shifts were to start April 13, 1949. The log of the well showed strong kicks which showed indications of oil. It could be well over a million-dollar well. June 21, 1949: The biggest kick was at 2240 feet. There was enough pressure to push the mud and water over the top of the rig through a 7" casing. Harold Oakley was the driller at the last. He was able to figure how much pressure there was to push the mud up. The water was heavier than the gas and ran back down the well and drowned it. They figured they were on top of a fault. Later they found that volcanic rock makes the same kick on the log as oil. This first rig had gone full capacity.
"September 2, 1949: The company sold fifty percent (50%) interest to Jenkins and McQueen of Oklahoma so they could payoff all bills which were approximately $18,500.00 as of this date. Jenkins and McQueen brought in a churn drill rig from Oklahoma and went deeper. Eventually they found that it was another dry hole and the venture was over."
The part most amusing might be what follows those words detailing the operation that took place some 65 years ago:
"A promoter sold stock to finance the project."
I guess some things never change.
Of course, the Rush Lake #2 well spudded dry on 11/20/10 @ 2:30PM and was eventually plugged and abandoned by Tidewater Oil and Gas Company.
With that out of the way, let's head back to the Gustavson Associates Resource Evaluation Report that was prepared on behalf of Virtus Oil and Gas Corporation, which appears to serve as the backbone of this entire operation.
Once again referencing page 36 of the Gustavson Report, notice the location of the "Prospect Area" as it relates to the previously mentioned 2 failed wells. It is in the same township, approximately one Section to the west. Each "Section" within a township is 1 mile x 1 mile, so this would place VOIL's target area approximately 1 mile from these two failed wells, and in the middle of a dry county. Need more proof?
Moving away from these most nearby attempts and subsequent failures, we travel a few miles east to the Little Salt Lake Govt 1 well. This well was dry and abandoned and turned over to the Bureau of Land Management for use as a water well (See page 25) of that report.
The next closest attempt to these failures is a few miles NE and was drilled by one Delta Petroleum Corporation in 2008. This dry hole was plugged and abandoned, too, but not before it could become part of an insider trading case, class action lawsuit, and bankruptcy.
But the failures do not stop here, and VOIL is not the first penny stock company to exploit this region. VOIL likes to tout fancy words like "Jurrasic Navajo" and "Hingeline" in their reports and on their website. Another semi-famous penny stock by the name of Royalite Petroleum touted their drilling of a "Jurassic Navajo" well on the Utah "Hingeline" in 2007. This well was located in Piute County, just south of VOIL's target in Iron County. However, their efforts met familiar results as one well was "Location Abandoned" and the other was "Plugged and Abandoned". As a result, RYPE now trades at .0014, enjoying a nice bounce from a low of .0003. Yes, that is 3/100ths of 1 penny.
A penny stock named Proper Power and Energy promoted the prospects of "Giant Fields" along the famous Utah "Hingeline" that could hold up to one billion barrels of oil. They, too, compared their potential to the always-heralded Covenant field. PPWE stock had little success, though. It crashed almost immediately following a string of email and website promotions, all the way down to .001.
Richfield Oil and Gas is another penny stock player in the region. They boast assets (although much of it is unproved properties) of over 22 million dollars, in contrast to VOIL's total assets as of October 15, 2014 of $570,505. Richfield also produces a little bit of oil, which means a little bit of revenue; revenue is something of which VOIL has zero. Despite all of this, ROIL trades at around 15 cents per share, making its market cap roughly 1/3 of VOIL's (quick and loose interpretation of a fully diluted share count).
If you want to view these wells for yourself on a map, then use this handy tool. Explore the wells in and around Iron County, Utah. Form your own opinion as to the chance of VOIL's success. Do you think that the binary event will lead to a $44 stock price like Moskowitz suggest? Or, do you believe that VOIL's stock will end up trading at something less than a penny, like so many of its predecessors in the region?
Do you believe that the Gustavson Associates report contains information that is reliable, aside from the concrete facts like the location of the wells? That is to say, do you believe all of the pie-in-the-sky projections like '2 billion barrels of oil'? How reliable is the source of this material, Gustavson Associates? Let's find out.
Before we look at their track record with public companies, be sure to re-read their disclaimer, which can be found on page 46:
"Note that these estimates do not include the consideration for the risk of failure in exploring for these resources."
That is a pretty important risk factor to omit, don't you think? It would seem that these reports are not much more than paid-for promotional material that offer a skewed view of reality. Let's take a closer look to see if this assumption is with merit.
Here are some other penny stocks that have paid Gustavson Associates for similar reports:
Arcland Energy - ACLE - Engages Gustavson Associates
Outcome for investors:
Stock revoked by SEC
Pilgrim Petroleum - PGPM - Engages Gustavson Associates:
Outcome for investors:
After an apparent boiler room operation run out of California (sound familiar) touted Pilgrim stock, the stock tanked and it actually trades now at ZERO. That is correct, it is so terrible that there is no current bid for the stock, only offers at 2/100ths of 1 penny ... for those who might be interested in buying, I guess.
How about Radial Energy - RENG and Gustavson?
Outcome for investors:
That one tanked from a couple of bucks to near zero before effecting a 1:500 reverse split.
Anyone remember Manas Petroleum - MNAP? They used Gustavson to evaluate a field in Albania. Yep, Albania. A few cold calls later, and Manas was on a similar path. Manas was the object of some scrutiny before tanking toward oblivion.
Gustavson Associates also prepared this report for CGX Energy in 2011 that touted the prospects of nearly 8 billion barrels of oil! CGX Energy traded at nearly $15 per share following this report, but now trades around 25 to 30 cents.
The list goes on and on, and if you can find a successful penny stock story that involves Gustavson Associates, then you will have done better than I. Let me be clear that I am not saying that Gustavson Associates intentionally prepares reports that are used to mislead people. They are simply doing their job in evaluating the prospects, but are doing so with certain caveats. The promoters of these stocks know this, and use this angle to their advantage. Given the track record of failures, however, I guess we were somewhat correct in assuming that we should consider the risk of failure in exploring for these resources before investing our money in the companies that use the Gustavson reports to tout their stock. We should also consider the fact that these reports, like the one prepared for VOIL by Bradley Peek, suggest the need for substantial capital ($6.5 million on Page 5) in order to complete a well. Do we ignore the fact that this means that VOIL will need to raise millions and millions of dollars, which will lead to more dilution for current shareholders? Why doesn't the Moskowitz report mention even this most obvious of pitfalls?
At the end of the day, though, there is no need to even dig into the financials of such a venture. You can, if you like. They are abysmal, of course. If you are interested in numbers, then you might be better suited to study these numbers:
This is the cumulative total of dollars traded in VOIL stock since the promotion began earlier this year. It was calculated using daily volume with a daily Volume Weighted Average Price reset to make the numbers as accurate as possible without having individual trade data.
Are you ready? $119,529,025 with over 73 million shares trading hands.
SEC filings show us that VOIL only has 49,848,948 shares outstanding. So, the number of shares that have traded is sufficient for someone or "someones" to have sold tens of millions of shares to anyone who believed the Core Consulting cold calls or the paid report put out by Moskowitz. This, of course, begs the question: If the prospects are truly as amazing as the company and the reports say they are, then who is selling all of this stock, and why?
If you read this article one more time, then you will probably have your answer to those questions.
In closing, the oil and gas plays can be tricky due to the nature of their binary events. However, with a little hard work, you can pick them apart just like any other deal. Are we ever really able to tell with 100% guaranteed certainty that the binary event will go one way or the other? No. But, we can increase our chances of success by never fully trusting someone else's words. And, to that end, neither should you trust mine. So, use this article as a guide for my position just as the other side would have you use the Moskowitz report as a guide for their position. Do your own research and decide for yourself if VOIL will strike oil in Iron County, Utah.
Editor's Note: This article covers one or more microcap stocks. Please be aware of the risks associated with these stocks.