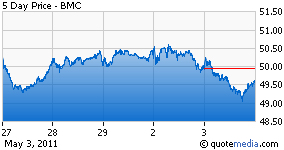 BMC Software Inc. (NASDAQ:BMC) is scheduled to release its fourth quarter 2011 results on May 4. There have been a few changes in the analysts' estimates post its third quarter 2010 results.
Third Quarter Recap
BMC reported decent third quarter results, with earnings per share (EPS) of 69 cents, on par with the Zacks Consensus Estimate.
The company delivered revenue of $539.9 million, handily surpassing the Zacks Consensus Estimate of $528.9 million.
Reported revenue of approximately $540.0 million increased 6.0% year over year. BMC's growth strategy seems to have been accretive for the company as suggested by its improved bookings. Service automation, SaaS and cloud solutions led to the significant upside in customer demand during the quarter.
Professional services revenue decreased 44.7% from the year-ago quarter. License revenue during the third quarter was $234.6 million, up 8.6% from the year-ago quarter. Maintenance revenue in the quarter was $259.3 million, down 0.3% year over year.
GAAP operating income for the quarter was $139.4 million, down 5.6% from $147.6 million reported in the prior-year quarter. Excluding special items like severance cost and amortization of intangible assets, non-GAAP operating income was $162.2 million in the reported quarter, up 3.6% from $168.2 million in the prior-year quarter.
Guidance
BMC reiterated its fiscal 2011 non-GAAP diluted earnings per share guidance range of $2.92 to $3.02, reflecting a 12.0% increase from the prior year at the mid point. The company also expects cash flow from operations of between $710.0 million and $760.0 million for fiscal 2011, up from its prior expectation of $675.0 million-$725.0 million.
Agreement of Analysts
Out of the nine analysts providing estimates for the fourth quarter of 2011, only one analyst made an upward revision in the last 30 days. Moreover the last 30 days saw just one analyst raising estimates for fiscal years 2011 and 2012.
Some analysts continue to believe that BMC is well positioned to benefit from the overall improvement in IT expenditures and increased investment in data center expansion and optimization.
Other analysts have the impression that BMC entered the fourth quarter of 2011 with a healthy ESM pipeline, particularly in Cloud Lifecycle Management, and is expected to benefit from growth in enterprise IT spending, as evident in the revival in business of other IT companies' results, particularly among high-end customers.
Moreover, some analysts believe that the recent segregation of the company's MSM and ESM businesses will enhance clarity regarding the performance of each business, provide better execution through increased focus and will also make pricing more appealing to growth and value investors, possibly facilitating further M&A activities.
On the other hand, some analysts are slightly concerned about the challenges posed by industry leaders such as Hewlett-Packard Company (NYSE:HPQ) and CA Technologies Inc. (NASDAQ:CA), owing to their strong positions in the cloud computing space, where the company is lagging. BMC Software's exposure in Europe is also expected to be a headwind.
Magnitude of Estimate Revisions
The Zacks Consensus Estimate for the fiscal fourth quarter has moved up by 4 cents to 66 cents over the last 90 days. For fiscal 2011, it has remained unchanged at $2.56, while for 2012; it has gone up by 3 cents to reach $2.80.
Recommendation
Acquisitions have expanded BMC Software's product portfolio, leading to more comprehensive solutions. Growth prospects in the SaaS and virtualization segments, a favorable position in the government vertical and strong cash generation abilities are other positives.
However, the company needs to seriously work on its cloud computing strategy, and we are concerned about the intensifying competition from big players like IBM (NYSE:IBM), Hewlett-Packard, EMC Corp. (EMC) and CA Technologies, which bundle hardware and software offerings.
BMC Software has a Zacks #2 Rank, which translates into a short-term Buy rating.