For the last week or so, we have witnessed rather off-putting and, at times, downright strange corporate executive behavior. First, we dealt with CEO Reed Hastings and CFO David Wells' song and dance at Netflix (NASDAQ:NFLX). Over the span of the last month or so, we discovered that two hearts are not necessarily better than one as Research in Motion (RIMM) Co-CEO Mike Lazaridis proved that somebody could actually make his company look worse than partner Jim Balsillie. And just Monday, we bore witness to Dish Network (NASDAQ:DISH) CEO Charlie Ergen's ramblings about Seinfeld and his company's strategy.
Enter Sirius/XM (NASDAQ:SIRI) CEO Mel Karmazin for some levity, credibility and a clear, cogent, and confident command of not only the English language, but the art of rhetoric.
If you have not heard Sirius's Q1 earnings call, do yourself a favor and listen to it. While I might not always see eye-to-eye with SIRI longs, they have every reason to be excited about the man at the helm. Just as Amazon.com (NASDAQ:AMZN) rose despite a negative report on the faith investors have in Jeff Bezos, SIRI literally took off again shortly after Karmazin started to speak.
Sirius did not issue a negative report -- it reported in line with consensus EPS, missed by a hair on revenues, and guided in line for the year -- but the results sent the stock down in the premarket. But then, after rebounding prior to the call, the stock surged to the open as Karmazin took any possible negatives and turned them on their collective ears (see my red lines). After touching an intraday and 52-week high of $2.09, SIRI floated around $2.06-$2.07 heading into Tuesday's final hour of trading.
(Chart courtesy of Schwab's StreetSmart Edge)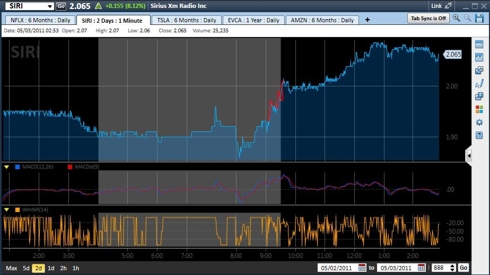 Karmazin did not sidestep the negatives; instead, he properly addressed them. Karmazin was as clear as could be on Sirius's lower conversion rate and the likelihood that the company will raise its subscription rates later in the year, noting that the hike "will not be something that looks like inflation." Even more impressive was Karmazin's reasoning for not raising guidance for 2011:
Based on all the information we have today, many of you would expect us to increase our 2011 subscriber guidance significantly. The only reason we are not is the OEM supply chain uncertainty related to the tragedy in Japan. Year-over-year, our business has not notably been adversely affected by unemployment, high gas prices, increasing competition or the economy, but we are watching the Japan tragedy closely to see if it results in any supply issues. We monitor this issue daily. We are confident that there will not be any supply issues specifically related to our satellite radios. However, it is not entirely clear what challenges our OEM partners may -- they may experience. If they encounter no serious issues as an industry, we may deliver more subscribers in 2011 than we are currently forecasting. If they encounter difficulties and auto sales are lower than we anticipate, we will deliver more adjusted EBITDA than we anticipate to date as our SAC will likely be lower.

If there is a supply impact in 2011, we anticipate that demand will be even stronger for us in 2012 than it is currently anticipated. Today, it is too early to tell. We believe we are being prudent, and we'll keep you informed as more information becomes available.
This is the type of stuff that could catapult Karmazin to the Bezos and Steve Jobs genius category sometime soon. First, he subtly reiterates the strong position he has gotten Sirius into, noting that, based on it, we should be guiding higher. He then goes on to give the reason nobody can chide for not raising guidance -- supply issues out of Japan. Setting realistic and "prudent" expectations based on an issue somewhat out of a company's control (unless you're Apple (NASDAQ:AAPL)) sets up a win-win situation. And when Karmazin goes on to discuss the company's excellent cash position and its desire to return capital to shareholders, you can rest with confidence if you are long the guy's company.
Karmazin also took Jobs-like pokes at the company's competitors, comparing the amount of money Sirius earns per listener versus terrestrial and Internet radio. After listing the number of listeners each company commands, he noted that Pandora (NYSE:P) generates $1.68 per registered user and $4.59 per active users, Clear Channel (CCMO.PK) brings in $13.61 for each listener, and Sirius banks $141 per subscriber. In other breaths, he says this: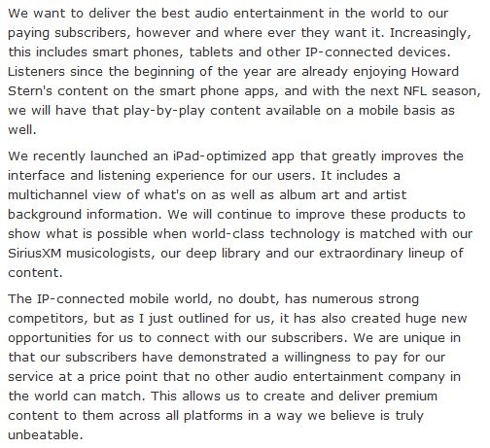 And this:

With a concise precision, Karmazin relays to investors two crucial facts. First, he understands the importance of new media. And he intends to not only follow the trend, but help set it. And he shows that the company has barely penetrated all of its potential markets and demos despite topping 20 million subscribers. All of this, combined with the likelihood that the company will remain profitable, suggests the $2.00 marker remains safe.
Long-term, I am beginning to think it is. In the near-term, however, I believe investors can expect and take advantage of a pullback in the shares. I hold to my strategy of writing puts to get SIRI shares at the price you would like, however, you might need to move to a $2.00 strike price. The SIRI September $2.00 puts would generate about $0.18 worth of income, as of Tuesday afternoon, bringing your effective purchase price to $1.82 per share if put 100 shares of SIRI for each contract you write. If the stock flies or does not fall enough, you miss out. If it tumbles, and you have a long-term time horizon, you might consider $1.82 a relative bargain.
For more conservative investors, or as a complementary strategy, you could dollar-cost-average into SIRI. It's the ideal stock to do it with. Between $50 and $500 a month adds up fast. By the end of the year, you could build a rather significant position in the stock, riding its inevitable peaks and valleys.
As for negatives from the call, it ended somewhat abruptly, as is commonplace. This prevented anybody from asking Karmazin about the Howard Stern and anti-trust lawsuit. I was also not completely ecstatic about Karmazin's fleeting mentions of SatRad 2.0. What he said about it makes it sound like it will be nothing more than Pandora/TIVO (NASDAQ:TIVO) hybrid. Don't ignore this line, however, "...I think once again the technology is something that I'm not sure we want to get into now." The call also expressed the fact that it will be easier to get SatRad 2.0 in the hands of subscribers outside of their cars because of automaker constraints and timelines.
Investors might look back on this point as pivotal. Karmazin realizes that today's consumer can access entertainment through several methods. It would be a mistake to make SatRad 2.0 all about the car. In other words, it can have a world's more functionality outside of the car than in it. You cannot expect, for instance, a driver to watch Howard Stern do his show while they are driving. If the home and mobile editions of 2.0 offer significantly more features than the in-car models, it could make Sirius a more diverse company. In essence, it could offer not only another large revenue stream, but a hedge against gyrations in auto sales.
All in all, talk about SatRad 2.0 by anybody but Karmazin represents thinking out loud. Karmazin did not play all of his cards on Tuesday's call. That shows a CEO with confidence in his company's trajectory. The $2.00 mark probably means less to Karmazin than it does to those of us who follow stocks like SIRI from day-to-day.
Disclosure: Author may initiate a long or short position in NFLX, RIMM, APPL, SIRI, AMZN, CCMO.PK, or CCO at any time. Author closed his long position in NFLX puts during market hours on Tuesday, 5/3.