Several weeks ago, I wrote an article explaining why I thought silver would correct sharply. While I was a bit early, the silver correction has finally arrived. The last two days have seen sharp drops totaling over 13%. However, I don't believe the correction in silver is over.
When an asset has become as overbought as silver has, it is reasonable to expect a decline of far more than the 13% silver has corrected so far. Even with the quick decline over the last two days, silver is still over 35% above its 200 day moving average.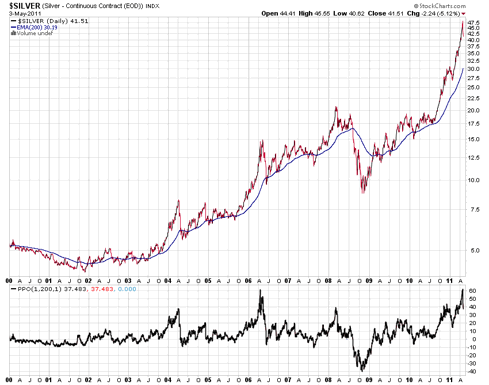 Another reason I believe that silver has further to drop is sentiment. Silver sentiment has become very bullish recently and there have been lots of calls to buy the dip from bulls who have missed much of the rise and want in on the action. This type of buy-the-dip mentality after a parabolic move is a strong warning sign. In addition, dollar sentiment has become increasingly negative at the same time, leading to the possibility of a scenario where silver continues to decline and the dollar rises.
In short, silver is still overbought in the intermediate term even with its 13%+ decline over the last two days. Sentiment has remained very bullish and has maybe even increased with those recommending buying the dip. I think that silver is likely to continue its decline over the intermediate term, but with the possibility of a short bounce in the next few days.