Synergy Resources (SYRG.OB) is a well capitalized emerging oil and gas producer focusing on the Denver-Julesburg Basin (D-J Basin). The D-J Basin is considered a "Legacy Top 10 U.S. Field." The Wattenberg Field (in the D-J Basin) in late 2005, changed to 20 acre spacing which, was estimated to add an incremental 1.6 trillion cubic feet of recoverable reserve base. Chesapeake Energy (NYSE:CHK), Noble Energy (NYSE:NBL), EOG Resources (NYSE:EOG), and Anadarko Petroleum (NYSE:APC) are a few of the large independents active in this area. Of much interest is the Niobrara shale formation (in the D-J Basin), which could be a prolific horizontal resource.
Synergy Resources operates approximately 116,000 gross acres (100,000 net) in the D-J basin. The company has gone from 6 gross wells (3.8 net) to 60 gross wells (46.1 net) over the last 12 months. Of the 60 gross wells, 48 are producing, 2 are shut-in, and 10 wells are in completion. Drilling and completion costs are estimated ~$550,000 per well with an 8-18 month return on investment. Synergy is in the process of permitting an additional 100+ lower risk wells that have been identified. The company expects a rather aggressive production growth curve in 2011-2012. The company is potentially targeting over 20 horizontal Niobrara wells.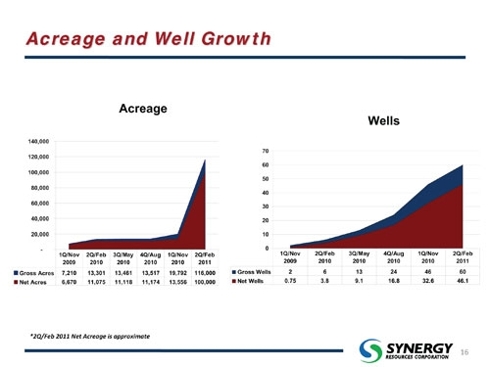 (Click chart to expand)
Revenue for the 2Q-2011, was $2,053,534, up over 500% from $335,725 in 2Q-2010. Synergy also reported its first operating profit during the quarter. Subsequent to the end of the quarter all the company's remaining debt was converted to equity. As of today the company has over $20 million in cash with no debt. SYRG currently trades around $4.00 per share or $140m market cap with 34m shares outstanding with just over 50m fully diluted (options/warrants avg strike ~$5.50). Synergy's current revenue mix is 80% oil/20% Gas, so the company is currently well positioned during this bullish oil cycle. Synergy Resources may be the needle in the haystack when compared with other less capitalized micro cap O&G stocks. SYRG represents a very unique blend of production growth from the Wattenberg Field and blue sky upside from the Niobrara shale formation.

Synergy Resources Presentation can be viewed HERE - (pdf).

Disclosure: I have no positions in any stocks mentioned, and no plans to initiate any positions within the next 72 hours.