U.S. gold dropped for an second straight session on Tuesday. The metal's drop was modest -- gold lost $9.60, or 0.62%, to close at $1,535.50 an ounce. Gold prices hit an intraday low of $1,527.20 and a high of $1,551.00 an ounce. In recent weeks, gold has been making higher highs and higher lows. But for the last two sessions gold has reversed its direction.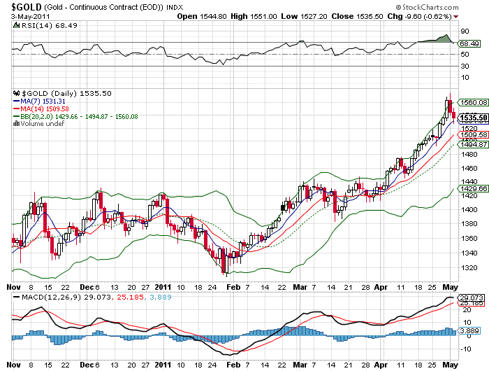 Gold prices are just below its Bollinger band's upper band. The relative strength indicator is sitting at 68.49. Technically, gold is neither overbought nor oversold on a daily chart. Bears have an advantage over bulls and their next near-term downside price objective is closing prices below solid technical support at last week's low of $1,477.80.
Silver futures prices for May delivery, now the most active contrast, dropped a whopping $2.24, or 5.12% for third straight session as well, to close at $41.51 per ounce on the Comex in New York. Silver prices hit an intraday low of $40.62 and a high of $45.55. Silver made another 31-year high in Monday's session. Silver prices are just below its Bollinger band's middle band. The relative strength indicator is sitting at 47.41.
Silver has lost more than 16% of its value in last three trading sessions and it has lost over 12% since Friday. As noted in my other articles, a selloff was inevitable but magnitude of selloff over such a short period of time is what was surprising. Oil and other commodities came under pressure on Tuesday as weaker hands, speculative investors might have been forced to sell their long positions to meet the new margin requirements for silver that went into effect at close of trading, Tuesday. Until last week CME's margin requirements for silver futures contract was set at $14,513 per contract which was raised to $16,200 per contract. CME had already raised margin requirements on silver futures contract, Tuesday and Friday of last week.
I recommend staying away from silver for a short term, because I believe that investors and traders can buy silver at cheaper prices than where it closed on Tuesday. In my opinion the long term bull trend in precious metals is still intact but silver has further downside risk. Gold on the other hand will remain relatively well supported due to intact fundamentals, lower dollar, high inflation, negative interest rates and other geo-political risks.
According to The Wall Street Journal, plunge in silver prices on Tuesday were attributed to the fact that some major investors have been selling. George Soros's big hedge fund, a firm operated by high-profile investor John Burbank and some other leading firms have been selling gold and silver, according to people close to the matter, after furiously accumulating precious metals for much of the past two years. The report said the selling marked a threat to the nine-month precious metals rally, but added that some prominent investors, such as hedge-fund manager John Paulson, continue to favor gold and silver.
I think both gold and silver will resume their climb higher in days to come, but they are setting up for a leg lower before heading higher again. If you are an investor looking to store some of your savings in either gold or silver, I wouldn't hesitate getting long at these prices. But if you are a trader trying to make money from daily or weekly swings, I think an excellent buying opportunity will present itself in coming days.
For the long term investor, silver is undoubtedly heading higher. But for a swing trader, silver will pose an excellent buying opportunity to get long at lower prices in coming days. Swing traders would be presented with better risk reward trade on Thursday, after governing council meeting of the ECB in Helsinki, Finland.
If you believe in the gold and silver story, you can take advantage of the climb in gold prices by getting long exposure to GLD (iShares Gold Trust) or UGL (ProShares Ultra Gold). You can also benefit by getting short exposure to GLL (ProShares UltraShort Gold). You can take advantage of the climb in silver prices by getting long exposure to SLV (iShares Silver Trust) or AGQ (ProShares Ultra Silver). You can also benefit by getting short exposure to ZSL (ProShares UltraShort Silver).
Disclosure: I have no positions in any stocks mentioned, but may initiate a long position in SLV, GLD over the next 72 hours.