The High-Probability, Mean-Reversion Strategy continued its success Tuesday as the strategy triggered another good trade. This time it was the SPDR S&P 500 ETF (NYSEARCA:SPY). SPY moved into a short-term extreme state on Friday so I purchased a few puts per the strategy guidelines. Tuesday, I was able to sell them for a decent 7.6% return. So far, after only one trade the strategy is up 5.6% for the month of May. Another trade like Tuesday and the strategy will certainly exceed April's 10.5% gain.
Year-to-date the HPMR options strategy is up 37.7% . Check out the results.
The decline in the S&P falls right in line with the "sell in May" phenomenon that occurs during this time of year. Will it be this easy?
The market has looked frothy for weeks now, but I think the move in SLV over the last two days was the catalyst the bears needed. Or could it be that the market finally realizes that the strongest monetary and fiscal policy in U.S. history is not enough to keep this economy above water. Did you see the GDP last week – 1.8%. When GDP hit -6.8% and QE1 was enacted the economy came roaring and has done so for slightly over two years. But I think the fun is over. I think now, more than ever is the appropriate time to use sound options-based strategies.
Just look at the High-Probability, Mean-Reversion strategy's performance over the past several days while the market was moving lower. A 7.6% return while the S&P has taken a turn for the worse.
Anyone, and I mean anyone, can make money when the market is in bull mode. I see the machismo every day. Analysts who think they have the hidden gem to riches. Touting how great they are during a strong bull rally, but neglecting to remember how they performed (if they even had money in the market) when the market was moving the other way. I see, read and hear it everyday.
And these same analysts who tout gains during bull markets know very little when it comes options and how powerful they can become during any type of market environment. Nor do they want to know.
Anyway, I could go on and on, but I will save it for tomorrow's post.
Short-Term High-Probability, Mean-Reversion Indicator – as of close 5/03/11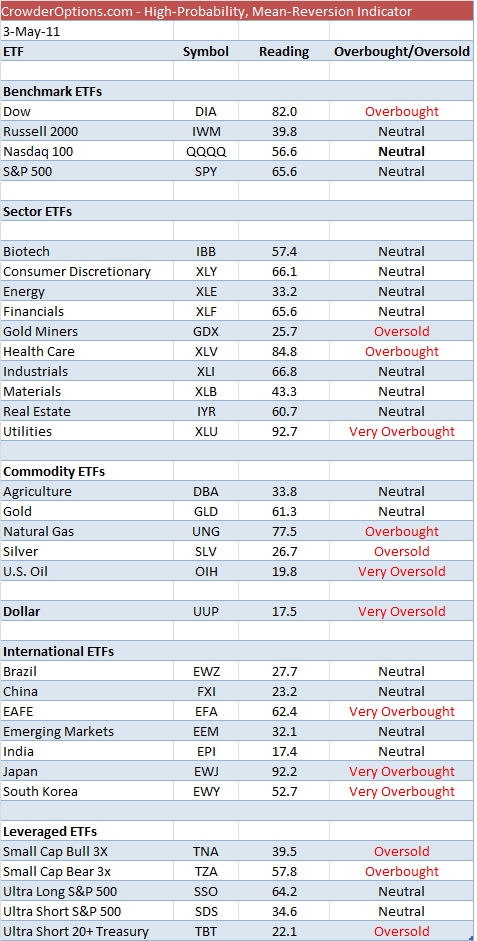 Disclosure: I have no positions in any stocks mentioned, and no plans to initiate any positions within the next 72 hours.