Last week's bullish market action keyed off the positive response of stocks like Caterpillar (NYSE:CAT) and Goodyear (NYSE:GT) to better-than-expected top-line revenue gains. This reinforces our belief that a further extension of the bull market of 2009-11 is dependent upon companies reporting earnings gains based on revenue growth, not cost-cutting.
Companies that report top-line revenue growth and raise guidance for analysts will be handsomely rewarded. However, companies that miss on the revenue side -- even while earnings are robust or play a more conservative tune going forward -- will be punished. Investors want dynamic sales growth going forward; anything less is already priced in.
The five companies listed below are due to report earnings later this week. It is important to look beyond the E.P.S. comparisons and focus on revenue vs. prior year and revenue vs. analysts' expectations. Company guidance is also important, as the market has already rallied more than 100% from the March 2009 lows -- and the skeptics are ready to use any excuse to exit the party.
If revenue disappoints or guidance is tepid, then sell or avoid that stock. If ,on the other hand, revenue beats estimates and guidance is upbeat, hang on and look to add to positions on pullbacks.

Thursday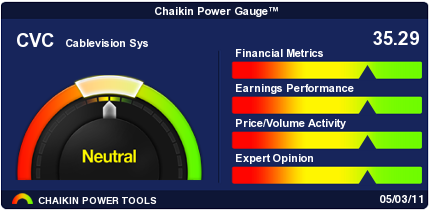 Cablevision Systems Corporation (NYSE:CVC): $35.29
Cablevision reported a Q4 2010 revenue increase of 5.7%, reflecting revenue growth in its Telecom services and Rainbow business segments. In a show of commitment to build shareholder value, management has increased the quarterly dividend payout by 25%, initiated a stock repurchase program, and successfully completed a spin-off of Madison Square Garden. The company reported strong subscriber growth attributed to the acquisition of Bresnan Communications. Shares are down 6% from its 52-week highs in Feb. this year. If the company beats on top-line revenue growth, that would be viewed positively by the market.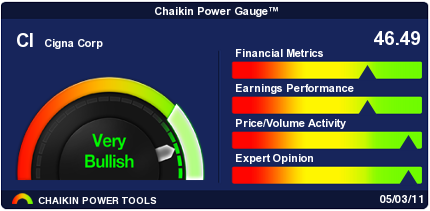 Cigna Corporation (NYSE:CI): $46.49
With the stock price at three-year highs, Cigna's very bullish PGR is driven by all around bullish factors within. In 2010, sales grew by 15% (17% in the fourth quarter alone), driven by strong customer retention and continued growth in targeted market segments. The company is expanding its international presence in 2011 and focusing on its growth strategy on the increased use of health benefits as the economy and the labor picture improves. However, management has provided a conservative outlook for this year compared to last year. Management remains committed to quarterly dividend increases and periodic buybacks. Barring any significantly negative surprise, the company should continue its bullish trend and climb toward all-time highs.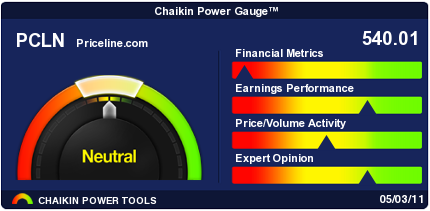 Priceline.com Incorporated (PCLN): $540.01
Buoyed by increased market share in the hotel marketplace, solid international growth and a significant upgrade by Citi, Priceline extended the phenomenal rally it has enjoyed well into the $500s, reaching highs last seen in 2000. Driven by a 35% revenue growth last quarter, the company earned 73% more than the same period YOY. During the post-earnings conference, the company provided a very positive earnings outlook, driven by expected sales growth of more than 29% in the first quarter, exceeding expectations by 3%. The current stock price is vulnerable to a sell-off if revenues disappoint. The Power Gauge rating is neutral despite bullish Earnings Performance and Expert Opinions ratings. Look for revenues of $754M, as less will likely give longs an excuse to exit.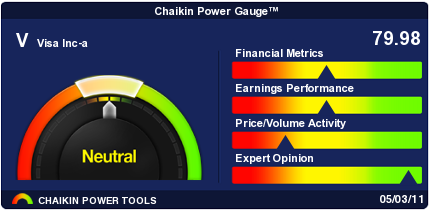 Visa Inc (NYSE:V): $79.98

During the first quarter of 2011 that ended on Dec. 31, Visa exceeded expectations as it rang in a 16% YOY earnings increase on a 14% revenue increase that was driven by strong international credit card usage. The company expects a net revenue increase in 2011 of over 11% and an improved cost structure, which should benefit its bottom line. The share repurchase program and a quarterly dividend are positives which add to the stock's appeal. However, if federal regulations including debit fee caps are fully imposed -- being the main hurdle that could hurt the company's revenues going forward -- nothing is certain, and this uncertainty has punished the stock heavily in recent months. Shares are currently range-bound and trading between $65 and $80 since September of last year. If revenues exceed expectations, the Power Gauge rating -- currently neutral -- could tip towards bullish and shares could rally back to their 52-week highs of $93, representing a 19% increase. However, if revenue disappoints and the outlook remains uncertain, the price action will probably revert to the bottom of the trading range.
Friday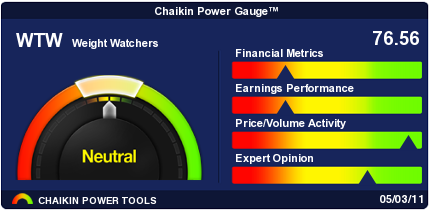 Weight Watchers International Inc (NYSE:WTW): $76.56
On a typically slow earnings day, expect Weight Watchers to get all the attention its rosy outlook deserves. The company reported strong fourth quarter 2010 earnings in February as revenue, driven by significant online growth, beat expectations by 11%, ringing in at 15% over revenues vs. the same quarter in 2009. Shares jumped 34%, driven by management's very bullish outlook for 2011, well above analysts' expectations as the company continues to aggressively expand its online business and sees booming enrollment in North America and the U.K. Upward analyst estimate revisions have led to a bullish Expert Opinions metric. Strong momentum and positive strength vs. its industry and the broader markets contribute to very bullish Price/Volume activity. However, the current rally that has resulted in tripling of the stock price and high expectations for the company's performance put shares at risk if the company misses even slightly. Keep close watch on top line growth and forward guidance numbers as a guide to whether to trim back Weight Watchers or hold on.
For more in-depth analysis on these stocks, please click here.
Disclosure: I have no positions in any stocks mentioned, and no plans to initiate any positions within the next 72 hours.