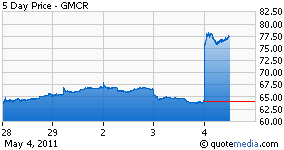 While pride can be hard to swallow at times, panning a stock only to watch its share price skyrocket 20% above and beyond the previous 50% gain we didn't think possible is downright humiliating. So, congratulations to all Green Mountain Coffee Roasters (NASDAQ:
GMCR
) longs! May the java be with you.
Humble pie aside, investors were clearly impressed by the earnings beat and remainder of 2011 guidance offered by management Tuesday.
We have been bearish on this company for quite awhile and admittedly wrong about the stock since it was at $40 a share.
Yet, we have to hand it to GMCR management for their keen ability to captivate shareholders with such bright optimism while slipping in a secondary offering only minutes within releasing Q2 earnings.
GMCR said the offering will have a minimum of 7.1 million shares, with "certain" shareholders offering up 403,883 shares and a grant to underwriters w/ 30 day option to purchase up to 1.1 million additional shares. The company has 147 million outstanding now and they sold 5 million shares in 2009 for $336 million.
It is also no surprise that B of A Merrill Lynch will be sole book-running manager to the deal. BofA ML analysts, if you recall, bumped GMCR to a "buy" from "underperform" following GMCR's announcement that the SEC was investigating the company for revenue recognition issues last November. Timing is everything these days.
Investors brushed the dilution issue off, instead pleased by the robust outlook presented in prepared remarks by the company just after Tuesday's regular trading session.
After examining the 10-Q for Q2, we remain (humbly) but determinedly bearish.
The most striking aspect of the earnings report is in the statement of cash flow. The company has yet to provide detailed figures for the 13 weeks ending March 27, 2011, but it is clear management is attempting to present a more favorable picture of their cash-flow situation in the figures presented for the 26 weeks ending March 26.
Depreciation: In the previous Q1, depreciation was recorded at $12.1 million. In the Q2 26-week figures it is stated at $30.9 million, which if taken subjectively, is about $18 million for the recent period ending March 27. Yet, net sales only grew 12% in the last quarter (vs. Q1) so the 50% bump in depreciation looks a bit suspicious to say the least. Amortization of intangibles also doubled in Q2 compared to the previous quarter.
There's a deferred amortized financing charge tucked in there too for Q2 of $5.1 million and offset by a $4 million loss on foreign currency exchange transactions.
Keep in mind amortization is the aggregate expense charged against earnings to allocate the cost of intangible assets (non-physical assets not used in production) in a systematic and rational manner to the periods expected to benefit from such assets. As a non-cash expense, this element is added back to net income when calculating cash provided by (used in) operations using the indirect method.
The sales growth simply does not justify such acceleration in these adjustments. It should also be noted that net intangibles including goodwill account for half of total assets and more than three times fixed assets.
Critics have pointed out that we may be looking in the wrong direction here, but GMCR's amazing stock performance aside, there is some funky accounting lurking about.
Again, we have to tip our hat to GMCR management. Now, they have a rich $9 billion market cap, their timing of a secondary, remarkably uncanny. Granted, it's only about 5% of total current outstanding, but it's a very shrewd maneuver to build one's currency (much thanks to bulls). It's one of the slickest capitalization maneuvers we've seen in quite a while.
The company needs to address the debt issue promptly: Assuming the stock holds anywhere near or above Tuesday's regular session close, the company can at least expect to make a dent in debt via the secondary. We'll use $72 as a guess which pulls in an estimated $482 million (depending on over subscription and contingencies) and net of the shareholder(s) selling.
However, even if they cut interest service in half, the company would still be on the hook for up to $8 million each quarter. Fixed rate debt carries 6% while variable debt averages 5.4% as of Q2. Ironically, B of A is also a principal lender to GMCR's credit agreement and revolving facilities.
Insiders aren't helping the cause: If business is that good and margins are busting at the seams, we would expect any good finance manager to focus on building returns of equity, not diluting them. If management is so optimistic, why have they sold almost 290,000 shares in the past 12 months?
Between exercised options, sales, planned sales, gifts, etc., insider proceeds during the last year are approx. $23.8 million. This represents almost 62% of GMCR's change in stock price Tuesday (reg. trading and after hours).
To GAAP or not to GAAP: In addition, the company made it very clear in its Q2 8-k filing "Company Estimates for Fiscal Year 2011" the following:
The Company increased its 2011 non-GAAP earnings per diluted share range to $1.43 to $1.50 per diluted share from $1.19 to $1.29 per share, excluding any acquisition-related transaction expenses; legal and accounting expenses related to the SEC inquiry, the Company's internal investigation and pending litigation; amortization of identifiable intangibles related to the Company's acquisitions; deferred financing costs; and, foreign exchange impact of hedging the risk associated with the Canadian dollar purchase price of the Van Houtte acquisition.
There is a wee bit of good news, however: Despite the extremely leveraged balance sheet, we do note very modest improvements in GMCR's dual cash-flow indicators during Q2.
In particular, operating cash-flow (OCF) as defined in our model rose to 79.9% (as a % of sales) in the latest period compared to 70.4% in the prior quarter. Similarly, balance sheet cash-flow (BSCF) declined from 275% of sales in Q1 to 250.8% in the latest period.
Also, capital productivity in Q2 displayed improvement in receivables and inventory, offset by higher P,P&E costs (per dollar of sales).
It's not the growth story that concerns us. What is worrisome are companies that report torrid growth, but have no tangible real cash-flow (not from stock sales or non-cash adjustments) to show for it.
Bottom Line: Managing liquidity is just as important to a hyper-growth company as it is to a business struggling to maintain market share. Until we see evidence that GMCR management can execute their aggressive growth plans and produce cash-flows that at least resemble the forward multiples its current stock price indicates, we will be quite content to gaze at the big 'ol Green Mountain from a safe distance.
Disclosure: I have no positions in any stocks mentioned, and no plans to initiate any positions within the next 72 hours.