Heading into the European Central Bank (ECB) meeting on Thursday, we believe that the market is too preoccupied with the Portuguese bailout to realize that another rate increase may come as soon as June. Over the last week the True Finns party has publicly stated its objection to a bailout of Portugal. However, that rhetoric is softening.

The leader of the True Finns has now stated that his party would be willing to join a pro-bailout government as long as the bailout vote occurred before his party was present. Essentially, the True Finns will be able to say "it was broken when we got here, now WE will fix it."

The political hullabaloo has masked the reality that Eurozone inflation is running hotter than the ECB target.

Currently Eurozone HICP year over year (YOY) is running above the 2% ECB Target.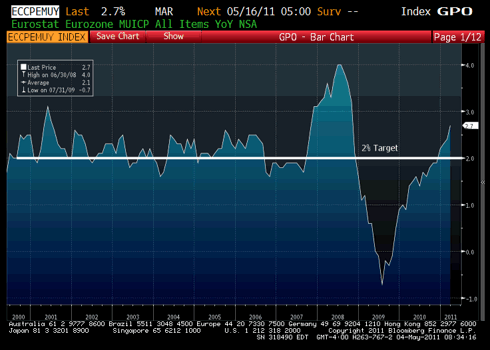 Additionally, inflation is above 1 standard deviation from trend, which has been trigger for a series of rate hikes by the ECB. The last time HICP YOY inflation ran above 1 standard deviation was in the fall of 2007. (Click charts to enlarge)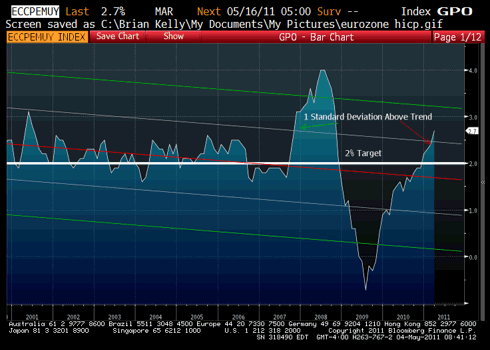 Within 6 months the ECB was forced to raise rates right before the financial crisis. We expect the ECB will be loathe to repeat the mistake of being behind the curve again.

We expect that Jean-Claude Trichet will repeat the phrase "strong vigilance," which will signal to the market that a rate hike is coming in June. We are long Euros with a target of 1.52.
Disclosure: Brian Kelly Capital is long Euros.