By Bryan McCormick
The S&P 500 has broken support at its 10-day moving average. On the daily chart, this move barely looks noticeable, given its small size in relation to the recent advance. But I have often stressed that it is important to look at the underlying of any index or ETF to fully understand a derivative's behavior. In this case, we will examine how the price of the S&P 500's components relates to the 10-day moving average of each stock.
As of yesterday's close, 190 of the S&P 500's stocks were under their respective 10-day moving averages. Now more than 270 stocks are below the 10-day line. That is a big jump and a clear sign of deterioration of breadth. In a healthy advance, we wouldn't be seeing stocks break below the near-term moving averages in this way.
The SPX's 10-day moving average is shown on in green on the chart below.
[Click to enlarge]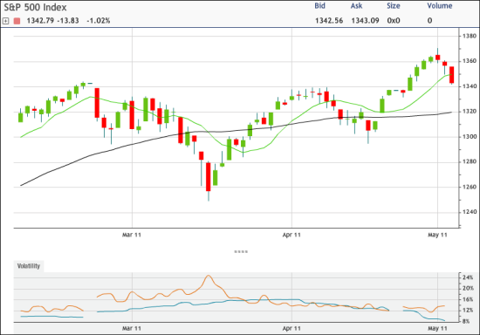 We see a similar pattern in how each stock relates to its 50-day moving average. Yesterday, 132 stocks were below their respective 50-day averages, but today that number has jumped to more than 175. The SPX's 50-day moving average is shown by the black line on the chart.
If we continue to see more stocks break down in this way, the index will decline further. But improvement in this trend could mark a turning point for the index.