Show them a little prospect of gain to lure them, then attack and overcome them. -- The Art of War
After the earnings miss by Las Vegas Sands (LVS), casino stock investors must have felt like they doubled down on 11 only to get a 2 of spades. There was clear disappointment as LVS sold off over 11% at one point to trade at less than $40 in after hours trading. Net income did skyrocket higher at $289.3 million versus the same period a year ago of $17.6 million. Profit excluding items was 37 cents, less than the 44-cent average estimate of 22 analysts in a Bloomberg survey.
Singapore is now open and is one of two casinos allowed to operate in the Asian city-state. Revenue and net income did not include the Pennsylvania casino, as it is scheduled to open at the end of May. LVS continues to expand in Macau, which is the number one gaming destination in the world after recently surpassing Las Vegas.
[Click all to enlarge]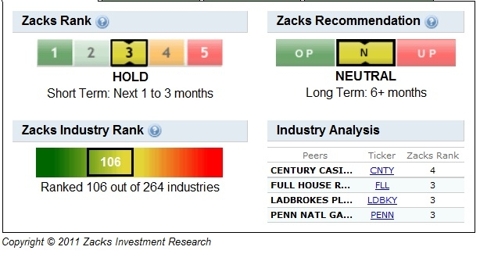 Wynn Resorts Ltd. (WYNN) felt the heat of the fire as well, selling off in after hours trading, though it was not as bad as others, with a loss of about 1.2% in after hours trading after losing about 1.8% during the regular trading session.

Boyd Gaming (BYD) reported disappointing first-quarter results, missing Wall Street's forecast by 2 cents. The stock, on the other hand, did not fare as poorly as the others. Keith Smith, the CEO of Boyd Gaming, pointed out some important highlights in the conference call today:
Our first quarter results were very encouraging from an operating perspective. Despite the difficult comparisons to last year's first quarter, our wholly-owned business showed year-over-year quarterly EBITDA growth for the first time since the recession began. Of our 13 major wholly-owned properties, eight posted year-over-year growth in the first quarter compared to just 2 in the first quarter of 2010.

On a regional basis, we saw growth accelerate in the Midwest and South region. We returned to positive comparisons in Downtown Las Vegas, and we held a year-over-year EBITDA GAAP steady in the Las Vegas Locals region. We were especially encouraged by our March results when 11 of our 13 major wholly-owned properties reported increases from March of 2010, including all 7 of our major Las Vegas properties. Our wholly-owned EBITDA was up in the low-double digits for March.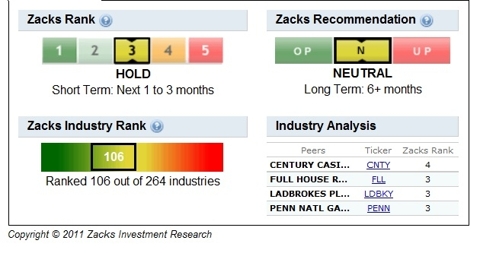 MGM Resorts International (MGM) sold off along with the others, but with much less pain for investors, as it was down only about 2.3% in after hours trading. While MGM is bleeding in the US market, it did manage to book a gain in Macau for the year.
I think the sell-off may offer an opportunity in the next couple of days to buy at favorable prices. I will start with my least favorite and work to what I believe offers the best value. I use a proprietary blend of technical analysis, financial crowd behavior, and fundamentals in my short-term trades, and while not totally the same in my investments, the concept is the same.
The last component for entry is the ability to sell put options at or near the offer price. I want the best of it when I enter into a trade, and I will not start out by paying a spread unless it is less than five cents and/or < 1% of the option premium.
MGM? It's hard to love a stock that doesn't make money. It has a lot of rooms to fill, and until Vegas turns around and is booming again, I think MGM is easier to pass on then to put your money into. If I was to invest as part of a casino diversification, I would be looking to sell June 2011 $12 strike price put options.

As for WYNN, Steve Wynn knows Vegas and clearly knows how to give the public what it wants. With his latest project bearing his name, he has once again demonstrated quality in Vegas. The turn-off for me with WYNN is that everybody knows and loves this stock, causing the price to trade at a very large multiple of the top and bottom line. If I was looking to gain exposure to this quality hotel, I would do so by selling the June 2011 $140 strike price put options currently trading about $10.40.
BYD gets a lot of customers who drive to the location and caters more to locals with the type of amenities it offers. Still, it is mostly off the Strip and will have the hardest time filling rooms at full price, in my opinion. BYD does have relatively low costs and caters to a demographic that is looking for the type of bargain that a hotel off the Strip can offer. I have owned BYD in the past and I am considering it again. I will be watching the June $9 and $10 strike price put options to sell for an entry.

LVS is my favorite for many reasons, and I will admit I am biased. I have stayed and played poker there and it is the favorite hotel of my wife. I have invested in LVS in the past when the stock was trading less than $5, because I believed in the CEO Sheldon Adelson and his leadership. I especially believed in them after Adelson put several hundred million dollars into the company when it was needed. I am currently looking to sell June $40 strike price put options with the thought that I would not mind owning LVS for less than $35 a share (after option premium received) right before the next casino opens, along with Asia doing so well.

Disclosure: I have no positions in any stocks mentioned, but may initiate a long position in WYNN, BYD, MGM, LVS over the next 72 hours.