If our leaders in Washington, DC wanted to stop the decline of the dollar, they could -- easily. Therefore, if the dollar is falling — and it is — they want it to fall. The dollar is falling against most major currencies and this decline has been underway, with an occasional rally, for years. Also, as we have seen, the price points for oil, commodities and precious metals have been buoyed by the declining dollar.
Here is a chart showing history of the dollar versus major currencies dating back to 1973:
[Click to enlarge]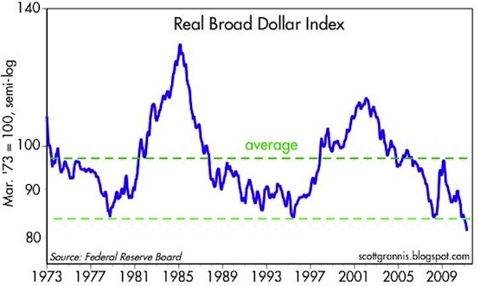 Source: Scott Grannis
Scott Grannis made an excellent point in the commentary accompanying this chart [emphasis added]:
… With the Fed's latest data release, it's official: In inflation-adjusted and trade-weighted terms (arguably the best way to measure the dollar's true purchasing power overseas), the dollar is now weaker than it has ever been …
The dollar is weaker than ever
There have been highs and lows as you can see from the chart, but since 2001 or so, the dollar has been declining steadily. To nail down the point, this decline has been the policy of the Federal Reserve under both Greenspan and Bernanke. This is not the fault of China or Europe or anyone else. It is not the fault of American consumers or manufacturers. The fault lies in the policies of the Fed. Grannis continues in the commentary linked above:
… The Fed is supplying more dollars to the world than the world wants to hold. As a corollary, the Fed is setting U.S. interest rates at a level that is lower than they should be to balance the world's demand for dollars with the supply of dollars …
It is quite simple. If you want a stronger dollar, raise short-term interest rates. If you do not raise short-term interest rates, then you are sacrificing the dollar to some other purpose.
Is the dollar doomed?
No. However, as long as the Fed keeps short-term interest rates at near zero, the dollar is likely to be weak. When things get really scary in the world, investors may again flee to the dollar pricing it up -- but that would be an interruption of the trend, which should remain intact as long as U.S. interest rates are very low.