I maintain that this last leg of commodity rally derives more from geopolitical events and speculation than from USD weakness.
Oil has been overtly sensitive to geopolitics, but pundits still blame USD.
An annotated overlay of DXY/Oil illustrates what is both a loose statistical correlation & the impact of geopolitical events.
CL/1 1st support $106, 2nd support $98.
I continue to maintain that the modern spike in the commodity complex derives from a number of factors. Included in that function--although not exclusively--is the US Dollar. I asserted that larger inputs were geopolitical events & speculation. The recent action in the CRB index (CR/Y) and Precious Metals nicely illustrates the derivation of that formula. From an entry of mine on March 4:
...the USD has room to slip in the months leading up to QE2′s expiration in June. The Yen doesn't look like it's willing to give any more ground, so in neat coordination with my EURUSD bullish-catapult thesis, a strengthening Euro might drive DXY just that smidge lower. Upon finding support (my target is 71), DXY should rally through June and the summer.

My guess is that the Fed won't have to intervene in markets to limit the inflation-driven increase to commodity inputs. A certain portion of food inflation is coming from shortages–although the Ag boom is a secular investment theme of mine. A certain portion of energy inflation is coming from social turmoil in MENA states–although oil prices remained stubbornly high throughout 2009-10 (without any contribution from economic demand). Attributable to these cyclical socioeconomic and geopolitical factors, the lack of a additionally significant catalyst should limit the size and [more importantly] the length of the upside in Ag and Oil, ushering the Fed to the QE2 expiration amid taxpayers bemoaning a stagflationary environment.
That's all proving 100% accurate. I'd like to focus on Oil (CL/1), which has performed with particular sensitivity to geopolitical events, yet most traders continue to blame the USD. (Oil often resorts to fundamental supply/demand sensitivity only in the absence of geopolitical events.) Again, the US Dollar slide has contributed to the general trend in Oil, but the driving force here has been MENA tensions.
On my way home last night, I listened to a Bloomberg interview of Stephen Schork, "Oil Risk Premium is $20-25":
Bloomberg: Schork says Oil Risk Premium $20-25.
Mr. Schork comments that in watching the price action since the conflict in Libya began (February 2011), there's a distinct $20-25 layer of risk premium built into the price of Oil. He notes the immediate erosion subsequent to the Osama bin Laden death announcement, and he assigns a "low 100s price target" for the near term--amid caveats from further USD weakness.
I would generally agree. Yet, after the uproar in the wake of Ben Bernanke's inaugural press conference--wherein he repeatedly cited commodity inflation as "transitory" and passed responsibility for a sliding USD unto the Treasury--I had to do some data-crunching research to back my lonely contrarian cries.
I present an overlay of Oil (CL/1) v. USD Index (DXY), complete with annotations of key geopolitical events: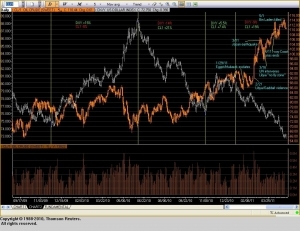 CL/1 v DXY
I marked the major USD tops and bottoms therein, and I also noted the performance of USD and Oil for each major cyclical period. I can infer a few conclusions from this. First, the major moves in Oil resulted from major geopolitical events. Second, a loose inverse relationship exists between the USD and Oil. Yes, that's a loose relationship. In fact, I crunched the data to render a correlation between DXY/Oil. Using daily closing prices, starting at the major peak in DXY pictured above (June 2010) through today, the correlation is a weak -0.57.
There's still news to vet in regards to Bin Laden's death (UN sanctions, verification of the US storyline, Al Qaeda retaliation). Oil should continue to trend lower in the wake of what's already come to pass. Looking at the chart technicals, I see 1st support at $106, 2nd support $98. I'll have a formal opinion posted shortly.

Disclosure: I have no positions in any stocks mentioned, and no plans to initiate any positions within the next 72 hours.