In my article, Chinese Dairy Market Looks Promosing, I mentioned several companies that could profit from the rise in disposable income in China. Another company that is well-positioned to take charge in the growth power of emerging markets is Mead Johnson Nutrition (MJN).

Mead Johnson (NYSE:MJN) is the world's No. 1 pediatric nutrition manufacturer, selling infant formula and children's nutrition milk products. The company has great exposure to emerging markets, with more than 60% of sales generated in Asia and Latin America, headlined by China, Mexico, the Philippines, and Thailand.

The rapidly expanding middle class, generally high birth rates, and a growing number of working mothers in the developing world are unlocking the fundamental need for pediatric nutrition products.
Click to enlarge: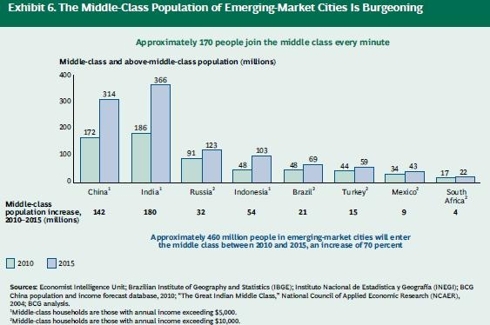 According to broker researches, the pediatric market within the world's developing economies has the potential to reach USD 71 billion by 2025, more than sixfold the current size.

Mead Johnson is capitalizing on the scale it has built in Asia (especially in China) and Latin America. In China, the company has also been benefiting from the fact that small local players are losing their business licenses as a result of persistent quality problems. Management remains highly enthusiastic about the intermediate cities in China in which it is expanding distribution.

Q1 results
First quarter results clearly beat expectations. EPS was up 17% y/o/y to 76 cents, five cents above the Street's view. Sales rose to USD 900 million. Organic sales growth reached 15% (est. 10%), which was composed of an 11% volume gain and 4% price increase. Gross margins remained stable at 64.4% as strong pricing offset higher input costs. However, EBIT margin declined 80 basis points to 26.6%, impacted by costs related to the ongoing system separation from Bristol-Myers Squibb (NYSE:BMY), (Mead Johnson's former parent company) while segment EBIT margin was flat at 34.4%.

What is encouraging is the growth in emerging economies. In Asia/Latin America, sales climbed 26.5% to USD 577 million with organic growth of 22% (+15% volume and +7% pricing). EBIT surged 30% to USD 217 million and margins rose 110 basis points to 37.6%.

Mead Johnson lifted its full-year targets. Management raised guidance for organic sales growth to 10% from 7-8%, and for EPS from USD 2.55-2.65 to USD 2.62-2.70.

Mead Johnson is a takeover target, despite the fact that the stock is trading at a 12-month forward P/E of 23.5x. Quality has its price.

For big food companies or other strategic acquirers that want to expand into the growing pediatric markets, Mead Johnson could be an attractive play. The best-in-class growth rates and profitability, as well as strong business prospects could attract attention.

Disclosure: I have no positions in any stocks mentioned, and no plans to initiate any positions within the next 72 hours.