Well now home entertainment was my baby's wish

So I hopped into town for a satellite dish

I tied it to the top of my Japanese car

I came home and I pointed it out into the stars

A message came back from the great beyond

There's fifty-seven channels and nothin' on

-Bruce Springsteen, 57 Channels (And Nothin' On)
Ever since Amazon.com (NASDAQ:AMZN) introduced unlimited video streaming -- Amazon Instant Video -- to Prime members, financial writers have made rather uncritical references to it. I readily admit I am guilty of this. Rumors swirl that Amazon will enter streaming, it does, and then everybody's happy. As investors weigh the increasingly competitive online audio and video content wars, they should take a deeper look.
Amazon's foray into the cloud drew quite a bit of critical attention. Yet for some reason, writers and other pundits have, relatively speaking, given the company's streaming video efforts a pass. Given broad claims (including my own) that Amazon will compete formidably with Netflix (NASDAQ:NFLX) and others, I thought it made sense to see exactly what you get as a Prime member who decides to take advantage of this new perk. It makes most sense to use Netflix, the leader in the area, as the comparison case.
Click to enlarge: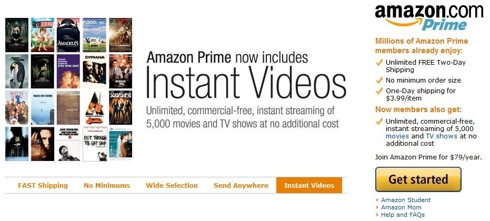 With a Prime membership you get the long-standing perk -- free two-day shipping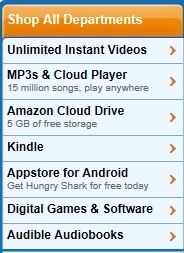 with non minimum purchase required -- plus "unlimited... instant streaming of 5,000 movies and TV shows at no additional cost." It costs $79 a year.
Amazon gives top billing to its online video streaming initiative, placing the service at the top of the list on its sidebar. The sidebar shows where Amazon's priorities lay; below that darker blue line comes what put the company on the map in the first place, books, followed by categories that comprise items ranging from physical audio to electronics to groceries. Obviously, Amazon sees the money in streaming, the cloud, and Kindle. Somewhat surprisingly, groceries and other consumer staples receive relatively short shrift on Amazon's homepage.
As much I like AMZN the stock long-term, I would be lying if I did not state that Amazon the company has a long way to go vis-a-vis its streaming endeavor. You can see this reality clear as day, with just a surface-scratch look at Amazon's digital audio and video features, products, and services. Side-by-side, the way Amazon has perfected the cloud makes its video efforts come off as second rate. This rings odd when you consider that Amazon appeared to rush Cloud Player/Drive to market, yet seemingly took its time, ignoring rumor after rumor, in the months leading up to the introduction of Unlimited Instant Videos.
While I don't think most people expected fierce competition right away, the videos Amazon offers pale in comparison to Netflix's slate. No matter how I sorted Amazon's list after clicking its link for Prime Instant Videos, I only came up with 2,386 results: 483 TV shows and 1,903 movies. Amazon's "Bestsellers," as of Noon, West Coast time, Wednesday, did not knock my socks off. Sorting by "Newest Arrivals" did not do much for me either. True, I am not much of a TV and movie guy, but I think I know a good slate of offerings when I see one.
Amazon Prime Instant Video "Bestsellers," as of early afternoon, 5/4/2011 (Click to enlarge)

Amazon Prime Instant Video "Newest Arrivals," as of early afternoon, 5/4/2011 (Click to enlarge)

No offense intended to Ally Sheedy, but Oxford Blues does little for me as a new arrival. The shelf of the same name at Blockbuster (OTC:BLOAQ) does much more for me. Over at Netflix, meantime, I am immediately hit with options I can get excited about.
Netflix screenshot, early afternoon, 5/4/2011 (Click to enlarge)

At the end of the day, content is king in the online streaming wars. It's no big revelation that Netflix trumps Amazon and most others in the area. My criticisms of Netflix generally do not center on the service it provides. While I think a Netflix subscription might wear thin for some consumers, generally the service proves quite strong and it's only getting better. My beef with the company focuses on its lack of transparency and its financial inability to buy the content it needs and expand sufficiently to remain the best going forward.
This comparison comes into play for investors, particularly the ones who make a bull case for Amazon, but have failed to spend any time finding out exactly what its video streaming actually means in practice. As an Amazon bull, so to speak, taking a critical look at Prime streaming gave me a bit of a pause. I find it even more concerning that Amazon places this feature at the top of its sidebar. Clearly, the company believes streaming can induce more people to sign up for a Prime membership. Because the video offerings will probably not create loyal members at this time, Amazon must be betting on the notion that once these new users see the other benefits of Prime they'll stay on the hook for 79 bucks a year and buy more "stuff" than they otherwise would have.
Far be it for me to question the great Jeff Bezos (I say that without sarcasm), but I would have attempted to create this synergy with Prime through the cloud plays, not the inferior video streaming maneuver. Because it seems like Amazon is prepared to make online streaming part of its core, logic leads me to believe the company has big plans. A reasonable assumption sees Amazon redirecting some of the money it spends now on infrastructure and fulfillment to a content spending spree that will make Reed Hastings beg for mercy. To that end, a more speculative take could involve Amazon taking Netflix out all together and bringing it into the fold much like Walmart (NYSE:WMT) has with Vudu.
Just as the more-than-plausible scenario that Amazon or another big name could take Netflix out makes me rethink my NFLX short tendency; the idea that Amazon might not actually have big enough things up its sleeve for Prime streaming triggers long hesitation there. In each case, if I play the stocks for more than a short-term trade, I will play them based on my core convictions. With that said, however, it never hurts to reassess your position. While you can't think of every single thing that could go wrong, there's nothing worse than missing something you could have-- and should have-- figured out in advance.
Disclosure: I have no positions in any stocks mentioned, but may initiate a short position in NFLX over the next 72 hours. I may initiate a long or short position in AMZN at any time.