An in-depth search of the Internet, along with interviews with some of the industry's leading analysts, can uncover critical information about company's product portfolio. Such an investigation into Pervasive Software (NASDAQ:PVSW) reveals a strong buzz around its "Big Data" positioning. As the world becomes increasingly digitized, the amount of data being created by search engines (Google (NASDAQ:GOOG), Yahoo (YHOO)), social networks (Facebook, Twitter, Yelp), and other technologies (voice over IP, RFID) is growing at an exponential rate -- thus, the term "Big Data".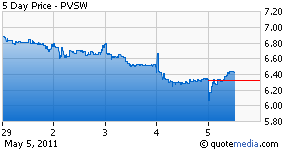 Analyzing all of this data can provide a level of understanding into human behaviors that was previously unattainable. This makes data analysis increasingly attractive and lucrative. However, Big Data requires highly scalable technologies to process and analyze such a high volume of information. As a result, many of the world's largest technology vendors have gone on a spending spree, acquiring Big Data specialists at hefty premiums.
EMC (EMC) acquired Greenplum, IBM (NYSE:IBM) bought Netezza, Hewlett-Packard (NYSE:HPQ) picked up Vertica Systems, and most recently, Teradata (NYSE:TDC) gobbled up Aster Data. According to The 451 Group, the total price tag for these deals was $2.5 billion, approximately 8x sales, on average. Just as eye-popping is the fact that these deals, on average, represented a 10-bagger for the companies' investors.
With the release of Pervasive's latest version of DataRush, the company can now be counted among the industry's Big Data specialists. At the risk of getting too technical, DataRush's value is in its ability to leverage the parallel processing capability of multi-core architectures. Suffice it to say that DataRush can process mountains of data very quickly. This advantage makes it an attractive acquisition candidate for companies like IBM, Informatica (NASDAQ:INFA), Microstrategy (NASDAQ:MSTR), and Oracle (NYSE:ORCL).
Our latest Big Data product analysis yielded several positive data points regarding Pervasive's offerings:
In November, Pervasive was named a Visionary in Gartner Group's Magic Quadrant for data integration tools.

In December, Gartner ranked the company neck-and-neck with IBM and INFA for bulk data movement. Interesting, Oracle only ranked 6th.


In January, a follow-up interview with Gartner revealed that the company was experiencing the greatest increase in customer interest among data integration vendor. When customer interest increases by such a dramatic fashion, sales typically accelerate soon after.

Gartner also expects Pervasive to expand into a broader array of integration-related areas (app-to-app, B2B, and on-premise-to-cloud integration). This will greatly increase its market opportunity and customer interest in its solutions.

According to several industry analysts, Pervasive's flagship Data Integrator product is reportedly benefiting from low-cost, ease-of-use, and growing data integration demand.

Industry analysts also informed us that its "Data Cloud" product is positioned well for the mid-market and software OEM customers (other software companies that will pay for the right to embed Pervasive capabilities into their own products). To see examples of where this might lead Pervasive, check out the free Microstrategy application at Apple's App Store. This is particularly positive, because the potential of this is only limited by software developers' imagination. In addition, Pervasive already has a strong OEM reputation. As a result, as customers move to the Cloud, PVSW should automatically generate add-on business from its customer base, while competing more effectively for new customers.

According to The 451 Group, Pervasive's latest product improvements (specifically around data profiling, data matching, data merging, and metadata management) open up the company's potential for "driving integration-related sales higher and shoring up Pervasive's position as a major player in the hot, high-growth integration-in-the-cloud sector".

The 451 Group also suggested that Pervasive's multi-core parallel processing capabilities may now represent an alternative to in-database analytics (which is one of the strengths that spurred SAP's acquisition of Sybase).

Industry experts have unanimously informed us that Pervasive's user-friendliness has also taken a quantum leap. This has been a key focal point for the company. As is the case with any technology product, ease-of-use is among the most important success factors.

Product reviews tell us that DataCloud's can now run on any Java environment. It is also expanding beyond Amazon's (NASDAQ:AMZN) EC2, making it compatible with a broad array of cloud deployment options (i.e. Microsoft's (NASDAQ:MSFT) Azure and private cloud deployment via VMware (NYSE:VMW)).

Pervasive's offerings represent more than simple technology upgrades. According to product reviews and company spec-sheets, the company has been rapidly expanding the functional capabilities inherent in its portfolio. Examples include data mining algorithms and predictive analytics. This is another hot area, which was exemplified by the large premium IBM paid to acquire SPSS. Either way, these new capabilities give Pervasive a whole newest of products to sell into its customer base and win new business.

Independent performance tests have validated Pervasive's claims of being able to process data more quickly and efficiently than most any other method available today.

Most recently, Pervasive introduced a community platform for data integration with positive feedback from the tech media. It also received a positive write-up from Forbes on Tuesday, which you can read here.

So, who's the leading candidate to acquire Pervasive? From the various reports I perused, it was quite evident that ORCL could use the kind of help that PVSW could bring. ORCL lags IBM and INFA in this space along many lines. For the largest database company in the world, this is likely viewed as acceptable to CEO Larry Ellison. Looking at PVSW's capabilities and financials, I believe the company would make a great target for the acquisitive software giant.

In the meantime, with over 4,000 customers, it's clear that PVSW is well-positioned to generate a significant amount of revenue from its new products without having to invest heavily to find willing buyers. I suspect that this message will resonate next Thursday when CEO John Farr presents at the Benchmark investor conference.

While investors wait for an acquisition-driven payday, its shares could get a lift as new mutual funds and hedge funds get introduced to the PVSW story for the first time.


Disclosure: I am long PVSW.