Shoppers braved surging food and fuel prices once again in April as the late Easter holiday helped retailers post strong same-store sales increases.
However, several companies mentioned rising prices are already cutting into discretionary spending and could temper spending gains going forward. This morning's higher-than-expected rise in unemployment claims reminded us the job market is still fragile, and stagnant consumer confidence doesn't bode well for back-to-school spending.
Total sales for the 27 retailers we track increased 10.4% from a year ago to $31.8 billion in April, while same-store sales rose 8.7% on top of a 1.6% gain last year – this was the 20th straight gain after 12 consecutive months of declines. Because Easter fell 20 days later this year than last, a better comparison is the combined Spring Break (March-April) period. On this basis, total sales increased 6.9% to $69.1 billion and same-store sales rose 5.4%, on top of gains of 7.8% and 5.8%, respectively. during the same period last year.
Click to enlarge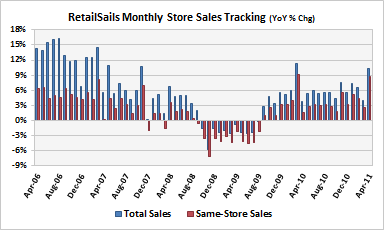 All 27 retailers posted comp gains in April. For the combined March-April period, 23 out of the 27 retailers posted same-store sales increases compared to 22 in the year-ago period.
Top performers included Limited Brands (LTD) (+20% comps in April, +16.7% combined March-April) as its Victoria's Secret chain saw comps up 25%, action-sports retailer Zumiez (NASDAQ:ZUMZ) (+17.5%, +12.5%) and warehouse club operator Costco (NASDAQ:COST) (+12.0%, +12.6%), which continues to benefit from higher gas and food prices. Laggards included Gap (NYSE:GPS) (+8.0%, -1.7%), which said merchandise margins were down significantly in the first quarter, Bon-Ton (NASDAQ:BONT) (5.1%, -1.2%), Destination Maternity (NASDAQ:DEST) (+2%, -0.9%) and Stein Mart (NASDAQ:SMRT) (4.2%, -0.6%). Hot Topic (NASDAQ:HOTT) (+10.5%, +1.0%) managed to post its first same-store sales gain since April 2009.
Click to enlarge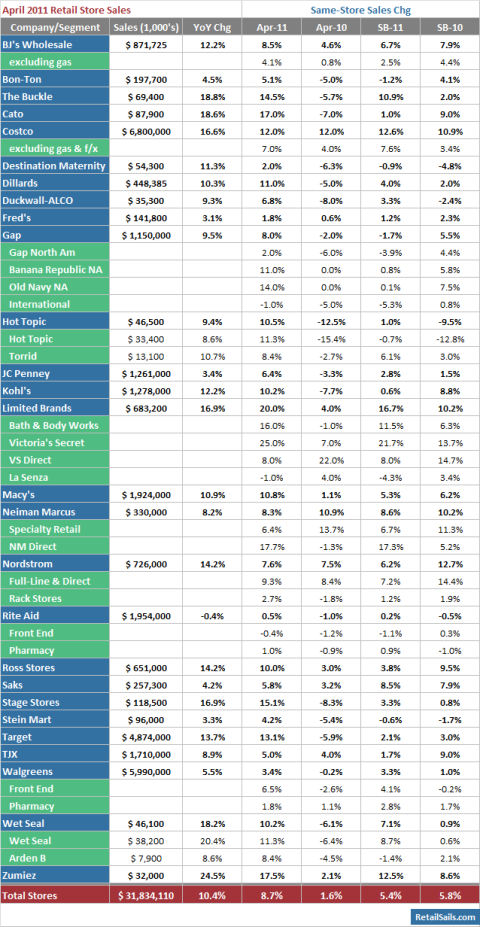 While retailers have so far been able to keep the post-holiday momentum alive, the remainder of the year will be a challenge. Raw material, labor and transportation costs are all rising rapidly and companies will struggle to hold onto recent margin gains as they debate how much of a price increase the consumer is willing to digest. Several dozen major retailers and CPG manufacturers have stated just in the past several weeks that consumers should expect double-digit price increases on just about everything from peanut butter to appliances to clothing in the latter half of the year.
As an example, Proctor & Gamble (NYSE:PG) CFO Jon Moeller, discussing fiscal Q3 results, stated: "Since the beginning of the fiscal year, the year-on-year impact from higher costs has more than tripled. We now estimate that materials and energy costs will be up roughly $1.8 billion before tax for the year. In the March quarter alone, input costs are up more than $400 million before tax versus prior year, or about $0.10 per share." The company originally estimated only a $1.0 billion pre-tax impact from commodity costs back in late January.
Consumers were paying $3.96 per gallon at the pump on May 2nd, up 36.7% from a year ago and the highest since July 21, 2008. Based on an estimate of a reduction of $1 billion in spending for every 1 cent increase in gas prices, the more than $1 rise in pump prices over the past year has basically wiped out any benefit for middle-class families from the payroll tax cut included as part of December's deal to extend the Bush tax rates.
"The higher gas prices act like a pernicious tax increase on the economy," said economist Mark Zandi of Moody's Analytics. "Consumers are literally taking their payroll tax cut and putting it into their gas tank."
Target (NYSE:TGT) CEO Gregg Steinhafel said consumers "continued to be very cautious in their spending leading up to Easter," and "they face increasing pressure on their household budgets due to higher energy costs and increasing prices of food, apparel and home merchandise."
Based on recent surveys, most consumers have cut back on the amount they are driving and in areas such as travel and entertainment. However, as gas and food prices continue to surge and retailers begin to push through large price increases across most major merchandise categories, we wouldn't be surprised if shoppers began to significantly curtail discretionary purchases as we get closer to back-to-school season.
Disclosure: I have no positions in any stocks mentioned, and no plans to initiate any positions within the next 72 hours.