Every once in a while, I miss something. When I do, I tend to beat myself up for several hours. Shortly thereafter I come to my senses, realizing that the new and social media worlds develop so quickly, in real-time, that it's simply not possible to keep abreast of each and every new idea, press release, and breaking development. Somehow, Jelli flew under my radar.
Jelli describes itself as "100% user-controlled radio." Through its fixed or iPhone web browsers, Jelli users can "control" what gets played on the company's 24/7 Internet-based station or on FM radio stations around the nation. As of now, most radio stations run Jelli in specific day parts, generally in the evening or on the weekend; however, on Thursday Jelli announced that two Las Vegas FMs -- one Pop and one Rock -- will run Jelli 24/7 as part of multi-year agreements.

(Click charts to enlarge)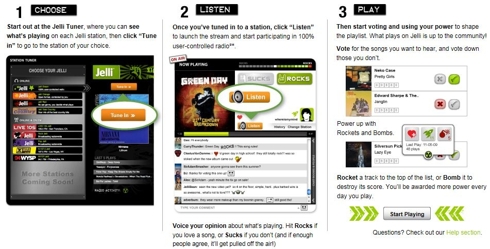 Before detailing Jelli's implications for investors in radio players, such as Sirius/XM (NASDAQ:SIRI), Pandora (NYSE:P), Clear Channel (CCMO.PK), and CBS (NYSE:CBS), I offer some context.

In all reality, Jelli users don't control much of anything. As one radio industry blogger pointed out, "People aren't really controlling what's played on the station... They're just voting up or down songs, like they do on Pandora or Slacker." While I agree, I don't think this reality represents the key point vis-a-vis the power of Jelli. By integrating dynamic social media, terrestrial radio can breathe some life back into itself. It's happened on some of the stations that have given Jelli a shot, most notably one of the first, CBS Radio's San Francisco alternative rocker KITS-FM, Live 105.

In 2010, Jelli and Live 105 made San Francisco Magazine's annual Best of the Bay rundown. Jelli boosted Live 105's ratings with males between the ages of 18 and 34, a key demographic for advertisers. It all comes down to perception. When I was a kid I spent hours calling and holding on radio station request lines, interfacing with disc jockeys, begging them to play my song, and attempting to get my voice on the air. I would hang up and wait -- often, for hours -- and, most of the time, nothing happened. When my song or voice, or both, made it to the air, it was a big deal. Inevitably I'd hear somebody else's song or voice, keeping my hopes alive that I would be next. While, as an active participant, I might have been in the minority, I can tell you that this type of theatre keeps listeners tuned in.

The idea of playing a song for somebody boasts an enduring history. Casey Kasem made "long distance dedications" famous and stations used to devote hours of programming to nothing but "requests." I remember voting for the top 10 songs of the day or voting between two new releases on my favorite station's Battle of the New Songs. Despite the appearance of the listener taking over the airwaves, radio programmers have always tightly controlled these features. I am sure Jelli does the same. It also gives listeners the perception they are in control, letting them vote for songs, knock them off the air, or dedicate them, via social media, to others.

I signed up for a Jelli account. It's everything Pandora, Slacker, and Last.FM should be. You don't have complete control at Jelli, namely because you cannot suggest songs (or I have yet to find that feature), but I did have more control (and fun) than I've ever had calling a request line or using the above-mentioned services. Within five minutes of joining, users "bombed" a song, prompting the voice of Jelli to note that "Jellis" voted to send the artists back to "jamming" in their "mother's garage." I also managed to move Arcade Fire's Keep the Car Running up in the playlist by "rocketing" it. And there's Facebook-like social feeds running on the page, adding even more value for users.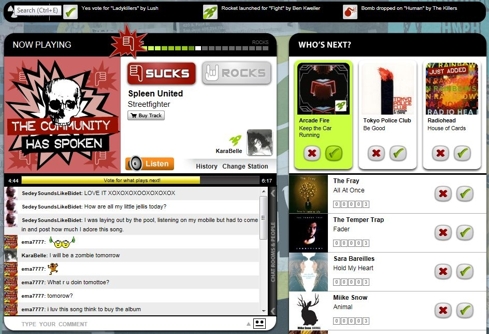 So, what does this mean for investors? First, I am shocked that Jelli has not caught on more than it has. It's been on the scene since 2009 and, almost immediately, received $2 million in venture capital. It's been profiled by countless local and national media outlets, ranging from CNBC to the Wall Street Journal. Despite this, I think it's gone under more people's radar than my own. Clearly, terrestrial radio has yet to make a bold move. This comes as no surprise.

As of this writing, a handful of privately-held companies, such as Greater Media and Townsquare Media, represent the bulk of FM stations that have signed on with Jelli, including Thursday's Vegas deals. As for big-name public companies, Jelli runs on two CBS stations, one Clear Channel station, and one Citadel (OTC:CDELA) station. It's beyond me why Clear Channel, for instance, has not handed over the reigns to Jelli on at least one station per market. Frankly, it beats the pants off of most anything else it's doing.

I would look closely at CBS, Clear Channel, and the new Cumulus/Citadel. If I were to put my money on any radio stock, it would be the one that inks the largest deal with Jelli or takes similar new and social media approaches. I am bullish on CBS, having suggested going long back on April 8th when it traded around $24.51. Intraday Thursday, a share of CBS went for $26.93. The beauty of an investment in CBS is that you mitigate the risk associated with investing in an industry as seemingly aimless as terrestrial radio. CBS Radio President Dan Mason can take more chances, which might include using Live 105 as a test case for Jelli, given that CBS's other big money makers, such as found money from Netflix (NASDAQ:NFLX), effectively subsidize or hedge the radio division in times of trouble.

As of February 2011, CBS Radio owns 130 stations in 28 markets, including most of the country's major cities such as New York, Los Angeles, Chicago, San Francisco, and Dallas-Forth Worth. Clearly a hookup on even a fraction of those 130 stations would be huge for Jelli. I wonder, however, if radio companies like CBS and Clear Channel realize that, in theory, they might actually need Jelli as much as Jelli needs them. Terrestrial radio has yet to be able to come up with this type of concept on its own. CBS owns Last.FM, but has not done anything even close to "Jelli-like" with it. Terrestrial radio companies need to embrace social media if they wish to remain relevant and competitive with Sirius/XM and Internet radio providers like Pandora.

As far as Pandora goes, I just got a whole lot less excited about its IPO. If I had millions of venture capital to throw around and could only choose to give it to Jelli or Pandora, I would have an easy decision. Jelli is so much more dynamic and has so much more potential than Pandora, it baffles me how so much excitement surrounds the Pandora IPO. Or that there even is one coming. Maybe Jelli has really flown under everybody's radar.

The idea of a Jelli station on Pandora makes no sense for Pandora. It would simply expose Pandora as inferior. Running Jelli stations on Sirius/XM, however, could make a world of sense. It would give Jelli access to Sirius/XM's 20 million-plus-and-growing subscriber base. And it would add even greater diversity to Sirius/XM's excellent content lineup. Sounds like a potentially lucrative win-win, but it's not without its question marks.

The big question here is exactly where does Jelli see its bread being buttered. If it approached Sirius/XM, I would have to think forward-looking CEO Mel Karmazin would listen intently to the prospect of having a lineup of Jelli stations come aboard. If nothing else, Karmazin fires another salvo at terrestrial radio by hooking up with Jelli. If this salvo angered terrestrial, it might cut off all ties with Jelli. Basically, Jelli needs to determine how many kitchens it can (and wants to) play in without sacrificing potential penetration and revenues.

Simply put, I will take a serious look at any company that enters into a meaningful, longish-term relationship with Jelli. If Jelli can somehow breakthrough -- and based on several hours of using/listening to its service, I don't see how it eventually will not -- it will be one of the few IPOs I would have an interest of playing even without getting in at the offer price. The more realistic possibility, though, might be a big radio or media company gobbling Jelli up and integrating it with their existing and emerging new and social media platforms.

Disclosure: As a swing trade, author is long SIRI June $2 puts. Author may initiate long or short positions in SIRI or CBS at any time. Author may initiate a short position in NFLX at any time.