On May 5, the real estate data firm Clear Capital announced a "national double dip" in US home prices.
Should we be worried? Perhaps. But I'm looking at the data in a different way.
Take a look at Clear Capital's tables of both the highest and lowest performing markets. While all quarter-on-quarter rates of change are down, some year-on-year comparisons still remain positive.
(Click charts to enlarge)

But what I'm most interested in seeing is the correlation between markets. In a normal housing market, the prices of homes in Phoenix, should not necessarily be highly correlated with homes in Portland.
Yet correlation rose dramatically during the height of the housing bubble. Using Case-Shiller Home Price Index data, this chart shows the correlation between individual cities and the National 20-City Composite Index over approximately 36 months.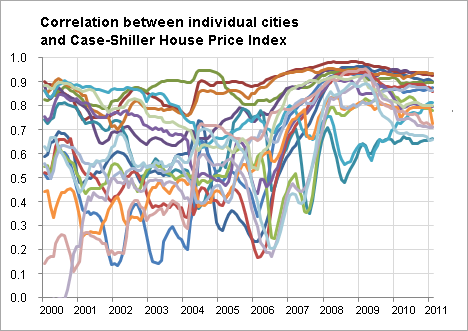 I didn't include a legend because it's not all that relevant. What is relevant is that the correlations between housing prices across the country got exceedingly high from 2006 into 2009. Evidently, that's what you get when you combine low interest rates with lax lending standards.
The correlations don't seem to be falling much – at least not yet. But when these correlations look more like the left side of the chart – and resemble a tangled mass of spaghetti, that will be a sign of a healthier housing market.

Disclosure: I have no positions in any stocks mentioned, and no plans to initiate any positions within the next 72 hours.