Oil fell apart yesterday and hit fresh four year lows as the bulls continue to have their heads handed to them. Those investing in the oil equities have fared far better than traders of physical oil, which is not a big surprise considering that there was a lot of misinformation out there regarding break-even prices for shale drillers. While buying the premier shale oil names during the last move lower worked, most of the bounce in those names was due to investors having priced the shares for, in some cases, $60/barrel oil. That is not the case right now, so we think that holding positions during the current move might be the best move.
Chart of the Day:
While copper prices did break below the $3/lb level the fact that prices quickly rebounded continues to indicate that the market is still bullish on the economy.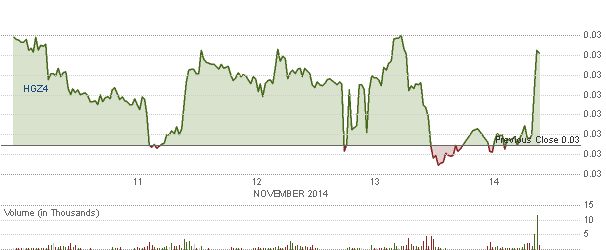 Source: CNBC
Commodity prices are as follows (at time of submission):
Gold: $1,174.10/ounce, up by $12.60/ounce
Silver: $15.87/ounce, up by $0.249/ounce
Oil: $75.16/barrel, up by $0.95/barrel
RBOB Gas: $2.0396/gallon, up by $0.038/gallon
Natural Gas: $4.011/MMbtu, up by $0.034/MMbtu
Copper: $3.039/pound, up by $0.0445/pound
Platinum: $1,195.20/ounce, down by $3.80/ounce
Potential Oil Services Deal
After rumors began circulating, Baker Hughes (BHI) yesterday confirmed that it was in talks with rival Halliburton (NYSE:HAL) to be acquired. If the two companies agreed to a deal it would create another giant in the industry, one which could better compete with current industry leader Schlumberger (NYSE:SLB). Investors cheered the deal talks, pushing both companies' shares higher as a deal could help stabilize the industry and maintain pricing power as oil companies are looking to scale back drilling plans with the uncertainty currently in the market.
The early takeaways from those looking at the deal indicate that the companies would be forced to divest certain assets in order to gain regulators' approval, but that there would be tremendous cost savings and synergies realized by combining their technology.
All of this could be good news for Weatherford International (NYSE:WFT) which itself could be a takeover target. While we have not seen any reports discussing Weatherford as a potential purchaser of assets from the combined Halliburton-Baker Hughes merger, it would make sense that regulators might want to see one of the smaller players given a chance to bulk up to continue to compete successfully.
Green Energy Trouble?
The green energy developers in Europe have had trouble ever since the credit crisis forced countries to cut subsidies or simply not renew them upon expiration. Germany and Spain were two of the largest subsidy providers and their shift in policy caused trouble for many firms, forcing a number of smaller companies to close down entirely or significantly alter their business models.
Those companies which were able to stay in business were forced to find funding elsewhere and in many cases they were forced to use their own balance sheets to develop their projects. This is what happened with Abengoa SA (ABGB), the big Spanish firm.
Investors are blasting the company's shares after accounting tricks have surfaced which could very well lock the company out of the bond market. It all centers around some green bonds which the company sold and backed as senior credit, but classified as non-recourse debt instead of recourse debt...and apparently did not explain this to bond buyers. The bonds are now trading at record lows and the company's stock is currently down almost 37%.
More Trouble For Petrobras
As if Petrobras (NYSE:PBR) shareholders have not already been through enough, the company announced that they would delay releasing earnings by a month. This would be a bit more palatable if the company were not supposed to have released their results today. The delay is apparently due to the ongoing corruption investigation, which now has US authorities looking into the matter as third-party contractors are now involved. With the scandal rumored to involve billions of dollars as well as company executives and politicians alike, we could see serious fines for the company along with other punishments. Short seller Jim Chanos has been spot on with his call regarding Petrobras and their debt issues are still not at the forefront of concerns for the market.
Disclosure: The author has no positions in any stocks mentioned, and no plans to initiate any positions within the next 72 hours.
The author wrote this article themselves, and it expresses their own opinions. The author is not receiving compensation for it (other than from Seeking Alpha). The author has no business relationship with any company whose stock is mentioned in this article.