You might remember General Motors' (NYSE:GM) Saturn brand. GM billed it as a "different kind of car company." I remember a few things about Saturn. It promised a no-pressure approach. It would not haggle on prices. You could kick the body of a Saturn without making a dent. And the company's marketing department put out some really funny commercials. After falling out of favor with car buyers, Saturn launched several failed attempts to reinvent itself before GM discontinued the brand.
Despite the mark Saturn made, I always viewed it as the place a person would go if he couldn't afford something better or the prime destination for those with a deep-seeded hatred for the "traditional" car-buying experience. If you were hard up for cash, old, or neurotic, Saturn was the perfect place to shop for a car until you could obtain something nicer or loosen up.
Tesla Motors (NASDAQ:TSLA) not only strives to be a "different kind of car company," it actually is. While Saturn was unable to set any trends or really incite lasting change in the car-buying process, Tesla will, at least in its own backyard and for the burgeoning electric vehicle (EV) business. After listening to the company's Q1 2011 earnings call, I am convinced that Tesla is on track to be the Apple (NASDAQ:AAPL) of EV companies.
For the quarter, Tesla beat analyst estimates, posting a loss of $0.44 per share versus consensus of a $0.52 loss. Revenues jumped 35 percent, year-over-year, to $49 million versus consensus estimates of $43.3 million. Prior to its earnings call, Tesla issued a press release listing key Q1 news.

Tesla Chairman, CEO, and Product Architect Elon Musk and CFO Deepak Ahuja provided some color on the above-mentioned achievements. First, they credited the company's supplier agreement with Toyota (NYSE:TM) for the increased revenues. Tesla intends to provide Toyota's electric Rav-4 with more acceleration than any other vehicle Toyota produces, excluding Lexus models.
Musk also noted that Tesla will sell out of Roadsters, the firm's flagship EV, by the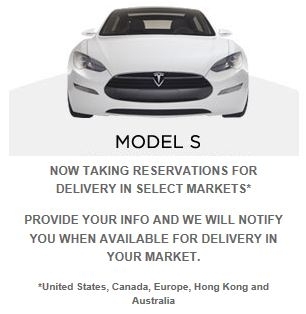 end of the year. He also explained that pre-order deposits for the Model-S have been accelerating. Presently, Tesla is only accepting Model-S pre-orders from customers in the United States, Canada, Europe, Hong Kong, and Australia. Interestingly, the company explained that it does not even have a specific reservation system for Europe and Asia that allows for language translation and currency conversion. Musk notes that Tesla is working on this, inferring that demand should increase once those interfaces come into place. While the company intends to ramp up to an initial 20,000-unit Model S production run, it will have the ability to produce a greater number if demand warrants.
While I had hoped to hear much of the above on the call, it's more exciting to listen to Musk elaborate on how Tesla wants to create and hone the customer experience. They're truly taking a page out of Apple's book. Musk got into this conversation by discussing the recent opening of Tesla's interactive store in San Jose, California's Santana Row. Santana Row is a walkable mixed-use development that combines retail shops with residences. It's a middle- to upper- end attraction, drawing relatively well-heeled residents and shoppers.
On the call, Musk said he wants Tesla stores to draw people in. He wants to catch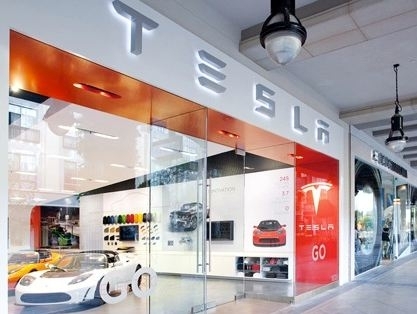 people before they even make the decision to buy a car. Or, even if an electric car has not shown up on their radar. His reasoning -- people dislike going out to buy a car. If you show them a better way when they're not on the prowl, they might consider Tesla or another EV when the time comes. To this end, the Santana Row store, in particular, not only promotes and sells Tesla, it also attempts to educate consumers about EVs. It's as hands on and interactive as a car dealership gets.
In many ways, it's akin to an Apple store, where you can walk in and tool around with an iPod, iPhone, iPad, or a Mac without employees even batting an eye. I've listened to music, called a friend, and checked email and stock quotes on Apple products in store. Thousands of people do it everyday. If you've ever engaged an Apple retail employee, you know it's truly a different experience. You know immediately that you're not in Best Buy (NYSE:BBY). I can vouch to the similarities between the two stores; I've visited Tesla's West Hollywood location.
While EVs will likely never saturate our lives like Apple products have, they should continue to occupy a bigger part of them year after year. Like Toyota did with the Prius hybrid, Tesla will set the trend for EVs with the Model S. The big difference -- the experience of learning about and buying a Prius at a Toyota dealer feels pretty much identical to buying, say, a Chrysler LeBaron. There's a bit more cache with the Prius only because you can associate it with Cameron Diaz and the LeBaron to the relatively uncool Jon Voight. Tesla could change that, turning the car-buying "experience" into an actual experience.
While remaining long-term bullish, I advocated a wait-and-see approach on TSLA right around earnings. I think it was the correct choice. Earnings did not produce a whole lot of volatility. TSLA rose in after hours by 1.78 percent, or $1.01 to end the extended session at $27.70. It closed regular trading on Wednesday down $0.18 at $26.69. TSLA appears ready to bounce hard off of its 50-day moving average, thanks to its impressive conference call performance.
(Chart courtesy of FreeStockCharts.com)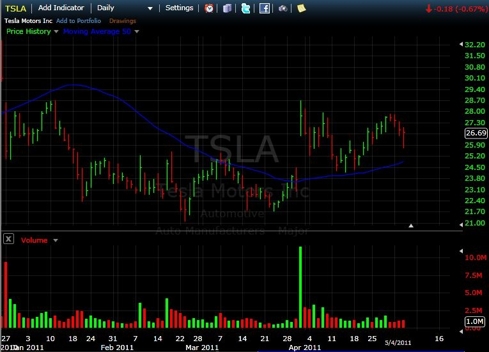 Except for when I day or swing trade them, I don't get too concerned about what price I enter a stock like TSLA. While it's frustrating to get in right before a prolonged dip, does it really matter? Investors often make too much of on-paper losses. Remember why you got into the investment in the first place. If you buy TSLA today, you should not expect to double your money any time soon. You'll likely have to wait at the very least a year, but more realistically 2 to 4 years before that has a chance of happening. With that in mind, if you intend to hold the stock long-term, does it really matter if you get in for $26 or $28 tomorrow?
I believe this type of situation makes dollar-cost-averaging an ideal strategy. Some people scoff at this method of investing. They chide it as only good for beginners. They cite studies showing that it's less effective than buying a bunch of shares all at once. Some investors, however, either do not have or prefer not to put up the capital necessary to take a significant stake in a $25 to $30 stock all in one shot. Because time rests on your side with TSLA, it's perfectly reasonable to set aside cash on a monthly basis and build a position in the company. You'll efficiently ride the peaks and valleys and likely hold a respectable number of shares when TSLA meets the $70 price target Morgan Stanley set for it.
Disclosure: I have no positions in any stocks mentioned, but may establish a long or short position in TSLA or AAPL at any time.