Big data software developer Hortonworks (Pending:HDP) filed for an IPO this week, uncovering its financials for the first time and allowing a first glance into the financial aspects of the Hadoop market. Hortonworks is a big data software development specializing in the Hadoop environment and offers organizations Hadoop-based solutions to optimize data processing and storage. Hortonworks is one of the main players in the Hadoop market, together with Cloudera and MapR Technologies.
Hadoop is an open-source software framework for distributed storage and distributed processing of big data on clusters of commodity hardware. Hadoop optimizes data processing and enables organizations to better utilize their databases and save storage costs. The Hadoop software market is relatively new, as the two market leaders were founded only a few years ago: Cloudera in 2009 and Hortonworks in 2011.
Hortonworks started from within Yahoo (YHOO) and spun out in 2011 to create an independent company backed by Yahoo and Benchmark capital, both of which are still the biggest shareholders with 19.6% and 18.7% of the total shares.
Hortonworks generates revenue primarily under multiple-element arrangements that include support subscription offerings combined with consulting and/or training services. A significant portion of Hortonworks revenue has been concentrated among a relatively small number of large customers. The largest three customers Yahoo, Teradata (NYSE:TDC), and Microsoft (NASDAQ:MSFT) accounted as a group for 37% of Hortonworks revenue; Microsoft is accounted for the majority of the revenue among the three with 22.4% of the overall revenue.
As shown in chart 1 below, Hortonworks constantly increases its revenues each quarter at a rate of 15%. However, the company's total expenses (cost of revenues + operational expenses) are 3-4 times the amount of the revenues. The high amount of the expenses drives gross margin to around 20% and operating loss to three times higher than the revenues.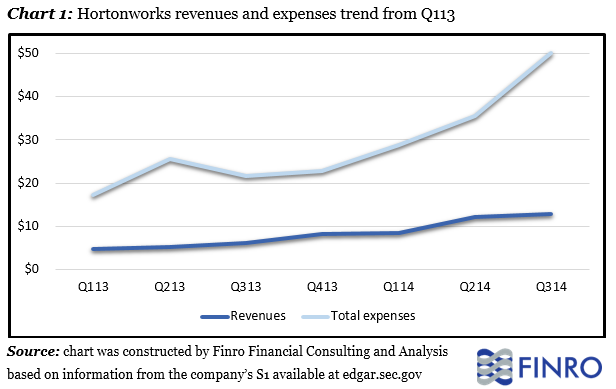 IPO Price Estimation
As the IPO price has not been disclosed yet, investors can get a sense of the possible IPO price from the previous funding series the company had. As shown in chart 2 below, the stock price increased from $1.28 in series A in November 2011 to $12.19 in series D in March and July 2014. Yahoo and Benchmark Capital, which were the original investors in Hortonworks, have an amazing 950% return on their initial investment. In the last funding series, which took place in March and July 2014, Yahoo and Benchmark purchased more shares of Hortonworks for $12.19 per share together with Index Ventures, Teradata, and Hewlett-Packard (NYSE:HPQ), which also increased their previous positions in the company.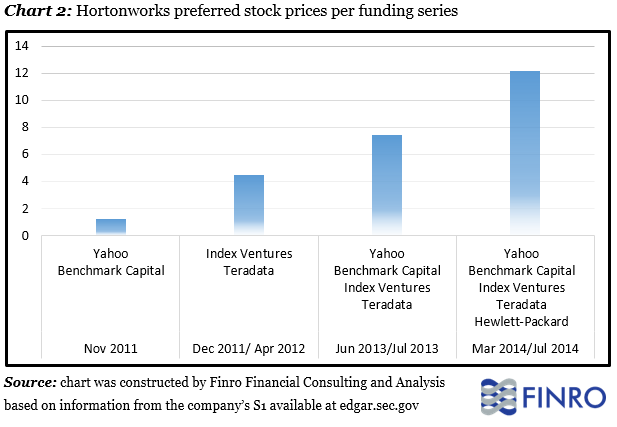 The $12.19 price in the last round reflects a P/S ratio of 13.11 to Hortonworks, slightly higher than those of other big-data software vendors, such as Varonis (NASDAQ:VRNS) with 5.9, Qlik (NASDAQ:QLIK) with 5, and Oracle (NYSE:ORCL) with 4.66, and lower than those of other leading big-data companies, such as Tableau (NYSE:DATA), which has a P/S of 16.6, and Splunk (NASDAQ:SPLK), which has a P/S of 21. A reasonable range for the Hortonworks IPO price would be between $14 -/+ 5% which reflects a 15% return for investors in series D and $18 -/+ 5% which reflects a P/S of 20, reasonable for an emerging growth company like Hortonworks.
Conclusions
As our lives become more digital, the amount of corporate data stores is expected to increase exponentially as well as the demand for optimized data processing and storage costs reductions. The market potential of Hortonworks (as well as many other big data companies) is great, and with Yahoo, Teradata, Microsoft, and H-P as investors/partners/customers, Hortonworks has a good chance to unlock that potential in the future. However, the company is still in its early stages and is increasing operational expenses and net loss faster than it is increasing revenues.
Even though Hortonworks generates revenues at a quarterly rate of 15%, the company is dependent on three customers that are also investors/partners and account for more than 37% of the company's revenues. That dependency together with the small number of overall customers and the rapidly growing net loss makes Hortonworks a little pre-mature for the market in my eyes. However, becoming a public company may push Hortonworks to accelerate its revenue growth towards the $100M annual revenue targets that the company announced earlier this year.
Disclosure: The author has no positions in any stocks mentioned, and no plans to initiate any positions within the next 72 hours.
The author wrote this article themselves, and it expresses their own opinions. The author is not receiving compensation for it (other than from Seeking Alpha). The author has no business relationship with any company whose stock is mentioned in this article.