Chimera Investment Corp. (NYSE:CIM) is an mREIT that specializes in non-agency mortgage-backed securities. A few items have changed making the situation a little different than it was when my last article was published back in January.
First off, at the time of my last article, Chimera reported leverage of 1.3:1. The way leverage is typically figured for mREITs is the debt divided by the company's market capitalization. I can understand why this might be an appropriate estimate for a company that continuously offers new security as the market cap is a proxy for the equity that it could receive; however, I prefer assets-to-equity or debt-to-equity as measures of true leverage. At the time of my last article the assets-to-equity ratios of Chimera was 2.49:1.
Chimera reported leverage of 1.8:1 for the quarter ending March 31, 2011. This large increase is attributed to increased financial leverage as well as the decreasing stock price over the quarter. Chimera's assets-to-equity increased to 2.9:1 in the most recent quarter suggesting that the relative change may not have been quite as large as it would appear from their reported figures. I had suggested in my previous articles that Chimera would be able to expand its leverage ratios to continue paying high yields as the economy improved, but this is not what appears to be happening at the moment. The culprit may be Chimera's repurchase agreements that are discussed in more depth below.
The second thing from Chimera's reported balance sheet that may stand out to casual observers is Chimera's current asset allocation as reported on the balance sheet. The image on the left is Chimera's allocation at year end 2010. The image on the right is Chimera's current allocation. There is a substantial increase in the amount of agency backed mortgages that Chimera has invested in. The nominal dollar amount that is allocated to each other asset class remained nearly unchanged but the amount allocated to agency securities increased by nearly 250%.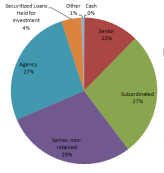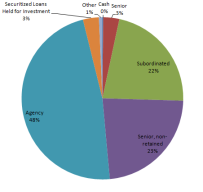 This increase in liabilities and in agency securities also appear to be the work of repurchase agreements. Often times, mREITs will put up agency securities as collateral for a repurchase agreement. The banks will give the companies a short-term loan using the agency securities as collateral and then the company will then use the proceeds from the bank to purchase other securities. At the maturity of the agreement, the company will "repurchase" the collateral returning the principal amount plus interest in exchange. These repurchase agreements are usually short-term and it is often the case that securities need to be sold to pay them.
Given the short-term nature of repurchase agreements, it would not seem that Chimera is planning to hold onto these securities as long-term investments. It is more likely that they will securitize a large number of these agency securities and then sell them placing more assets into their "senior, non-retained" category. This would support Matt Lambiase's comments during the conference call. The CEO suggested that the company sees risk going forward in the non-agency arena, and Chimera sold all of their non-agency senior re-REMICs into a favorable pricing environment in response. They also lowered their non-agency repurchase agreements to zero. Any excess proceeds were then transferred to agency securities. This also explains the difference in percentages reported above and the ones reported under the table that summarizes the company's portfolio found on p.2 here.
Despite all of this, Chimera's portfolio investment in non-agency securities remains substantial, but the allocation to agency securities nearly doubled this quarter underlining their cautious approach going forward.
Chimera's investment portfolio is as follows: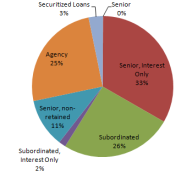 Something that is less obvious in the report but a large issue nonetheless is Chimera's weighting of adjustable rate mortgages in its portfolio. In my last article, I reported that I did not feel Chimera would be hurt by rising interest rates due to its large holdings in adjustable rate mortgages (ARM). Many other articles were suggesting otherwise. At the time, Chimera had about 50% of its portfolio in ARMs that would reset into higher rates lessening Chimera's exposure to interest rate risk. This is no longer the case; Chimera reports that only 20.2% of its investment portfolio is in ARM, down from 48.3% in December. This exposes Chimera to the interest rate risk that many other mREITs are subject too and they will likely have to purchase hedges to adjust. It appears as if they have already started doing this.
The silver lining to this change is that Chimera's spread has risen 64 bps to 4.71%. Fixed-rate securities typically pay a higher rates in the beginning to compensate the mortgage owner for the possibility of rising rates. ARMs often have lower interest rates in the beginning to reward borrowers for the risk they take in potentially participating in higher rates in the future. This adjustment will help Chimera's short-term earnings while potentially threatening the long-term gains.
The flip side is that this could be a winning strategy if interest rates stay low for an extended period of time as the Federal Reserve keeps saying. Many individuals, including myself, think that deflation is a more likely scenario than inflation over the next 10 years. If this is the case, interest rates will likely average lower levels than what we might expect. I do not know what interest rates will do over the next two years or so; however, I am certain that they cannot go much lower. It would appear as if Chimera is risking a large downside in light of the possibility of rising rates to capture a little more upside. In the event that Chimera and I are wrong about the future direction of interest rates, it may be possible for them to shift a large portion of their investments back into adjustable rate securities, albeit at less attractive prices. Clearly a drop from 48% to 20% in one quarter suggests that they could probably go back up to 40-45% in the another quarter.
Executives said that going forward, they expect the company to continue to make satisfactory returns on equity with low leverage. It does not look as if the company will be increasing leverage in the near-term given their cautionary outlook as I had argued they might in previous articles. The actual range of return is expected to low-double digit ROE and executives mentioned the possibility of getting back to Chimera's roots and deriving a greater portion of income from re-securitizations. Executives also mentioned that they expect losses to accelerate going forward; however, they also expect the $2 billion dollar discount that they purchased the securities at to cushion this blow. It will be interesting to see how this plays out going forward.
Chimera's earnings were still strong in the quarter and the yield is still very attractive; however, given their change in asset allocation I can no longer stand by my strong buy opinion that I held before. Chimera remains a moderate-buy to a strong hold for the time being.
That being said, I placed trades to sell $4 Dec 11 puts for $0.45. If the puts are exercised I get to buy into the company at the equivalent of $3.55 or I keep the spread if they expire earning a high return on the cash used to cover the contract. This gives me an attractive opportunity to buy at a substantially lower price than today's market rate to protect me if yields fall. If the options remain unexercised then I collect an attractive return on the cash that is held to cover the call. I felt this was an interesting alternative to purchasing the stock out-right and it may be something you consider as well.
Disclosure: I am long CIM. The author is not a real-estate expert nor does he have any professional experience in the real estate sector. The author has undertaken following the company and writing about as a way to learn more about the real estate industry through discourse that is generated in the comments below. Please do your own due diligence before purchasing ANY securities.