Monsanto Co. (NYSE:MON-OLD) recently predicted a gross profit growth of $4B, at a Morgan Stanley Conference. The company is expecting to double its profits over the next five years on the back of seeds and Genomics business. Monsanto is seeing long-term growth in Seeds and Genomics business, which now accounts for 80% of sales. And, it is expected that Intacta RR PRO soybean acreage may increase three-to-four times in Latin America. It is also ramping-up its soybean traits. On the other hand, MON is looking to generate steady annual growth from its global corn platform with the expansion of corn footprints in new markets and portfolio leverage. In addition, it is also predicting a stable growth in complementary seed platforms including Canola, cotton, and vegetables.
I believe that the company has potential to make big profits in the next five years. In the most recent financial report, Monsanto has shown that it is on track to make cash from growth opportunities. In fiscal 2014, MON has posted high mid-single-digit growth in sales and a double-digit growth in earnings. Its operating cash flows also expanded to $3.1B compared to $2.7B in the past year. They are also setting footprints for potential growth with the continued investment in their key platforms and portfolio management. It has invested around $2.1B in the growth opportunities including The BioAg Alliance with Novozymes and the Climate Corporation acquisition. In addition, MON has been offsetting increased investments on the new technology platforms with disciplined capital and cost cutting approach for base business.
One more factor, which I believe will enhance its earnings per share, is its focus on buybacks. The company is aggressively lowering its outstanding shares. It had recently completed a buyback program of $2B and announced a new buyback program of $10B. These buybacks will also enhance its dividends and share price in the coming days. With an ability to generate $2B of free cash flows in 2015, I believe it will continue to sustain its dividends and buybacks.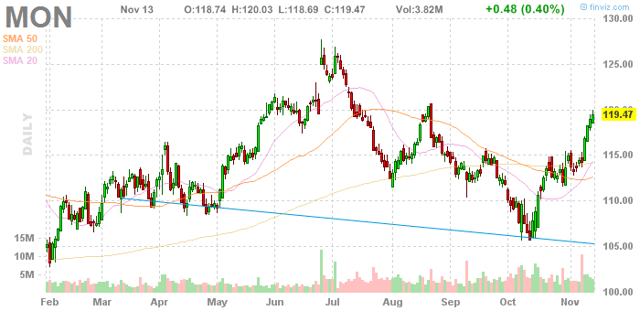 Monsanto's stock is back on momentum since the announcement of strong fiscal 2014 results. Its share price surged almost 12.80% in the past month alone. The stock is still trading well below its 52-week high of $128/share. I am seeing a steady price appreciation over the next years on the back of significant buybacks and a predicted teen growth in earnings. Based on price to earnings ratio of around 23, MON looks a bit pricey. Amid this, I believe its shares will continue to appreciate and it is a good buy for long-term investors. Three months ago, I recommended investors to buy and hold this stock and I believe it is still in the buying zone.