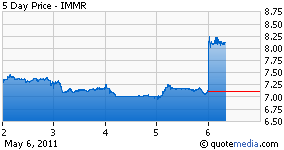 Immersion Corporation (NASDAQ:IMMR) reported Q1 2011 results last night.
Total revenues for Q1 2011 were $9.8 million, with net income of $1.4 million. Both numbers exceeded analysts consensus, and were also much stronger than we expected. The company was capable of delivering a small revenue increase compared with Q1 2010, as a 30% increase in royalties more than compensated the lack of about $2.1 million in product sales of the medical lines sold to CAE Healthcare (NYSE:CAE) during 2010.
A quick look at some of the highlights:
Total revenues were $9.8 million, compared to $9.7 million for Q1 2010, exceeding the average analyst estimate by 33%.
Royalty and license revenues totaled a record $8.4 million for the first quarter of 2011, an increase of 30% over $6.4 million in the same period last year.
Net income for Q1 2011 was $1.4 million, or $0.05 per share, compared to net loss of $(2.7) million or $(0.09) per share, for the corresponding quarter of 2010.
Adjusted EBITDA for Q1 2011 was $3.3 million, an increase of $2.9 million over $374,000 in Q1 2010, or 33% of revenues.
Immersion reiterated expectations for fiscal 2011 of revenues to be in the range of $31 to $33 million, and to generate net income for the full year.
Cash, cash equivalents and short-term investments were $65.2 million, compared to $61.2 million as of December 31, 2010. The result was also impacted from cash inflows of around $3 million in the Q1 2011, which were originally expected in Q4 2010.
Immersion's turn around, as we said a few times, is on track, and the company is now starting to deliver on its potential. Here is a breakdown of the royalty stream in the last few quarters:
Click to enlarge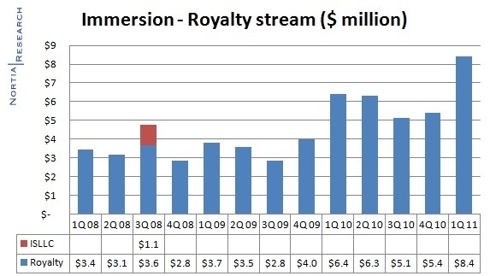 There is little doubt that the company reached an inflection point in 2010, and is now positioned to nicely (and profitably) grow its revenues.
Immersion did not issue guidance for Q2, but reiterated the full year forecast of revenues in the range of $31 to $33 million, with a profit for the full year. Using the mid point for our calculations, the company should deliver revenues of $7.4 million in the next three quarters to achieve its target. While it is true that Q1 is seasonally the strongest quarter for the company, and revenues from products came at $1 million in Q1, probably a strong result given the fact that the only remaining medical line delivered slightly more than $2 million in sales last year, we believe that the company might be forced to increase yearly guidance in the second half of 2011.
Operating expenses came at about $ 6 million, excluding non cash and non recurring charges, and are expected to range between $6 million and $6.5 million over the near term, an important factor to model the potential of the business model (as margins are in the 95% range).
After the conference call, Dougherty & Co. analysts raised their price target to $11.00.
We've recently covered the major developments achieved by the company, but the conference call was a good opportunity to hear from management about the status of some initiatives.
Here is the update given by Immersion's CEO, Vic Viegas, (Seeking Alpha transcript, emphasis added):
I'd like to update you on some of the engagements the team has had with both OEMs and application developers in implementing the MOTIV platform. During the quarter we successfully ported the MOTIV solution to demonstration devices for multiple, new and existing OEM customers.

The ease of implementation, combined with the added benefit of a haptic enabled view eye, has further validated our approach of delivering automated haptic integration tools for device manufacturers. While these demonstrations represent the first step in the design process, we're encouraged by how well the value proposition for haptics is resonating and the number of OEMs who are moving forward to the next stage of identifying target programs.

On the developer front we've seen hundreds of downloads of our MOTIV SDK and the response from the development community has been enthusiastic. We have already made subsequent updates to our development tools based on developer feedback and judging by the level of response, I expect by our next conference call to be able to share a number of new gaming and other applications that are designed with the MOTIV SDK.
Immersion's management also underlined the importance of a recent announcement made by the company's chip partner Atmel (NASDAQ:ATML), which we also covered in a Seeking Alpha article:
Turning to an update regarding our ecosystem partners, I am pleased to announce that our licensing agreement with Atmel has resulted in the incorporation of Immersion touch sense technology and to Atmel's cute touch capacitive touch controllers.

These controllers provide haptic support for 14 unique haptic effects and buttons, sliders and wheels which can be used to greatly enhance the user experience and application such as mobile devices, game console, navigation devices, cameras, netbooks, appliances, PCs and other devices.

We are excited that Atmel now has its first offering in the market embedded with Immersion's technology, as we strive to drive the greater proliferation of haptics with the rapid adoption of touch interfaces across multiple markets.
The company also gave some insight into its revenue stream, which has now been broken down by verticals:
"While revenue mix per segment is expected to fluctuate on a quarterly basis due to seasonality patterns, in the first quarter of 2011, a break down by segment as a percentage of total revenues is as follows: mobility 44%, gaming 27%, medical 15%, auto 5%, chip and other, 9%." - Shum Mukherjee, CFO.
A couple of comments. We believe it is a great result to see that the chip vertical remains in the 9% range of quarterly revenues. The segment delivered about $2.2 million in the whole 2010, so almost $ 900.000 in Q1 represents a good result – and the implementation of haptics into semiconductor partners products was more of a strategic move for the sales benefit that it could create than intended to deliver strong revenues.
These numbers were given on total revenues. Excluding the impact of $1 million in medical product sales, numbers for royalties should roughly come as follows, in percentage:
Click to enlarge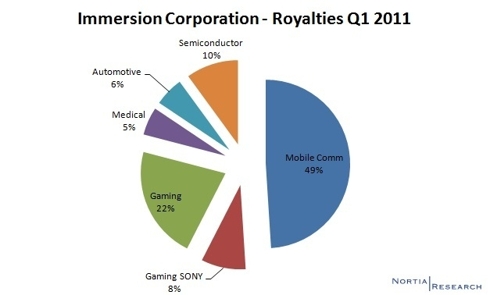 Medical and Automotive remain segments that might potentially deliver much stronger results in the longer term, as, for example, company partner Visteon (NYSE:VC) starts implementing haptics into several new cars expected to reach consumers in 2012.
After hours, the stock reached a peak of about $ 8.50, as buyers stepped in due to the unexpected strong results delivered in Q1. It's going to be interesting to follow today's action, but, more important, we still believe this could become a two digit stock in the long term, as the company starts taking full advance of the growth potential of touchscreens and becomes a "must have" technology.
Disclosure: I am long IMMR.