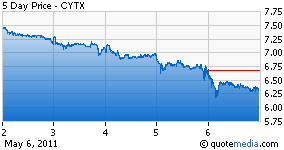 Cytori Therapeutics released its 1st Quarter 2011 results on May 5th. Strictly on a numbers basis, there was little to be excited about, as sales of $2.6 million and EPS of $-.23 came in below the consensus estimates of $3.2 million and EPS of $-.16, respectively. Unit sales continue to be lumpy and Cytori cited Japan's disasters as having a significant impact on sales during the quarter. However, placing too much emphasis on the numbers at this stage of the game is shortsighted for all companies in the stem cell sector.
It is clear that investors are anxious to see results play out on the ball field NOW and that translates into expectations of steadily increasing sales. Cytori shares have sold off as a result of the sales and earning miss. However, the reality is that Cytori is not yet at that stage of development were steadily growing sales should be expected. Yes, the Japan disasters or the fact that buyers may be holding out for the approval of the latest and improved version of the Celution, called the Celution One, can be blamed for the lumpy sales but that type of thinking misses the point … it misses the big picture. So much progress is being made in Cytori's business plan that investors would be wise to take a forward looking perspective of what is being built here.
Cytori has a single PLATFORM of technology that can extract and deliver a patient's own regenerative cells, with the potential to treat an unimaginable number of afflictions. Over $200,000,000 has been invested in this technology over the last ten years to perfect and protect the technology. With the impressive clinical results to date, it appears that the main obstacle to the finish line is cutting through the red tape of the regulatory approval process and effectively getting the word out. Cytori's technology, or should I say the body's own biological technology harnessed by Cytori, works. When patients learn about the effectiveness of using one's own regenerative cells for therapeutic benefits, demand will be driven from the bottom up.
As the long term story is what I focus on, I view with great importance the recently announced key personnel moves made by Cytori that will help it reach its next stage of development. These important personnel changes involve three individuals and have been largely ignored by the market:
Lloyd H. Dean has been named Chairman of the Board: Mr. Dean is a nationally recognized leader within and beyond the field of healthcare. He is President/CEO of Catholic Healthcare West, the 5th largest healthcare system in the nation and the largest not-for-profit hospital provider in California. In addition to his role on the Board of Directors for Cytori, Mr. Dean also serves as Chair of the Board of Directors for the Bay Area Council, the business-sponsored public policy organization for the nine-county San Francisco Bay Area. He is also a member of the Board of Directors of Wells Fargo & Company, and a member of the Board of Directors of Mercy Housing California. A strong advocate for healthcare reform, Mr. Dean has been actively engaged with the White House Cabinet on healthcare issues. In 2010 he was ranked number 24 in Modern Healthcare's "100 Most Influential People in Healthcare" and is also consistently named one of the "Top 25 Minority Leaders in Healthcare."
Tommy G. Thompson has been added to the board of Directors: Mr. Thompson held the position as Secretary of the U.S. Department Health and Human Services from 2001 until 2005 and served as the Governor of the State of Wisconsin for four terms from 1987 to 2001. He continues to work towards improving and modernizing the healthcare industry through the development and implementation of innovative technologies. Currently a partner at the law firm of Akin Gump Strauss Hauer & Feld, he serves as Chairman of the Board of privately-held Logistics Health Incorporated and is a member of the Board of C.R. Bard Inc, and United Therapeutics, among others. In addition, Mr. Thompson is a member of the Board of two non-profit healthcare organizations, The Accordia Global Health Foundation and Medical Missions for Children. He has received numerous awards for his public service, including the Horatio Alger Award.
Clyde W. Shores has been named Executive Vice President of Marketing & Sales: Mr. Shores has 27 years experience in medical marketing and sales and has been involved in the launch and marketing of multiple innovative medical products such as Amgen's revolutionary Neupogen. Most recently, Mr. Shores served as Vice President of Global Marketing for Baxter International's Renal Business. Prior to Baxter, Mr. Shores worked for Abbott Laboratories, Amgen, Prometheus Laboratories and deCODE Genetics. During his nine years at Amgen and tenure with other companies, he developed a fundamental understanding of the potential for stem cell pharmaceuticals and devices, the commercialization of innovative therapeutics and the marketing and sales capabilities required to achieve significant revenue growth in global markets.
The experience and backgrounds of these individuals make Cytori well positioned to move through the U.S. regulatory process and then hit the ground running once FDA approvals are achieved. As detailed in a prior Seeking Alpha article, Cytori is the only company I am aware of that has ever tied restricted stock awards to FDA approvals.
Cytori also laid out these significant milestones in the quarter in its shareholder letter:
Secured an expedited process with on-site review for obtaining chronic myocardial ischemia indications-for-use in Europe;
Initiated the ADVANCE pivotal European heart attack study, with the first site now enrolling and treating;
Reported top-line 12-month results from RESTORE 2 showing sustained high levels of patient and physician satisfaction;
Expanded efforts to obtain European healthcare system coverage for breast reconstruction;
Submitted multiple 510(k) applications to the FDA; and
Initiated preparations for a pre-IDE meeting with the FDA for a U.S. chronic myocardial ischemia clinical trial.
These are all significant pieces of the puzzle that help add tremendous long term sustainable value. Investors may want to take a longer term view and use the recent weakness in Cytori shares as an opportunity.
Disclaimer: These are the personal views of Wall Street Titan. Investors should always do their own due diligence.
Disclosure: I am long CYTX. I also own CYTXW