In researching some companies that pay high dividend yields, I found a chart showing the
dividend payment history
for Pitney Bowes (NYSE:
PBI
) published at the company's investor relations site. The chart, shown below (), highlights a 29-year history of raising its dividend with the payout growing at a compounded 10% per year.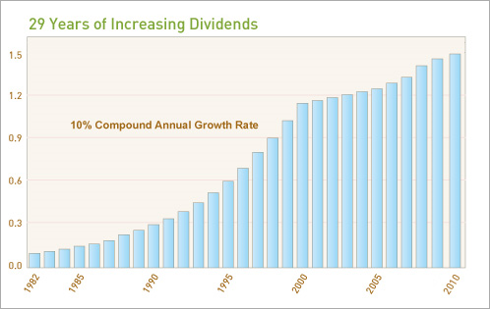 But applying a compound growth statistic to the actual data kind of obscures the actual rate of growth over two distinct time periods. I added some lines to this version that shows what I mean. Click to enlarge: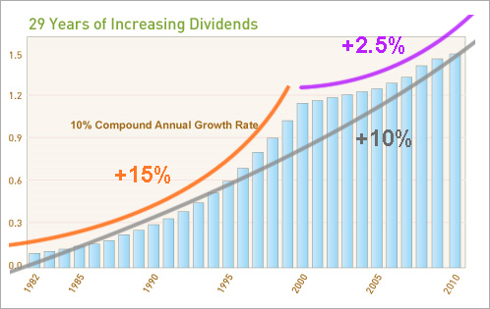 Yes, the overall growth rate, shown by the grey line, is about 10%, but a lot of that comes from the 15% growth rate from 1982 to 2000 (orange line). Since 2000, the growth has been more like 2.5% (purple line).
What does this mean? Let's check out the yield. Here's a look at the stock as it's traded since late 2009.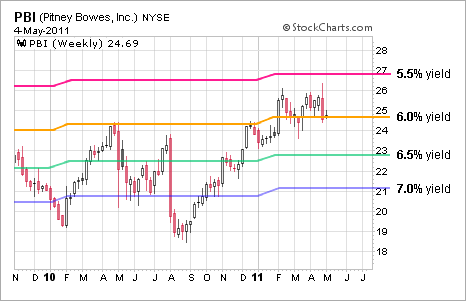 If you bought PBI in that timeframe, you're getting a yield of about 6 to 7 percent. That's nothing to sneeze at. For example, a yield of 6.5%, with a payout growing at 2.5% per year, gets you to a yield of a little over 8% in 10 years.
On the other hand, a stock yielding only 3% with a 15% annual growth in its payout gets you to more than a 10% yield in 10 years. That shows that the timing of when you get into a stock can make a great deal of difference in eventual income, even though the yield might have been low when you first bought the stock.
Consider an investor who bought PBI in January of 2000 and reinvested dividends as shown here: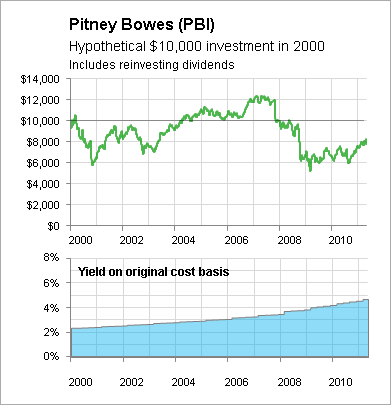 The value of the stock is down, but the yield on its original cost basis is about 4.6%.
Here's a similar chart showing an investment made 10 years earlier, in January of 1990: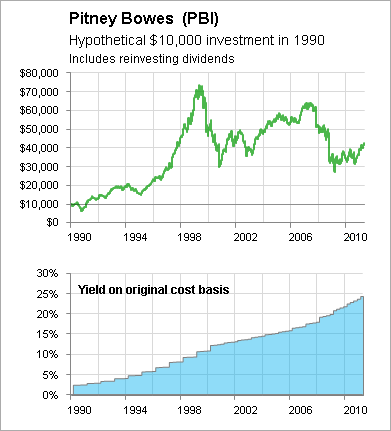 The value of the stock has doubled twice and the yield on the original cost basis is more like 24%. Yes, that's 24% per year, but you had to hold the stock for 20 years.
That's water under the bridge, of course, so what does the future look like for Pitney Bowes?
Well, there are plenty of "business equipment" companies, but Pitney Bowes has occupied a unique position of being the nation's leader in postage meters ever since Arthur Pitney and Walter Bowes merged their separate companies back in 1920.
The company doesn't seem to be as profitable, as say, Neopost (
OTCPK:NPACY
), a French company with a similar product line. Coincidentally, Neopost also offers a dividend yield of around 6 percent. You can compare Thomson Reuters data by reviewing their statistics for both
Pitney Bowes
and
Neopost
.
As a legacy brand, Pitney Bowes does face some challenges. Postage meter and mailing services technology now transcends devices. Any ink jet printer can conceivably print postage. So during those lean years of smaller dividend hikes, PBI has been actively acquiring other businesses with advanced technology. Here's a list I found on a
fact sheet
at the company's site (PDF)
2010: Portrait Software plc

Oxfordshire, UK: provides customer communications management software to enhance existing

customer analytics and relationship management systems.

2007: MapInfo

Troy, NY; provides location intelligence solutions.

2005: Imagitas

Waltham, MA; provides marketing services that use the mail to help companies connect with

hard to reach consumers.

2004: International Mail Express (IMEX)

NY, consolidates letters and flat-sized mail headed to international addresses.

2004: Group 1 Software Inc.

Lanham, MD; provides software that enhances mailing efficiency, data quality and customer

communications.

2002: PSI Group, Inc.

Omaha, NE; provides pre-sort mail services.
Older companies with legacy technologies can either do very well (
IBM
, for example) or very poorly (Kodak (EK) comes to mind). I'm not sure what will happen with Pitney Bowes. Its acquisitions could lead to another decade of soaring growth. Or maybe not. But one lesson is clear. The stocks you pick today have a big impact on whether you'll be enjoying a 24% yield two decades from now.
Disclosure:
I have no positions in any stocks mentioned, and no plans to initiate any positions within the next 72 hours.