With the Financials sector trailing all others year-to-date, we went bottom feeding, looking for attractively priced dividend paying stocks in this unloved sector.
Sector Performance YTD shows the Financial sector up less than 2%. Click to enlarge: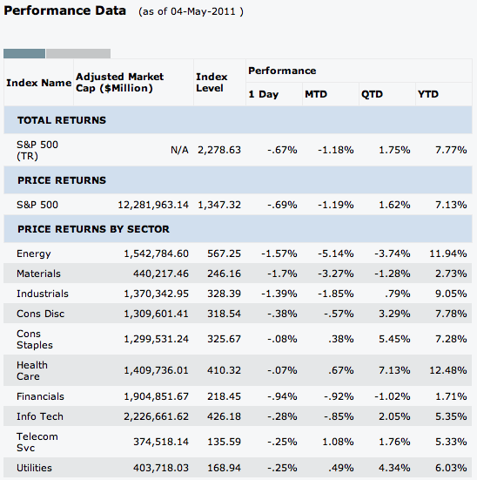 (Source: Standard & Poors)
However, the 2011 outlook for stocks by sector tells a different story: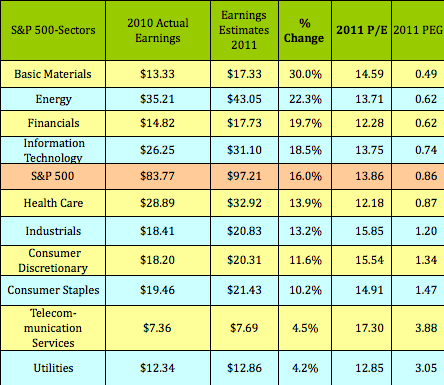 (Data Source: Standard & Poors)
Although S&P analysts favor the Basic Materials and Energy sectors, giving them the highest 2011 growth estimates of any sector, they also estimate that the Financials sector will achieve nearly 20% growth in 2011, which tops the Tech sector's 18.5% growth estimate, and the overall S&P 500 average growth estimate of 16%.
We found 2 dividend stocks in the Assets Management sub-industry that might be bargains, both of which are listed in our High Dividend Stocks By Sector Tables. Note: There is a big disparity in market cap between these 2 firms, as KKR's $3.69 billion market cap is over 10x the size of small cap TICC. Their capital structures are also different, as KKR is an LP, and TICC is a BDC.
Kohlberg, Kravis & Roberts LP (NYSE:KKR): A limited partnership that operates private equity funds that take either controlling or strategic minority ownership positions for long-term appreciation; invests in leveraged loans, high-yield bonds and less liquid credit products; and, on behalf of portfolio companies, arranges equity and debt financing and offers capital market advice. KKR is a mid cap stock, with a current market cap of $3.69 billion.
TICC Capital Corp. (NASDAQ:TICC): A business development company primarily engaged in providing capital to technology-related companies. TICC concentrates its investments in companies having annual revenues of less than two hundred million dollar and/or a market capitalization or enterprise value of less than three hundred million dollar, with a focus on many tech sectors, including computer software & hardware, internet, medical devices, media, networking equipment, and semiconductors. The firm invests in public or private companies these and other parameters: Up to $30 million funding size; Maturity up to 7 years. TICC is a small cap stock, with a current market cap of $344 million.
Industry Comps:

This industry has some wild profit margins, eh? An improving economy and rising stock market valuations have helped private equity firms' portfolio values increase over the past months. Firms have also taken advantage of increasing M&A and improving IPO markets to exit some of their investments, leading to some big profits.
Dividends: TICC has a longer quarterly dividend distribution history, having grown from paying $.54/year in 2004, to $.99 for 2011, with dips in 2008-2009. (They just increased their quarterly dividend to $.25/share, and their next ex-dividend date is June 14th.) KKR LP went public in July 2010, and began paying quarterly dividends in September 2010, paying $.08, then $1.5 in November, $.29 in March 2011, and just decreased their upcoming May dividend to $.21, with an ex-dividend date of May 12th.
Valuations: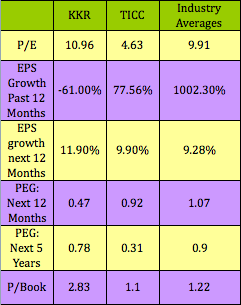 Both firms look undevalued on a PEG basis, but TICC is clearly cheaper on a Price/Book basis. TICC also looks undervalued on an Enterprise Value/EBITDA basis, with a tiny ratio of just .12, due in part to its debt-free balance sheet, and small market cap. A Discounted Future Earnings Model values KKR at $42.01, and TICC at $33.51.
Although you could sell options for both firms, only KKR has high options yields, which are listed in our Covered Calls Table and Cash Secured Puts Table.
Both firms just reported Q1 2011 results:
KKR: Generated profits from taking a number of its portfolio companies public. During the quarter, KKR-backed Nielsen Holdings, HCA Holdings, and Far East Horizon went public.
GAAP net income was $159.6 million for the quarter ended March 31, 2011, up 40% from $113.8 million for the quarter ended March 31, 2010.
Book value was $6.2 billion on a segment basis as of March 31, 2011, representing $9.08 per adjusted unit.
Economic Net Income was $742.5 million for the quarter ended March 31, 2011, an increase of $67.7 million or 10.0%, as compared to ENI of $674.8 million for the quarter ended March 31, 2010. The 6.5% appreciation of KKR's private equity investments along with increased fees in their private markets segment were the key contributors to the positive results.
Assets Under Mgt. was $61.0 billion as of March 31, 2011, up 11.6% from March 31, 2010. The increase resulted from continued investment appreciation as well as new capital raised, partially offset by distributions to the limited partners of their funds. Fee paying assets under management ("FPAUM") were $45.7 billion as of March 31, 2011, up 7.5% from March 31, 2010, driven primarily by new capital raised.
TICC: Total investment income rose 49%, to $9.76 million, vs. $6.56 million in Q1 2010, and was up 6.8% vs. Q4 2010. Core net investment income was approx. $7 million, or $.22/share, vs. $.17/share in Q1 2010. Net asset value rose from $9.85 to $9.97, vs. $8.85 in Q1 2010.
Disclosure: No positions
Disclaimer: This article is written for informational purposes only.