Overview
PM Abe would be wise to call a snap election and delay the consumption tax increase. To foreign investors this would be a sign most bullish for Japanese equities. This brief trade note will discuss three convincing reasons for PM Abe to call a snap election and rollback the next round of tax increases.
1. Political Gamesmanship
Political gamesmanship is not exactly the sort of solid foundation one hopes economic decisions will be made from. Especially in developed nations. In Japan, though, there is reason to believe that this well-timed political gambit may be just the sort of salve that the chapped economy needs.
Abe is no stranger to drama. Calling a snap election wouldn't exactly be out of character for him - but that's not the point. While his approval rating is still high, it has begun to falter. The consumption tax was not well-received by the public. Yet, because the opposition is fragmented, it is very likely he and his party would fare well in an election.
This cementing of political support may be crucial to the success of Abenomics. If Abe is to pony up and stay the course, there is a lot of ground to cover. Some things will be politically controversial. He has yet to deliver on campaign-promised structural reforms of any significance, an essential piece of Japan's recovery, and the fiscal and monetary reforms have been, mostly, net beneficial to Japanese corporations and its well-invested citizens.
That is simply not good enough. Japan needs sustainable long-term growth. Short-run financial engineering is appreciated by traders. To really pull the country's economy out of stagnation, as the objective should be, Abe must do more. Incidentally, doing "more" would also be very bullish.
2. The Triple Threat: The Income Problem
The Japanese middle-class have been the de facto "losers" of Abenomics: real income has been on the decline, consumption taxes are on schedule to double in two years, and a rapid currency devaluation all converge on a single problem: their purchasing power is weakening. There is little left to like.
As the graphic below suggests, a decrease in real income levels is inversely correlated with the yen's precipitous loss of value. This is expected, especially when the currency changes at such a rapid pace. However, the monetary base has been expanding for nearly two years. There has not been sufficient wage growth - despite recent wage negotiations - to serve as an effective counterbalance to the Bank of Japan's radical monetary policy.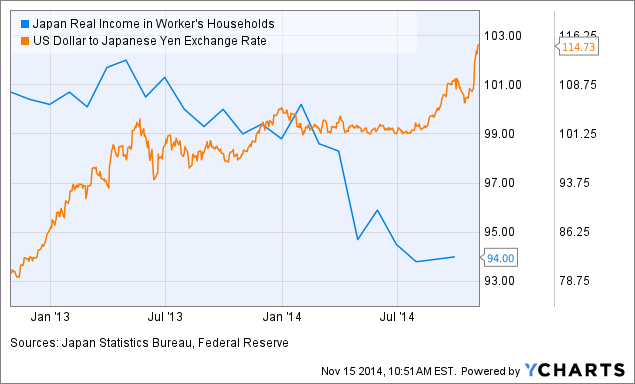 Japan Real Income in Worker's Households data by YCharts
In the long run, this divergence could have terrible consequences for Japan. The government is assuming massive debt obligations in the form of JGBs. If the end result of a net increase in the Bank of Japan's assets is a population not only disincentivized to spend but less able to spend (via weakened Yen and stagnant income levels) then Japan will be in dire straits. Repairing the economy will require a lot more than an economic catch-phrase at that point.
Japan has a chance to avoid that catastrophe. Holding consumption taxes steady may cause the government to walk a fiscal tight-rope, but to do so is leagues better than taking a nosedive into the canyon. Besides, if the Bank of Japan can keep the monetary policy churning, and Japan begins the essential structural reforms (increasing domestic competition, motivating corporate development, more competitive hiring and firing practices, etc.) then Abenomics still has a chance at turning out successful.
The central banks of the world are not likely to be amused at Japan's currency manipulation if it is not concomitant with commensurate increases in aggregate demand. It would not be surprising to see foreign governments, especially the battered European Union, push-back against Japan if it tried to become a net export demagogue without making a concentrated effort to motivate demand. Japan must, at the least, appear to be endeavoring to stimulate the global economy. That needs to come in the form of aggregate demand strength. Such an appearance is not yet forthcoming. Japan must begin to consider the impact of its monetary policy on foreign relations.
3. From Ally To Saboteur?
The third reason for Japan to delay the tax increase is subtle - but massively important. For Abe to follow through with the consumption tax increase would be, in effect, a sabotage of Kuroda's financial engineering. Such a move would be politically and economically disastrous; it could unravel a considerable amount of economic work the two have done.
First consider: A central element for the success of Abenomic's monetary policy arrow, as described by Bank of Japan Governor Kuroda, is the instilment of a "virtuous cycle" whereby rising asset prices, such as equity markets, encourage domestic spending, which then improve firms' returns, etc. Evidently Kuroda is not alone in his confidence that such a cycle will be kick-started, as the Government Pension Investment Fund of Japan (GPIF) announced a restructuring of its portfolio when the Bank of Japan unleashed its latest round of stimuli.
Traditionally the GPIF portfolio was heavily focused in fixed income, especially JGBs. Now that the BoJ is buying them by the truckload it would seem the GPIF need not hold the bag; so, the equity blend of the GPIF portfolio was massively increased. Now, while the equity stake won't be comprised exclusively of Japanese equities it will have a considerable weight of them.
The second crumb of evidence was found in the Nikkei futures markets this past week. There was a regular barrage of conflicting announcements about the snap election coming out of Japan during Asian trading hours. Various political players, both major and minor, were sounding off at various times suggesting that it was certain to be delayed, or likely to proceed, or the economy was healthy, or unhealthy, and so on and so forth. This may very well have been political posturing, but the writing was on the wall: the futures market reacted violently to any announcement, no matter the credibility.
The conclusion here is this: if Abe does not go through with the snap election, the Nikkei will be absolutely hammered. Doing so would not only fly in the face of Kuroda - it would effectively erase billions of dollars of pensioners' equity. Maybe those unrealized losses could be recouped in the long haul, but I would guess not. To see Abe not delay would mark a shift to conservatism in his policies. If that is the case, structural reforms would likely be deemed too radical, as well. That would mark the beginning of the end of Abe, Abenomics and, once '14 Q1 GDP numbers come out, probably the Nikkei, too.
Conclusions
Reports suggest the snap election will essentially be determined by Q3 GDP data, due out Monday 11/17/14 8:50 am (JST). A tail number is likely to be good here: a number under the forecast will all but guarantee a snap election and a delay of the tax increases. Similarly, a number well above the forecast suggests that the tax increase was accepted by consumers. Delaying the tax increase would still be prudent, but then there is at least a case to follow through with the tax increase.
A middling number is dangerous - if the GDP read comes in near estimates and is not joined by a snap election, the Nikkei looks very bearish going into the close of 2014.
Disclosure: The author is long DXJ. I anticipate trading NKD and J6 contracts, as well as yen crosses.
The author wrote this article themselves, and it expresses their own opinions. The author is not receiving compensation for it (other than from Seeking Alpha). The author has no business relationship with any company whose stock is mentioned in this article.