By Tim Seymour
Volkswagen, Porsche, Ford (NYSE:F) — global auto makers keep posting blow-out numbers, and even earthquake-wounded Japanese names look strong in the long run.
Volkswagen (VLKAY.PK) currently looks set to become the No. 2 car company in the world for at least awhile, but we should not rule out a comeback from Toyota (NYSE:TM), much less Honda (NYSE:HMC) or Nissan (NSANF.PK).
The Japanese group do have specific production factors that have haunted the entire sector since the earthquake.
However, these are short-term headwinds — once production shifts back up to full speed, all of these companies have product lines that are well positioned for fuel efficiency in a world of $120 oil.
In fact, the global auto trade remains alive if you are convinced that this is an investment and not a short-term "trade."
TM is the chart I would buy on a six-month view.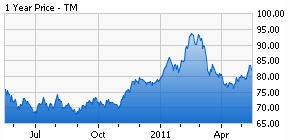 Beyond Japan, Tata Motors (NYSE:TTM) just reported fantastic operating numbers for March. India has been straining against a recent round of inflation fears, but this is also a chart to buy if you can ride some volatility.
On the other hand, Korean car makers like Kia (OTCPK:KIMTF) and Hyundai (OTCPK:HYMTF) have seen massive flows. Both stocks, like other Korean industrials, have been huge beneficiaries of the events in Japan.
Here, however, it is probably best to sell relative to the Japanese names. HMC, TM and NSANY trade on valuation and long-term growth, which should learn to sustainable earnings expansion and drive the stocks.
Pretty soon now, Japan will be back on track, and then there will not be any slack left for the Koreans to pick up.