Last night, the market received the surprising news that Japan had entered a recession in the latest quarter. This was quite surprising, as many had anticipated that the Japanese economy would be growing at a decent rate with all of the quantitative easing programs they have been implementing over the last two years. The expectation was that the Japanese economy would post annualized growth of 2.1%, but instead, a 1.6% decline was reported.
News outlets are reporting that Dr. Martin Salia, a doctor from Sierra Leone who was brought back to Omaha, Nebraska for treatment last week, has passed away from the Ebola virus. Mr. Salia is the second Ebola patient to pass away in the United States.
Chart of the Day:
The Japanese market has risen strongly in recent months on optimism that continued reforms and QE programs would help drive growth. News that the country's economy actually shrank this past quarter highlight that the latest moves by Japan's central bankers and leaders were not preemptive, but rather reactive.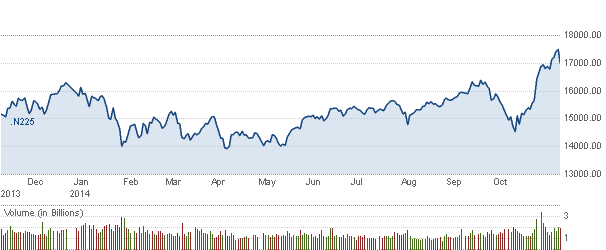 Source: CNBC
We have economic news today, and it is as follows:
Empire Manufacturing (8:30 a.m. EST): Est.: 12.0 Act: 10.2
Industrial Production (9:15 a.m. EST): Est.: 0.2%
Capacity Utilization (9:15 a.m. EST): Est.: 79.3%
The Asian markets are lower today:
All Ordinaries - down 0.77%
Shanghai Composite - down 0.15%
Nikkei 225 - down 2.96%
NZSE 50 - up 0.11%
Seoul Composite - down 0.08%
In Europe, the markets are higher this morning:
CAC 40 - up 0.10%
DAX - up 0.11%
FTSE 100 - down 0.10%
OSE - up 0.03%
A White Knight For Allergan?
Numerous media outlets are reporting that Allergan (NYSE:AGN) has found a white-knight bidder, Actavis (NASDAQ:ACT), to top the unsolicited offer from Valeant Pharmaceuticals (VRX). The deal is rumored to value Allergan at $210/share, or $62.5 billion, which would top the $200/share offer from Valeant. While no deal from Actavis has been accepted, it will be interesting to see how Allergan's board handles this process. The company could simply accept a deal at $210/share with a large break-up fee and attempt to force Valeant to walk away, or it could start a bidding process, knowing that Valeant and Bill Ackman might be interested in making one more offer.
Interestingly enough, an Actavis deal would accomplish much of the same tax goals as the Valeant deal, due to both companies being based in foreign countries.
Facebook To Offer New Services
There are reports that Facebook (NASDAQ:FB) is set to unveil a new platform for professionals to connect, called Facebook at Work. Right now, the talk is centered around the company allowing users to separate their personal and professional content, keeping personal events, posts and shares on the main social network, while filtering out the personal content from your professional contacts. The idea is that this would allow Facebook to better compete against LinkedIn (LNKD).
With this new section of Facebook to be announced, it appears that the company is borrowing a lot of ideas from competitors. Obviously, LinkedIn is the network that Facebook is targeting, but this idea of providing a one-stop shop for networking is very similar to Google's (NASDAQ:GOOG) (NASDAQ:GOOGL) use of circles.
The early talk around Facebook at Work is that the company is looking to offer users services that Google and Microsoft (NASDAQ:MSFT) already dominate; Drive for storage, and Gmail and Outlook for email services. With well over a billion users, this could allow for easy adoption among current Facebook users and push businesses to integrate some of the company's services into their businesses, if mass utilization does occur.
Disclosure: The author has no positions in any stocks mentioned, and no plans to initiate any positions within the next 72 hours.
The author wrote this article themselves, and it expresses their own opinions. The author is not receiving compensation for it (other than from Seeking Alpha). The author has no business relationship with any company whose stock is mentioned in this article.